So here we are. Late April. Not yet through a month, but with at least some substantive baseball in the books. It's too early to panic, absent extended slumps like, say, the 0-21 Orioles of 1988. Is it too early to worry, though?
I'd say no, so long as we can all agree that to "worry" means to show concern over the start to the season, in that some of the problems should have been a bit more predictable and could continue as the season progresses.
Three teams in particular stand out as those who entered the season believed to be strong playoff contenders but have disappointed so far. We could probably lump in a few others (Yankees, maybe Tigers) if so inclined, but these are the three that stick out to me.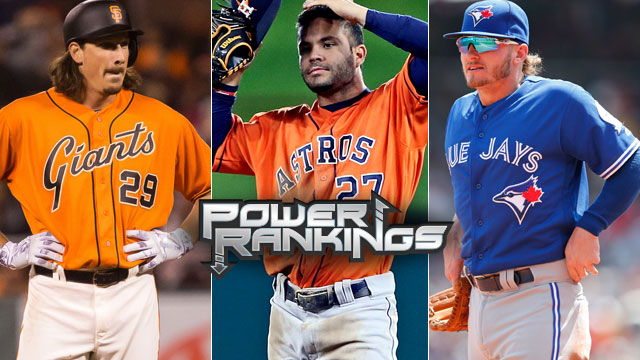 Giants: There's been some surprising inconsistency overall from Madison Bumgarner (though he'll be fine) while the back two spots in the rotation have combined for a 6.64 ERA. After storming out to a 6-2 start, they sit 11-11 thanks to losing eight of nine in one stretch.
Concern Level: None. Bumgarner, Johnny Cueto and Jeff Samardzija form a fine top three in the rotation, they've already started to right the ship -- having won four of five -- and they aren't even two games out of first place.
Blue Jays: A 10-12 start for a team many expected to be a powerhouse. They're 2-5 in one-run games, so those could start to even out. One would expect Russell Martin and Troy Tulowitzki to start hitting better, but there are problems at first base (Edwin Encarnacion -- who could stand to get on base and hit for power better himself -- is their DH) and with the rotation. Specifically, Marcus Stroman isn't pitching like an ace and R.A. Dickey is totally cooked. Overall, though, being two games under .500 when the team clearly isn't playing well isn't a huge deal.
Concern Level: Slight. No one is running away in that division and the Jays started slow last season. The rotation is of some concern for the time being, though.
Astros: Here are the rotation ERAs so far:
Dallas Keuchel: 4.13
Collin McHugh: 7.56
Mike Fiers: 5.73
Doug Fister: 5.56
Scott Feldman: 4.58
Lance McCullers could help, but he's still working back from a shoulder injury.
Concern Level: Moderate. That is the highest it should be at this point in the season for a team with this much talent. I shouldn't say this, but I'm a loose cannon: If I had to re-do my postseason picks right now, I'd leave the Astros out of the playoffs. They're already 5.5 games out of both the AL West and the last wild card. It's workable for sure -- it would be workable even at the All-Star break -- but it's a decent-sized hole to dig while trying to snap out of a funk.
Still, let's maintain some perspective. The Astros have played 21 games. They have 141 games left in the season.
This marathon is still just getting started.