MLB Power Rankings: Handing out awards for best, worst of 2013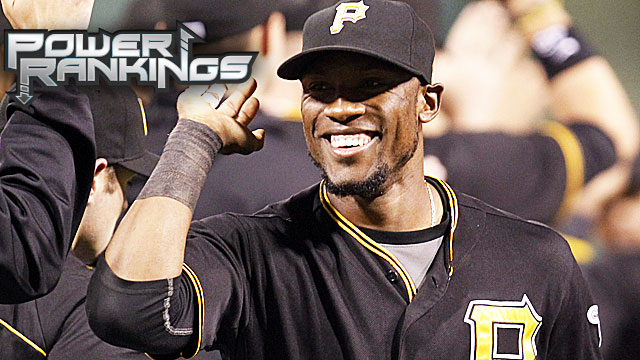 This is my final installment of Power Rankings for the 2013 MLB season. I will definitely miss all the false accusations and Internet Tough Guy name-calling, but -- fret not, me -- I'll be back next March!
For this one, we're going to hand out some faux-hardware to teams.
Best story: It's rather obvious, no? The Pittsburgh Pirates. It ain't close. Raise it, Pirates fans.
Worst story: Biogenesis. It was/is just excruciating to me. If I'm forced to pick a team, I think it's garbage "Blue Jays are the Marlins" narrative.
Biggest surprise, non-Pirates division: We can't let the Bucs take everything. This one seems rather obvious, too, though, because the Red Sox have gone from worst to first in baseball's toughest division.
Biggest disappointment: The Angels, Blue Jays and Nationals are spared here, because the defending World Series champions may end up being the only defending champ in history -- aside from the fire sale Marlins (1998) -- to follow up the title with a last-place finish. Even if they don't, they'll only avoid it by a few games.
Millennium Force award: My favorite roller coaster is the namesake here, and it resides near Cleveland, from where our winners hail. The Indians have had 10 winning streaks of at least four games -- with eight being the high. They've also had six losing streaks of at least four games, with both a seven- and eight-game losing streak on the books. And, much like Cedar Point's Millennium Force, once the ride is over, the riders are extremely satisfied -- as the Indians are headed to the playoffs.
The Walking Dead Award: The Astros and Marlins share this one, as most of us believed they were buried before the season even started and -- sure enough -- they wandered through the season as the worst team in each respective league pretty much throughout.
Horror Movie Villain Award: You know how in horror movie franchises that the bad guy can never, ever get killed until the very end? Well, the Yankees are the bad guy according to fans of about 29 fan bases. And those fans wanted so badly to count them out before the season. I was called delusional and to "keep dreaming" (as if I were rooting) when I said we still shouldn't count them out. And they took blow after blow and kept coming, almost relentlessly. Once you thought they were down for the count, they rose again, a la Michael Myers. But in the end, they're going the way of Myers, Jason Voorhees and Freddy Kruger ... at least until the next movie comes out, in the form of the 2014 season. Then your villain will once again be lurking.
The Water Buffalo Award: There's an Internet sensation of a YouTube video with almost 73 million views. It was taken in South Africa's Kruger National Park. During the video, a herd of lions attacks a group of water buffalo. Five of the lions end up with their grip on a baby water buffalo. As they're attempting to carve it up, a crocodile gets in on the action and also gets a piece of the baby water buffalo. Eventually, the water buffalo fight back and the baby walks away alive! Click here to check it out, it's actually pretty awesome. The real action starts a bit after the two-minute mark. Anyway, when the Los Angeles Dodgers were 30-42, they were the water buffalo that fled the scene as one of their young was taken captive. All they've done since then is play elite baseball, a bounceback rivaling that of those water buffalo. If they're relatively healthy heading into October -- the Dodgers, not the water buffalo -- this team could be scary good. Almost as good as that pack of water buffalo lighting up the lions at the end of the video.
The Rodney Dangerfield Award: I have very little idea what the Oakland Athletics have to do to garner more national respect among the common fan. I get emails on a weekly basis telling me I have them ranked too high and they aren't nearly as good as their record indicates.
Speaking of which, please feel free to contact me with comments either on Twitter (@MattSnyderCBS) or via email: matt.snyder@cbs.com. I'll respond to anything aside from personal attacks.
Because I'm all about the positivity, for each team below we'll pick out the best individual story of the 2013 season.