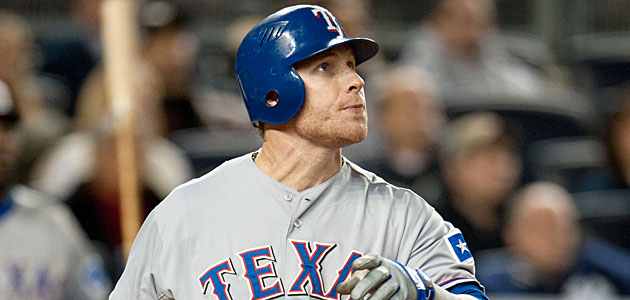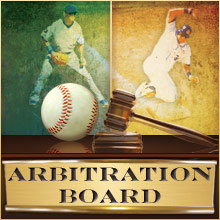 Figures have been exchanged for salary arbitration hearings, which will be held between Feb. 1-21.
But the Facts & Rumors team doesn't have time to wait -- some pitchers and catchers will voluntarily start reporting to Florida and Arizona on Feb. 14.
Starting with Texas' Josh Hamilton, the F&R crew is going to play the role of the player's agent, the team's representative and the judge for several of the more interesting cases.
Next week's F&R tentative cases will include Toronto's Jose Bautista, who led the majors with 54 homers in 2010, and Houston's Wandy Rodriguez, who is asking for $10.25 million after an 11-12 campaign. Complete arbitration list
First up: Hamilton, the AL MVP, who is asking for $12 million, while the Rangers countered with $8.7 million.
Hamilton's representative: David Andriesen

I don't even know what we're doing here.
Last season my client led the Texas Rangers to their first World Series appearance while leading all of baseball in batting and being named the Most Valuable Player of the American League -- and now the Rangers want to lowball him? To quote Jackie Chiles, it's outrageous, egregious, preposterous!
Hamilton batted .359 last season, 23 points higher than any other qualified player in the game. He also led all of baseball with a .633 slugging percentage and 1.044 OPS. He had 32 home runs and 100 RBI -- numbers that would have been higher if not for Mr. Hamilton being injured while heroically making a play in center field (a position at which, it should be noted, he did not commit a single error in 2010).
Last season was not an isolated case, as Mr. Hamilton has in the past led the league in RBI and total bases and carries a .311 career batting average. There is no reason to believe he will not be just as valuable in 2011 as he was in 2010.
The Rangers have proposed a salary of $8.7 million, which is clearly not in line with is value. Among players between three and four years of service time, like Mr. Hamilton, seven will make more than that next season, including Nick Markakis, Scott Kazmir and Alex Rios. With all due respect to those fine players, it would be difficult to argue that they are more valuable than my client.
We are countering with a reasonable proposal of $12 million. Twenty-two different outfielders have made in excess of $12 million in a season, and 20 of them have never won an MVP. It is time to pay Josh Hamilton what he is worth.
Rangers' representative: C. Trent Rosecrans

Mr. Hamilton, how are you feeling today? Better I presume? Yes? Well, that's good. But of course, you know we have to ask. You, a man of 29, were just in the hospital for nearly a week suffering from the "early stages of pneumonia."
And, you know ... September. The pennant chase? Yeah, remember, you weren't there for that. Kinda like the 73 games you missed in 2009.
Listen, we're going pay you a lot of money and we understand that. The problem is, we have no idea what we're paying for.
In your own autobiography, you admitted ravaging your own immune system with years of drug and alcohol abuse.
The results?
2007: Missed 16 games with gastroenteritis, 29 games with a sprained wrist and 17 games to end the season with a strained hamstring.



How should the judge rule in Josh Hamilton's case?
Hamilton: $12 million
Rangers: $8.7 million
Total Votes: 4,549
2008: Played in 156 games. Great job, but you still missed time with the following reported ailments: "general soreness," left knee inflammation, left hand soreness, light-headedness, an abscessed tooth and a bruised right foot. 2009: You played in just 89 games because of torn abdominal muscle and a pinched nerve in your lower back.
2010: You missed time with a shoulder injury, a bruised left thumb and a gum/root issue -- and all that was before the regular season began. There were also several issues with your hamstring and knee bothering you even before the injury ended the last month.
Now, I know you were the MVP and you're going to ask for an MVP-like salary. You deserve it. But it doesn't change the fact that your 133 games is the fewest by an MVP since the strike-shortened season of 1994. Plus, you were only the fourth player to win an MVP by playing 133 or fewer games in a 162-game season. Since the shortened 1995 season, AL MVPs have averaged 153.5 games per season -- 155.6 if you take out the two MVP seasons by catchers.
And, well, then there's the part none of us want to talk about -- relapse. It was just two years ago you fell off the wagon. Addiction is a disease you battle day by day for the rest of your life. We hope and pray it never happens, but it's still a gamble.
Judge: Evan Brunell

Our ruling: In favor of Hamilton (Announced on Jan. 24)
The criteria for deciding on a player's arbitration salary include the player's contribution to the team in performance and leadership as well as the club's overall record and attendance.
Hamilton's performance isn't in question. While the team has a compelling argument that his injury history sets him back, the mere fact he won the MVP while playing just 133 games is a striking indication of just how valuable he was. Plus, Hamilton still had more at-bats than anyone in the game except for 99 players.
Also requiring consideration in the decision are the special accomplishments of the player. Clearly, Hamilton's MVP award comes into play here, but it's not the only accolade he earned. He made his third consecutive All-Star team and won his second Silver Slugger award. Plus, Hamilton plays a valuable position as a center fielder, one of the more challenging defensive spots on the field. While Hamilton has also received ample playing time in left, he appeared in 40 games in center for Texas.
A comparison I would like to draw to Hamilton is Philadelphia's Ryan Howard, who won the MVP in 2006 and was eligible for arbitration two years later. In Howard's first year of arbitration, he was awarded $10 million. In his second year of arbitration -- where Hamilton is currently -- he inked a long-term deal that paid him $15 million in the first year.
Given Hamilton is only asking for $2 million more than Howard's first-year arbitration salary and is in his second year of arbitration -- fresh off an MVP season -- and plays a more demanding position, it is clear that Hamilton is worth $12 million.
For more baseball news, rumors and analysis, follow  @cbssportsmlb on Twitter or subscribe to the  RSS feed.