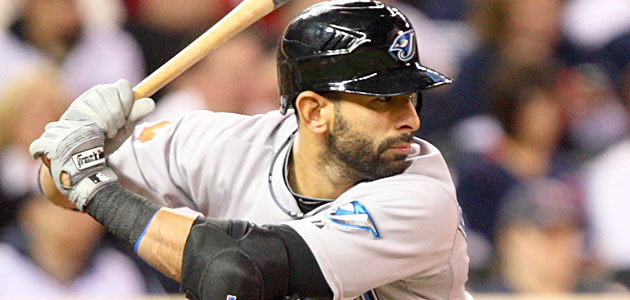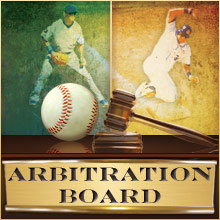 Facts & Rumors' first case is decided. Our judge, Evan Brunell, ruled in favor of Josh Hamilton's $12 million request, denying the Rangers' proposal of $8.7 million for the upcoming season.
The majority of you who responded to our poll -- "How should the judge rule in Josh Hamilton's case?" agreed, backing the AL MVP with 72 percent of your votes.
Now it's time to examine the figures exchanged for 2010 major-league home run leader Jose Bautista. The Toronto slugger is asking for $10.5 million, while the Blue Jays countered with $7.6 million.
Facts & Rumors: Josh Hamilton case
On deck: Minnesota's Francisco Liriano (Wednesday, Jan. 26)
In the hole: New York Mets' R.A. Dickey (Friday, Jan. 28)
Complete arbitration list
Bautista's representative: Evan Brunell

The Hitchhiker's Guide to the Galaxy tabs the number 42 as the number in which all meaning can be derived. I'm here to tell you that the actual number is 54.
That's the number of homers Jose Bautista hit in 2010. The runner-up was St. Louis' Albert Pujols with 42.
Just how rare is 54 home runs? The last time someone hit at least 50 was three long seasons ago, when Alex Rodriguez topped the charts with 54. Since then, the high is 48.
Bautista is in his last year of arbitration, finished fourth in MVP voting, won a Silver Slugger and was named an All-Star. He is one of the premier players in the game.
His rise up the home run charts shouldn't be surprising even as many scream fluke. Bautista has been a more than capable player over the last five seasons, evidenced by his 404 plate appearances in 2009 as his low over that period. After working with hitting coach Dwayne Murphy in Toronto, Bautista started showing in September of 2009 that something had clicked. He hit an incredible 10 home runs in 125 plate appearances ... and continued that pace in 2010.
These 54 home runs this past season were no squeakers either. Bautista led the majors in no-doubt homers -- clearing the fence by at least 20 feet and landing at least 50 feet past the wall, as measured by HitTrackerOnline.com. Bautista also averaged six feet more per home run than the average homer in the AL.
This is a guy who had a season for the ages, showed he's here to stay and is deserving of every cent of his requested $10.5 million.
Blue Jays' representative: C. Trent Rosecrans

First off, congratulations to Jose Bautista for a phenomenal 2010 season. You were incredible, a season with 54 home runs, 124 RBI and 100 walks. Just a very, very good season.
For that, we offer you a raise of 217 percent. Seriously, that's already on the table, a raise of 217 percent. You're welcome.
Oh, that's not good enough for you? You want to eclipse Ryan Howard's record for the largest arbitration award in MLB history?
Well, well, sir, that's asking a little much, isn't it?
When Howard was awarded $10 million following the 2007 season, he already had an MVP under his belt and averaged more than 50 home runs a year over his last two seasons. You had 54 home runs? Well, how about the 58 Howard had in 2006 when he was making $355,000. Even after that, he was given less -- percentage wise -- than we're offering you for 2011. You want to talk about unfair?



How should the judge rule in Jose Bautista's case?
Bautista: $10.5 million
Blue Jays: $7.6 million
Total Votes: 4,392
So what did he do? He went out and proved himself. You see, Howard's from Missouri, the Show Me State. He went out and showed them, putting up another great season in 2007, when he finished fifth in the MVP voting and then was awarded the $10 million in arbitration.
For 2006 and 2007, Howard hit .292/.409/.623 with 105 home runs and 285 RBI. The Phillies knew they would have to pay and pay royally for Howard beyond 2007. Since then, he's been paid and produced, finishing in the top 10 in the MVP voting in each of the last three seasons.
Now, your past two seasons -- including your amazing 2010, which isn't in dispute -- you've totaled 67 home runs and 164 RBI, along with a slash line of .251/.367/.906. Now, that's nothing to sneeze at. It's a fine production, but it's hardly Howard-esque.
You want more comparisons? Well, we could go to another former-Oriole who knocked out 50 in a season despite never hitting more than 21 before that. Well, that guy never hit more than 24 home runs in a single season after hitting 50. So, are you Ryan Howard or are you Brady Anderson? It's your turn to show me.
Judge: David Andriesen

Our ruling: In favor of Blue Jays (Announced on Jan. 26)
We often, and erroneously, look at contracts as paying a player for what he has done. While past performance helps determine market value, a contract compensates a player for the term of that contract.
To put it more simply, Mr. Bautista has already been paid for the 2010 season. While even the Blue Jays would admit they ended up with a very good bargain for their $2.4 million, that point is irrelevant -- his 2011 salary should be based on what he is likely to do in 2011.
Looking at Mr. Bautista's body of work over his career, I am not convinced there is sufficient evidence to conclude that he is likely to repeat his 2010 performance next season, or to come close enough to that performance to justify the player's salary request. While undoubtedly impressive, last season's numbers are, as it stands now, an aberration, not an indication of a pattern of improving performance.
Mr. Rosecrans' comparison to Ryan Howard is relevant here. Mr. Howard's $10 million award for the 2008 season was a reflection of consistent high performance in his career to that time. Mr. Bautista's career prior to 2010, conversely, was a five-year pattern of mediocrity to which one can reasonably fear he might return.
I find in favor of the Blue Jays, and award Mr. Bautista $7.6 million. If he does have another big year, as I hope he will, he will undoubtedly find offers well in excess of that when he reaches free agency next fall.
For more baseball news, rumors and analysis, follow  @cbssportsmlb on Twitter or subscribe to the  RSS feed.