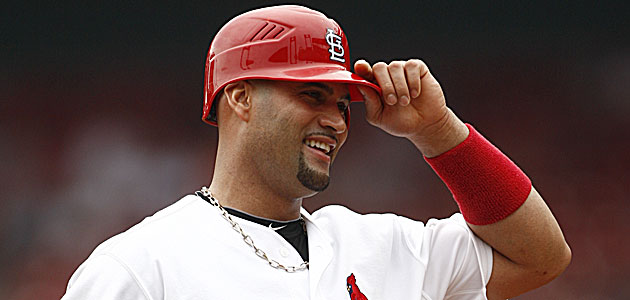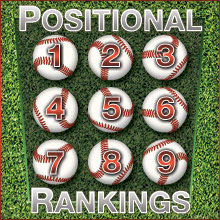 We're getting closer.
Pitchers and catchers start reporting to Arizona and Florida on Valentine's Day. Once there, senior writers Danny Knobler and Scott Miller will be visiting every ballpark through late March to bring you reports for CBSSports.com's 2011 Camp Tour and much, much more.
Until then, our Eye on Baseball team, along with the help of Fantasy Writers Al Melchior and Scott White. will attempt to feed your baseball fix.
Starting today with first baseman, CBSSports.com is going to roll out Positional Rankings over the next two weeks, excluding Super Bowl Sunday.
Thinking in terms of the next three seasons, who are the top players at each position?
At first base, it's no surprise a slugger from the St. Louis Cardinals is No. 1 across the board. After all, Albert Pujols could end up being the best player of his lifetime.
But who is the game's second-best first baseman? National League MVP Joey Votto? Detroit slugger Miguel Cabrera? What kind of numbers will Adrian Gonzalez put up in Fenway Park?
Everyone has an opinion. However, our Eye on Baseball crew of David Andriesen, Evan Brunell and C. Trent Rosecrans has some criteria, which is laid out at the bottom of this page. Note: The Fantasy guys will be listing their rankings based on a "win-now" strategy.
Positional Rankings lineup:
Second basemen -- Feb. 1; Shortstops -- Feb. 2; Third basemen -- Feb. 3; Catchers -- Feb. 4;
Designated hitters -- Feb. 5; Left fielders -- Feb. 7; Center fielders -- Feb. 8; Right fielders -- Feb. 9;
Right-handed starters -- Feb. 10; Left-handed starters -- Feb. 11; Closers -- Feb. 12.
AL Preseason Division Outlooks: East | Central | West | NL: East | Central | West
First basemen
Rank
Andriesen
Brunell
Rosecrans
Fantasy: White
Avg., Player
1
Pujols
Pujols
Pujols
Pujols
1.0 - Pujols
2
Votto
Cabrera
Cabrera
Cabrera
2.3 - Cabrera
3
Cabrera
Votto
Votto
Votto
2.8 - Votto
4
Gonzalez
Gonzalez
Gonzalez
Gonzalez
4.0 - Gonzalez
5
Morneau
Morneau
Morneau
Teixeira
5.8 - Morneau
6
Butler
Barton
Howard
Fielder
7.0 - Teixeira
7
Fielder
Teixeira
Fielder
Howard
7.5 - Howard
8
Teixeira
Howard
Teixeira
Morneau
8.0 - Fielder
9
Howard
Morales
Morales
Morales
9.8 - Morales
For figuring avg.: Unranked players receive a worth of 12
Why ranked 1-5
Andriesen: No. 1
Brunell: No. 1
Albert Pujols, Cardinals
Given that we're talking about a time period that will end with Pujols at 34, he's not as straightforward a choice as he could be. But the dropoff hasn't started, and I'll take a guy who has done that much on a consistent basis. Plus, I'm thinking he's going to be playing for a contract the first year.
Albert Pujols, Cardinals
Despite the massive price tag Pujols is sure to receive, he's still a cut above most first basemen and has been consistent day in and day out. Don't be surprised if there are a couple more MVP awards headed his way.
Rosecrans: No. 1
Fantasy -- White: No. 1
Albert Pujols, Cardinals
Does this really need an explanation?
Albert Pujols, Cardinals
Pujols has finished with an OPS over 1.000 seven times in the last eight seasons. Nobody else has done it more than four times during that stretch. He's still the best, with no end in sight.
Ranked No. 2
Andriesen: No. 2
Brunell: No. 2
Joey Votto, Reds
Talking about the prime years of a player whose career to date has shown no indication he's going to do anything but get better. Like the way he gets on base for a guy his age, and like his defense.
Miguel Cabrera, Tigers
Cabrera's best days could be ahead of him now that he's sober and his numbers are Hall of Fame worthy. Through age 27, the only players with more hits, home runs and RBI than Miggy are Alex Rodriguez, Jimmie Foxx and Mel Ott.
Rosecrans: No. 2
Fantasy -- White: No. 2
Miguel Cabrera, Tigers
Because Cabrera has been around for so long, it's easy to forget how young he is -- Cabrera won't be 28 until April and he already has 247 home runs and is coming off his best season yet.
Miguel Cabrera, Tigers
Cabrera closed the gap on Pujols last year, adding a league-leading on-base percentage to his usual .320 batting average. A yearly Triple Crown threat, who is still in the thick of his prime.
Ranked No. 3
Andriesen: No. 3
Brunell: No. 3
Miguel Cabrera, Tigers
In this exercise, we're building a team of greats -- can you imagine what kind of numbers Cabrera puts up with the protection of a great lineup? Like Votto, great plate discipline and entering his prime years.
Joey Votto, Reds
Votto came through with an MVP-caliber season and beat out Pujols for the MVP award in 2010, but he's not quite ready to dethrone Prince Albert. First up: replicating his past season, which is well within his capabilities.
Rosecrans: No. 3
Fantasy -- White: No. 3
Joey Votto, Reds
It's no small feat knocking the great Pujols off the throne as the NL MVP, but Votto did it in 2010. Votto led the league in on-base percentage and slugging. Although his home park is hitter-friendly Great American Ball Park, Votto's splits last season were actually better on the road.
Joey Votto, Reds
Every time you think Votto couldn't possibly get better, he does, improving his batting average, on-base percentage and slugging percentage every year in the big leagues. He's just like Cabrera, only without the lengthy track record.
Ranked No. 4
Andriesen: No. 4
Brunell: No. 4
Adrian Gonzalez, Red Sox
Age 28, exceptionally durable, a beast with runners in scoring position and capable of huge power numbers in a park that's smaller than Yosemite. Plus, Gold Glove defense. That's a nice combination.
Adrian Gonzalez, Red Sox
Gonzalez should love Fenway Park, but concerns over his surgically-repaired shoulder and skyrocketing salary do temper excitement a bit. His defense is good enough that if he hits as expected, he should leapfrog Cabrera on the list.
Rosecrans: No. 4
Fantasy -- White: No. 4
Adrian Gonzalez, Red Sox
Gonzalez -- and the Red Sox -- has to be salivating at the thought of hitting at Fenway Park. Gonzalez had 46 doubles in 2007 (33 last season) and should be able to match that with shots off the Green Monster. Gonzalez is also one of the best defensive first basemen in the game.
Adrian Gonzalez, Red Sox
Already established as a premier middle-of-the-order threat, Gonzalez finally gets a chance to play in a hitter's park and with a decent supporting cast. If his career .929 OPS outside of PETCO Park holds up, he'll join Pujols, Cabrera and Votto as clear first-round material.
Ranked No. 5
Andriesen: No. 5
Brunell: No. 5
Justin Morneau, Twins
I sure would like to have seen how 2010 played out after his stellar start, but with the concussion it's tough to judge his trajectory. Still, he's just 29 with a career OPS+ of 128.
Justin Morneau, Twins
Morneau's 2010 was cut short by a concussion, but he would likely have won MVP honors had he stayed healthy -- and he already has one in his trophy case. He has never struck out more than 94 times in a season, is capable of 30+ home runs and has a career batting average of .284.
Rosecrans: No. 5
Fantasy -- White: No. 5
Justin Morneau, Twins
There's certainly reason to be scared off by his 2010 concussion and subsequent missed time. His season ended in July when he in the head, but he is scheduled to be ready this spring. Last year was turning out to be another MVP-type year for Morneau, who finished sixth among all first basemen in WAR despite playing in just 81 games.
Mark Teixeira, Yankees
Teixeira gutted through an injury-plagued 2010 to finish with 30 homers and 100 RBI for the seventh consecutive season. He has become a little homer-happy since joining the Yankees, but his walk rate keeps him among the game's best even when he doesn't hit .300.
The criteria

Andriesen: Method to my madness: In planning a team for the next three years, there are a couple of things I value in particular. One is age -- I'm targeting guys who will spend most of this period in the proven high-output years between 27 and 31 or 32. I'll go older for someone with a consistent track record and no signs of early dropoff; younger for someone who has shown exceptional potential that looks like it will develop early. My other big one is on-base percentage. My team will have plate discipline and create a lot of opportunities on the bases.

Brunell: In my rankings, I focused more on youth and athleticism. The older one gets, the more risk that player has of falling off a cliff or getting injured. I'm going to shoot for guys who are in or nearing their upside. I did mark down some young players by dint of not being sure of their ETA or playing time. Overall game is extremely important too. Baseball isn't just a game of home runs or sparkly ERAs. You need to be able to contribute on both sides of the ball and on the bases. I trended toward those who had better overall games -- and thus, better opportunities to stay valuable -- rather than one-trick ponies.

Rosecrans: The fact that we're talking about the next three years makes it more difficult -- I want a mix of potential and actualization. Learning to be a full-time big-leaguer takes some time, so I want to make sure those on my list have already shown that they can hack it at this level for an extended time, but also aren't on the decline. It's a tricky balancing act of proof and potential.
Melchior & White: In Fantasy, it's all about the numbers -- specifically, our 2011 projections. Defense means nothing. Contract means nothing. If a guy plays regularly and hits, he's the one you want.
For more baseball news, rumors and analysis, follow  @cbssportsmlb on Twitter or subscribe to the  RSS feed.