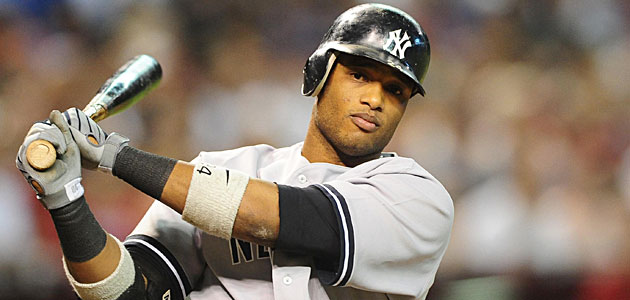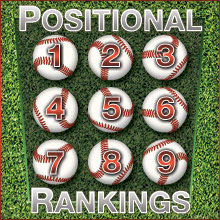 In February, 2004, the New York Yankees dealt Alfonso Soriano to the Texas Rangers for Alex Rodriguez.
Was the price for A-Rod too much? Many Yankee fans weren't happy. Soriano, who just turned 28 before the trade, was becoming a fan favorite in the Bronx ... and for good reason.
The Dominican second baseman was coming off his third full season, hitting .290 with 38 homers and 91 RBI in 2003. He batted .300 with 39 homers and 102 RBI in '02. Plus, he swiped 119 bases those three years.
Included in the deal was a player to be named later, which the Rangers would choose from a pool of five prospects the two teams agreed on. One of those players was another Dominican second baseman, Robinson Cano, who was considered a much better fielder.
Fortunately for the Yankees, Texas chose infielder Joaquin Arias. New York, however, didn't call up Cano right away. After the Soriano-Rodriguez deal, Cano, 21 at the time, played one more season in the minors, before his call up in May, 2005.
It wasn't immediate, but Cano slowly appeased New York fans. He finished his rookie campaign batting .297 with 14 homers and 62 RBI in 132 games. Not Soriano numbers, but a start.
Cano followed that with a career-best .342 batting average, finishing third in the AL in 2006. There's been only one season since his rookie year that he hasn't batted at least .305.
Over six seasons, Cano is a career .309 hitter with 116 homers, 503 RBI and 509 runs. He's won two Silver Slugger Awards (2006, 2010) and won his first Gold Glove last year. With the Yankees making the playoffs in five of Cano's six seasons, along with winning the World Series in 2009, Soriano is long forgotten ...
... while Cano is the No. 1-ranked second baseman (thinking the next three seasons) in Part II of CBSSports.com's Positional Rankings.
Positional Rankings lineup:
First basemen -- Jan. 31; Shortstops -- Feb. 2; Third basemen -- Feb. 3; Catchers -- Feb. 4;
Designated hitters -- Feb. 5; Left fielders -- Feb. 7; Center fielders -- Feb. 8; Right fielders -- Feb. 9;
Right-handed starters -- Feb. 10; Left-handed starters -- Feb. 11; Closers -- Feb. 12.
AL Preseason Division Outlooks: East | Central | West | NL: East | Central | West
Second basemen
Rank
Andriesen
Brunell
Rosecrans
Fantasy: Melchior
Avg., Player
1
Utley
Cano
Cano
Cano
1.3 - Cano
2
Cano
Pedroia
Pedroia
Utley
2.5 - Pedroia
3
Pedroia
Kinsler
Utley
Pedroia
2.5 - Utley
4
Uggla
Utley
Phillips
Kinsler
4.5 - Kinsler
5
Kinsler
Weeks
Uggla
Uggla
5.5 - Uggla
6
Phillips
Phillips
Kinsler
Weeks
5.8 - Phillips
7
Beckham
Beckham
Weeks
Phillips
6.5 - Weeks
8
Weeks
Uggla
Hill
Johnson
8.8 - Beckham
9
Johnson
Hill
Walker
Beckham
10.3 - Hill
10.3 - Johnson
For figuring avg.: Unranked players receive a worth of 12; Listed alphabetically if tied
Why ranked 1-5
David Andriesen: No. 1
Evan Brunell: No. 1
Chase Utley, Phillies
Is it a reach picking a 32-year-old first? Maybe. But I love Utley's attitude, he's an elite defender, and I think his statistical decline in 2010 was more about his thumb injury than an age decline. He still led all major-league second basemen (min. 250 ABs) in on-base percentage and was fifth in OPS.
Robinson Cano, Yankees
Cano's game has really improved as of late. He was once an inconsistent hitter with a poor glove, but has overcome all these obstacles. He and Pedroia should battle for the title of best second baseman over the next three years, but provided Cano keeps his new-found talent, it won't be a contest.
C. Trent Rosecrans: No. 1
Fantasy -- Al Melchior: No. 1
Robinson Cano, Yankees
As much as anyone in the game (aside from Pujols), I would put money on him winning an MVP in the next three years.
Robinson Cano, Yankees
No 2B matches Cano's ability to hit for average and power, and he's durable as well. Now that he's become more patient at the plate, he has left Utley in the dust for Fantasy supremacy at second base, making him a likely first rounder.
Ranked No. 2
Andriesen: No. 2
Brunell: No. 2
Robinson Cano, Yankees
He can be streaky, and he benefits offensively from the lineup he's in, but Cano is 28 and already has turned in some impressive seasons. His OPS in 2010 was 44 points better than anyone else at the position, his walk rate is way up, and I think he's going to be great the next three years.
Dustin Pedroia, Red Sox
Over the last three seasons, Pedroia has the second most WAR of any second basemen and is signed to an affordable deal. He impacts the game in many different ways, and not just on the field.
Rosecrans: No. 2
Fantasy -- Melchior: No. 2
Dustin Pedroia, Red Sox
Pedroia has an MVP under his belt and was on his way to setting a career-high in homers when he was hurt last year. In just 75 games, he had 12 home runs, just five fewer than he had in 2008.
Chase Utley, Phillies
Utley showed us he was healthy again with a strong showing last September. With his thumb injury behind him, Utley should be good to make a run at a possible third 30-homer season.
Ranked No. 3
Andriesen: No. 3
Brunell: No. 3
Dustin Pedroia, Red Sox
He adds value on multiple levels, and at 27 is poised to keep getting better. While his average slipped to a more pedestrian .288 in a shortened 2010 season, his power numbers and WAR were on track to rise.
Ian Kinsler, Rangers
Kinsler's power mysteriously disappeared, cranking nine home runs after bashing 31 in 2009. That's not enough to drop him off the board, as he improved his plate discipline and the power drought won't last.
Rosecrans: No. 3
Fantasy -- Melchior: No. 3
Chase Utley, Phillies
Utley's getting older and I'm not exactly sure where he'll be in 2013. Last season a thumb injury sapped his power numbers and every year there seems to be another injury -- but he still produces.
Dustin Pedroia, Red Sox
With a rise in his power, Pedroia could be a 20-20 threat this season, though much depends on his ability to bounce back from a fracture in his left foot. Good news: revamped lineup could mean more runs.
Ranked No. 4
Andriesen: No. 4
Brunell: No. 4
Dan Uggla, Braves
The only 2B in history to hit 30 homers four years in a row, so I'll trade a little versatility for the consistent power numbers. If he gets his strikeouts under control, he can become a really dangerous hitter.
Chase Utley, Phillies
Utley has been the game's best second baseman for quite some time, but the 32-year-old took a step back in 2010. He's not getting any younger and injury questions are cropping up.
Rosecrans: No. 4
Fantasy -- Melchior: No. 4
Brandon Phillips, Reds
A two-time Gold Glove winner, Phillips has a 30/30 season on his resume and is still just 29. His career .267 average and .316 on-base percentage keep him from being higher on this list.
Ian Kinsler, Rangers
An early-season ankle injury sapped Kinsler's power, though he started to come around late in the year. Like Pedroia, he could be a 20-20 player, but bear in mind that he has never played more than 144 games in a season.
Ranked No. 5
Andriesen: No. 5
Brunell: No. 5
Ian Kinsler, Rangers
I think his power dropoff in 2010 will turn out to be an isolated event, and the guy is 28 and does everything well. He has the potential to hit 30 homers with 30 steals when healthy.
Rickie Weeks, Brewers
Weeks finally stayed healthy in 2010 and showed everyone what he's all about. He's heating up at the right time as he's a year away from free agency. Weeks has the potential to be a top three second baseman -- he just needs to repeat his success.
Rosecrans: No. 5
Fantasy -- Melchior: No. 5
Dan Uggla, Braves
Sure, he's a butcher in the field, but he carries a big bat. He's averaged nearly 31 homers a year while playing in South Florida.
Dan Uggla, Braves
In Fantasy, Uggla's boots and bobbles are of no concern. He will provide his usual 30 dingers, though another .280-plus batting average is probably not realistic. He'll still be good enough to take as early as the fourth round.
The criteria

Andriesen: Method to my madness: In planning a team for the next three years, there are a couple of things I value in particular. One is age -- I'm targeting guys who will spend most of this period in the proven high-output years between 27 and 31 or 32. I'll go older for someone with a consistent track record and no signs of early dropoff; younger for someone who has shown exceptional potential that looks like it will develop early. My other big one is on-base percentage. My team will have plate discipline and create a lot of opportunities on the bases.

Brunell: In my rankings, I focused more on youth and athleticism. The older one gets, the more risk that player has of falling off a cliff or getting injured. I'm going to shoot for guys who are in or nearing their upside. I did mark down some young players by dint of not being sure of their ETA or playing time. Overall game is extremely important too. Baseball isn't just a game of home runs or sparkly ERAs. You need to be able to contribute on both sides of the ball and on the bases. I trended toward those who had better overall games -- and thus, better opportunities to stay valuable -- rather than one-trick ponies.

Rosecrans: The fact that we're talking about the next three years makes it more difficult -- I want a mix of potential and actualization. Learning to be a full-time big-leaguer takes some time, so I want to make sure those on my list have already shown that they can hack it at this level for an extended time, but also aren't on the decline. It's a tricky balancing act of proof and potential.
Melchior & Scott White: In Fantasy, it's all about the numbers -- specifically, our 2011 projections. Defense means nothing. Contract means nothing. If a guy plays regularly and hits, he's the one you want.
For more baseball news, rumors and analysis, follow  @cbssportsmlb on Twitter or subscribe to the  RSS feed.