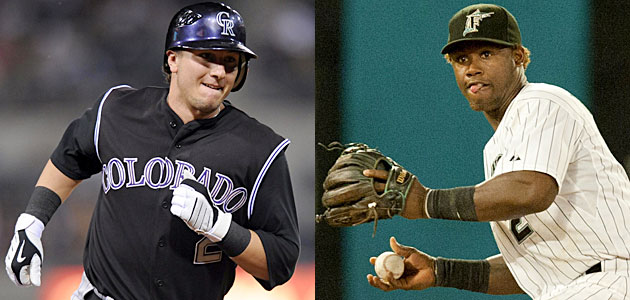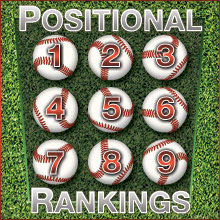 Colorado's Troy Tulowitzki or Florida's Hanley Ramirez?
Which one is considered the best shortstop in the game?
The Rockies think so highly of Tulowitzki that they gave the 26-year-old a seven-year extension, guaranteeing him $157.75 million through 2020, which includes a team option of a $4 million buyout in 2021.
Tulo hit .315 with 27 home runs and 95 RBI last season despite missing 33 games with a broken wrist. He also won his first Gold Glove and Silver Slugger awards.
Meanwhile, Ramirez is coming off his fourth consecutive season of hitting .300 or better. The 27-year-old Marlins shortstop had his lowest output in homers over the last four years, finishing with 21, but he still scored 92 runs and swiped 32 bases.
There are some questions about Ramirez's defensive and leadership skills, but when it comes to Fantasy, he's still considered the No. 1 guy.
Considering the next three seasons, the Eye on Baseball team and Fantasy Writer Scott White rank their top nine shortstops in Part III of CBSSports.com's Positional Rankings series.
Positional Rankings lineup:
First basemen -- Jan. 31; Second basemen -- Feb. 1; Third basemen -- Feb. 3; Catchers -- Feb. 4;
Designated hitters -- Feb. 5; Left fielders -- Feb. 7; Center fielders -- Feb. 8; Right fielders -- Feb. 9;
Right-handed starters -- Feb. 10; Left-handed starters -- Feb. 11; Closers -- Feb. 12.
AL Preseason Division Outlooks: East | Central | West | NL: East | Central | West
Position
Rank
Andriesen
Brunell
Rosecrans
Fantasy: White
Avg., Player
1
Tulowitzki
H. Ramirez
Tulowitzki
H. Ramirez
1.5 - Tulowitzki
2
Reyes
Tulowitzki
H. Ramirez
Tulowitzki
1.8 - H. Ramirez
3
H. Ramirez
Drew
A. Ramirez
Reyes
4.3 - Reyes
4
Andrus
A. Ramirez
Reyes
Rollins
5.5 - Drew
5
Drew
S. Castro
Y. Escobar
Jeter
5.8 - Andrus
6
Rollins
Y. Escobar
Andrus
Andrus
6.0 - A. Ramirez
7
Jeter
Andrus
Drew
Drew
7.5 - Rollins
8
A. Ramirez
Reyes
Rollins
Furcal
8.8 - S. Castro
9
S. Castro
Brignac
S. Castro
A. Ramirez
8.8 - Y. Escobar
For figuring avg.: Unranked players receive a worth of 12; Listed alphabetically if tied
Why ranked 1-5
David Andriesen: No. 1
Evan Brunell: No. 1
Troy Tulowitzki, Rockies
Will the big contract cause Tulo to rest on his laurels? I don't think so. In fact, I think the 26-year-old is just starting to show us what he's capable of. In addition to an almost flawless set of offensive tools, he's also the best defensive shortstop in the game.
Hanley Ramirez, Marlins
Ah, how soon everyone forgets. An "off" year of a .300/.378/.475 line has everyone valuing Troy Tulowitzki ahead of HanRam. But this is a guy who broke the 7 WAR barrier from 2009-10 and is still just entering his age 27 season.
C. Trent Rosecrans: No. 1
Fantasy -- Scott White: No. 1
Troy Tulowitzki, Rockies
Behind Albert Pujols, Tulowitzki may be the best all-around player in the game, and if you take into account his premium position, he could edge the great Pujols. Tulo may be the best defensive shortstop, plus he's coming off back-to-back seasons with 130+ OPS+, and he's just 26.
Hanley Ramirez, Marlins
Even in a down year, when he finished with his lowest batting average and fewest home runs in four years, Ramirez still ranked as the top shortstop in Fantasy, and he's likely to rebound at age 27. He's still the lone five-category threat at a position short on one-category threats.
Ranked No. 2
Andriesen: No. 2
Brunell: No. 2
Jose Reyes, Mets
There are red flags, to be sure -- he's proving to be injury-prone and not as disciplined at the plate as you'd like -- but his speed is a huge factor, and the talent is clearly there. Plus at 27 he's playing for a career contract this year.
Troy Tulowitzki, Rockies
Tulo solidified himself as one of the best shortstops in the game with his play. At such a demanding position, he would be head and shoulders ahead of any shortstop if he didn't have the once-in-a-generation Ramirez ahead of himself.
Rosecrans: No. 2
Fantasy -- White: No. 2
Hanley Ramirez, Marlins
Just 27 and probably the best offensive shortstop in the game, even if he is coming off a down year -- though hitting .300 with 21 homers makes you a pretty good player, much less at short. But he's on the other end of the spectrum defensively from Tulo and shortstop is still a defensive position.
Troy Tulowitzki, Rockies
Tulowitzki's 18 homers in 60 games after returning from a broken wrist last year showed he's here to stay as an elite Fantasy shortstop. He and Ramirez are the only two legitimate middle-of-the-order hitters at the position, making both clear top five picks in Fantasy.
Ranked No. 3
Andriesen: No. 3
Brunell: No. 3
Hanley Ramirez, Marlins
On pure potential, he's arguably No. 1, but it's a problem when you have to question a guy's commitment. At 27 he could do huge things the next three years, but his mysterious injuries and seeming lack of focus create concerns. I'd like him a lot more if he didn't already have a $70 million contract in his pocket.
Stephen Drew, Diamondbacks
Drew flies under the radar, but really shouldn't. He's a solid defender and would be a big part of any team's offense. It's just Drew's luck he plays in the same league as Ramirez and Tulowitzki -- and was overshadowed by Starlin Castro's debut.
Rosecrans: No. 3
Fantasy -- White: No. 3
Alexei Ramirez, White Sox
The 29-year old just signed a big extension with the White Sox. He won the Silver Slugger last season and should have won the Gold Glove last season. His bat is far from certain, but his defense is good and there's enough offensive potential for him to be productive the next few seasons.
Jose Reyes, Mets
Reyes used to be a first-rounder in Fantasy, but injuries over the last couple years have made him too unreliable to draft so early. He's still more productive than most of what you'll find at the position, but he's no longer a sure bet for 40 -- much less 50 or 60 -- steals.
Ranked No. 4
Andriesen: No. 4
Brunell: No. 4
Elvis Andrus, Rangers
I admit this one might be a stretch, but Andrus is 22 and has shown flashes. He's never going to be a power guy, but he steals bases, plays good defense and has room to grow in plate discipline.
Alexei Ramirez, White Sox
Ramirez isn't a hot name, but is the best shortstop in the AL, although Yunel Escobar may lay claim to that title eventually. The Cuban Missile contributed 18 homer with top-notch defense in 2010.
Rosecrans: No. 4
Fantasy -- White: No. 4
Jose Reyes, Mets
At 27, Reyes is one of those players that seems older, just because he's been around so long, debuting at the age of 20 in 2003. He's a career 101 OPS+ hitter. Although injuries have slowed him, there's still elite-level talent.
Jimmy Rollins, Phillies
Rollins still gets plenty of attention in Fantasy circles because of his raw power and speed, but after three consecutive years of a declining batting average, slugging percentage and OPS, he's on the way out at age 32. The lack of viable alternatives inflates his value a bit.
Ranked No. 5
Andriesen: No. 5
Brunell: No. 5
Stephen Drew, Diamondbacks
Age (27) is in his favor, and he's establishing himself as consistent if unspectacular. His .808 OPS last season was fourth among all shortstops, and he's shown he'll take a walk.
Starlin Castro, Cubs
The 20-year-old didn't disappoint in his first year in the majors and could end up No. 3 on this list for the 2014-17 outlook. Right now, he's too young to bank on sustained offense over the next three years. His reputation for excellent fielding didn't quite transfer, but his weaknesses in that end can be fixed.
Rosecrans: No. 5
Fantasy -- White: No. 5
Yunel Escobar, Blue Jays
Braves fans will howl at this pick, noting his body language and some other vague notions. However, he's 28 and even with an off year in 2010, the newly acquired Blue Jay has a 103 career OPS+ and is one of the best defensive shortstops in the game.
Derek Jeter, Yankees
Like Rollins, Jeter is showing clear signs of decline, batting a career-low .270 last year. But the off chance of a rebound, unlikely as it may be, makes him more attractive than the assured mediocrity that follows. Hey, at least he'll score plenty of runs batting leadoff for the Yankees.
The criteria

Andriesen: Method to my madness: In planning a team for the next three years, there are a couple of things I value in particular. One is age -- I'm targeting guys who will spend most of this period in the proven high-output years between 27 and 31 or 32. I'll go older for someone with a consistent track record and no signs of early dropoff; younger for someone who has shown exceptional potential that looks like it will develop early. My other big one is on-base percentage. My team will have plate discipline and create a lot of opportunities on the bases.

Brunell: In my rankings, I focused more on youth and athleticism. The older one gets, the more risk that player has of falling off a cliff or getting injured. I'm going to shoot for guys who are in or nearing their upside. I did mark down some young players by dint of not being sure of their ETA or playing time. Overall game is extremely important too. Baseball isn't just a game of home runs or sparkly ERAs. You need to be able to contribute on both sides of the ball and on the bases. I trended toward those who had better overall games -- and thus, better opportunities to stay valuable -- rather than one-trick ponies.

Rosecrans: The fact that we're talking about the next three years makes it more difficult -- I want a mix of potential and actualization. Learning to be a full-time big-leaguer takes some time, so I want to make sure those on my list have already shown that they can hack it at this level for an extended time, but also aren't on the decline. It's a tricky balancing act of proof and potential.
Melchior & Scott White: In Fantasy, it's all about the numbers -- specifically, our 2011 projections. Defense means nothing. Contract means nothing. If a guy plays regularly and hits, he's the one you want.
For more baseball news, rumors and analysis, follow  @cbssportsmlb on Twitter or subscribe to the  RSS feed.