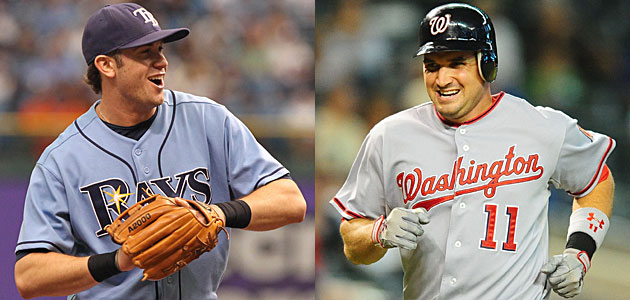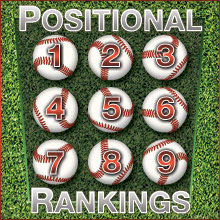 Ready for a "Hot Corner" debate?
Thinking the next three seasons, which third baseman would you want on your club?
The experts are split between Evan Longoria of the Tampa Bay Rays and Ryan Zimmerman of the Washington Nationals.
Zimmerman was the fourth overall pick in the 2005 draft out of the University of Virginia. Longoria was the third overall pick a year later out of Long Beach State.
In just three major-league seasons, Evan Longoria has produced a .283 batting average (career-best .294 last year) with 82 homers and 302 RBI. His accolades include the 2008 AL Rookie of the Year award, two Gold Gloves ('09, '10), a 2009 Silver Slugger award and three trips to the All-Star Game.
Meanwhile, Zimmerman is coming off back-to-back Silver Slugger awards. He batted a career-high .307 with 25 homers and 85 RBI last year, his fifth full season in the majors. In his 2009 All-Star season, he batted .292 with 33 homers and 106 RBI.
So which third basemen is better? The Eye on Baseball team, with the help of Fantasy Writer Al Melchior, rank their top nine in Part IV of CBSSports.com's Positional Rankings series.
Editor's note: We're well aware Toronto's Jose Bautista led the majors with 54 homers, while finishing with 124 RBI last season, but he only played 48 games at third.
The majority (113) were in right field, so expect to see him on some top nine lists when the right field Positional Rankings are released on Wednesday, Feb. 9.
However, when it comes to Fantasy Baseball, his eligibility at third makes him worth drafting at the hot corner since the Fantasy strategy is to ignore the three-year timeframe and win now.
Positional Rankings lineup:
First basemen -- Jan. 31; Second basemen -- Feb. 1; Shortstops -- Feb. 2; Catchers -- Feb. 4;
Designated hitters -- Feb. 5; Left fielders -- Feb. 7; Center fielders -- Feb. 8; Right fielders -- Feb. 9;
Right-handed starters -- Feb. 10; Left-handed starters -- Feb. 11; Closers -- Feb. 12.
AL Preseason Division Outlooks: East | Central | West | NL: East | Central | West
Position
Rank
Andriesen
Brunell
Rosecrans
Fantasy: Melchior
Avg., Player
1
Zimmerman
Longoria
Zimmerman
Longoria
1.5 - Longoria
2
Longoria
Zimmerman
Longoria
Zimmerman
1.5 - Zimmerman
3
Wright
Wright
Wright
Wright
3.0 - Wright
4
Youkilis
Beltre
Youkilis
Rodriguez
5.0 - Beltre
5
Beltre
Youkilis
Beltre
Bautista
5.5 - Rodriguez
6
Rodriguez
Rodriguez
Rodriguez
Beltre
6.3 - Youkilis
7
Ramirez
Stewart
Reynolds
McGehee
8.3 - McGehee
8
Sandoval
Alvarez
McGehee
Reynolds
9.3 - Ramirez
9
McGehee
McGehee
Ramirez
Ramirez
9.8 - Reynolds
For figuring avg.: Unranked players receive a worth of 12; Listed alphabetically if tied
Why ranked 1-5
David Andriesen: No. 1
Evan Brunell: No. 1
Ryan Zimmerman, Nationals
Let's see, 26 years old with five years of consistency, good defense and a 2010 WAR of 7.2? Sold! All Zimmerman's signs are good, including an on-base percentage that has gone up each of the past four years and last year was significantly better than anyone else at the position.
Evan Longoria, Rays
Longoria can do it all with the bat and glove, and yet will be tied to the Rays through 2016 at the low cost of $42.5 million -- and will earn just $2 million in 2011. The Rays should be arrested for grand larceny.
C. Trent Rosecrans: No. 1
Fantasy -- Melchior: No. 1
Ryan Zimmerman, Nationals
Every time I watch him play, I see another reason to love the guy. Whether it's a defensive play or running the bases, each time I find something to say, "that guy's just a hell of a ballplayer."
Evan Longoria, Rays
Power has dipped slightly since his rookie year, but it will likely rebound. He has improved in every other aspect of his game, making him a legitimate first-rounder.
Ranked No. 2
Andriesen: No. 2
Brunell: No. 2
Evan Longoria, Rays
He's a well-rounded player headed into his prime years after putting up an OPS+ of 134 in his first three years. I wish he struck out less, but other than that there's not much to quibble about with Longoria.
Ryan Zimmerman, Nationals
Zimmerman had a very similar season to Longoria in 2010, but lacks the offensive ceiling of the Ray. It's close, though.
Rosecrans: No. 2
Fantasy -- Melchior: No. 2
Evan Longoria, Rays
Longoria easily could be No. 1, and I wouldn't be surprised if he was No. 1 on both Evan's and David's lists. I'd have a hard time arguing -- honestly, it's nearly a coin flip. The only knock on the guy may be he has trouble keeping track of his hat.
Ryan Zimmerman, Nationals
Stat line will match Longoria's aside from lower stolen base and doubles totals. Should come off the board shortly after his Rays counterpart.
Ranked No. 3
Andriesen: No. 3
Brunell: No. 3
David Wright, Mets
His stock took a hit last season as he batted 26 points lower than his career average and saw a spike in his strikeouts, but it's tough to argue with 29 homers and 103 RBI. He's 28 and should have three very productive years ahead.
David Wright, Mets
Wright shook off a power drought in 2009 to reclaim his bright future and at age 28 has plenty more prime years left.
Rosecrans: No. 3
Fantasy -- Melchior: No. 3
David Wright, Mets
Wright had a career-low batting average, his lowest on-base percentage since his rookie year and second-lowest slugging percentage of his career. Out of that context, his .283/.354/.503 last season still wasn't too shabby.
David Wright, Mets
His home run total bounced back from 10 to 29 last year, though he had to hit more flyballs to get there. Assuming that trend continues, you can't bank on him batting .300 this year.
Ranked No. 4
Andriesen: No. 4
Brunell: No. 4
Kevin Youkilis, Red Sox
All the guy's done is put up a 147 OPS+ and a .404 on-base percentage the past three years. With the injury out of the way, I think he'll be fine at third base and continue to produce.
Adrian Beltre, Rangers
Before Beltre signed with the Rangers, he wasn't even going to be on the top five list. However, Beltre's offense over the next three years looks brighter in Arlington, and his defense is All World.
Rosecrans: No. 4
Fantasy -- Melchior: No. 4
Kevin Youkilis, Red Sox
Well, with Adrian Gonzalez at first, he's going to third. The bat plays anywhere and he's been good enough in the field at third in the past.
Alex Rodriguez, Yankees
A-Rod's extra-base power remained intact despite a variety of injuries, but an increasing tendency to hit grounders did hurt his batting average. He's a much riskier pick than the top three.
Ranked No. 5
Andriesen: No. 5
Brunell: No. 5
Adrian Beltre, Rangers
Yes, there are his well-publicized contract-year tendencies and his age (32 in April), but I've got to think when healthy he's going to be good for 30 homers and close to 100 RBI.
Kevin Youkilis, Red Sox
Youkilis is already on the wrong side of 30, but a transition to third base should separate him from the pack along with his bat, which got lost in the noise of deep first-base options.
Rosecrans: No. 5
Fantasy -- Melchior: No. 5
Adrian Beltre, Rangers
Beltre has two Gold Gloves under his belt and will certainly improve the Rangers' infield defense now that he's in Texas. He's certainly had interesting timing with regard to big years in contract years, and he won't have another for five more seasons.
Jose Bautista, Blue Jays
No major-league regular hit flyballs at a higher rate last season, which helps to explain his 54 homers. He could hit 40-plus again, but not without a hit to his .260 batting average.
The criteria

Andriesen: Method to my madness: In planning a team for the next three years, there are a couple of things I value in particular. One is age -- I'm targeting guys who will spend most of this period in the proven high-output years between 27 and 31 or 32. I'll go older for someone with a consistent track record and no signs of early dropoff; younger for someone who has shown exceptional potential that looks like it will develop early. My other big one is on-base percentage. My team will have plate discipline and create a lot of opportunities on the bases.

Brunell: In my rankings, I focused more on youth and athleticism. The older one gets, the more risk that player has of falling off a cliff or getting injured. I'm going to shoot for guys who are in or nearing their upside. I did mark down some young players by dint of not being sure of their ETA or playing time. Overall game is extremely important too. Baseball isn't just a game of home runs or sparkly ERAs. You need to be able to contribute on both sides of the ball and on the bases. I trended toward those who had better overall games -- and thus, better opportunities to stay valuable -- rather than one-trick ponies.

Rosecrans: The fact that we're talking about the next three years makes it more difficult -- I want a mix of potential and actualization. Learning to be a full-time big-leaguer takes some time, so I want to make sure those on my list have already shown that they can hack it at this level for an extended time, but also aren't on the decline. It's a tricky balancing act of proof and potential.
Melchior & Scott White: In Fantasy, it's all about the numbers -- specifically, our 2011 projections. Defense means nothing. Contract means nothing. If a guy plays regularly and hits, he's the one you want.
For more baseball news, rumors and analysis, follow  @cbssportsmlb on Twitter or subscribe to the  RSS feed.