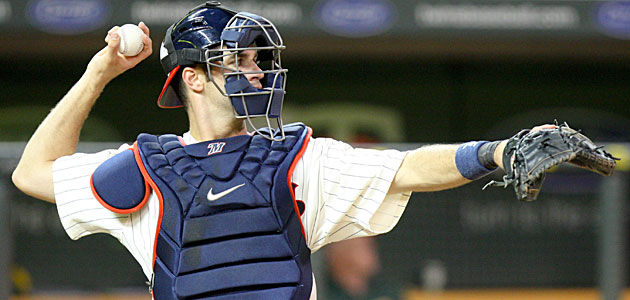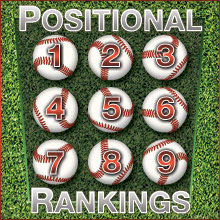 Surprise, surprise.
Joe Mauer is considered the best catcher in the game.
The Twins' first overall pick of the 2001 draft is one of the best hitters in the majors, too. Through six full seasons and 35 games in 2004, Mauer owns a .327 career batting average.
He won the American League MVP in 2009 after reaching career highs in batting average (.365), homers (28) and RBI (96). And let's not forgot the defensive side. The Minnesota native won his third consecutive Gold Glove last season.
Dealing with some injuries in 2010, Mauer's numbers slipped a little as he appeared in just 137 games, starting behind the plate in 107. He hit only nine homers, but was still third among catchers in RBI (75) and first in the position in runs (88).
So, anticipating the next three seasons, the debate becomes "Who is the second best catcher?" The Eye on Baseball team and fantasy writer Scott White rank their top nine in Part V of CBSSports.com's Positional Rankings series.
Positional Rankings lineup:
First basemen -- Jan. 31; Second basemen -- Feb. 1; Shortstops -- Feb. 2; Third basemen -- Feb. 3; DHs -- Feb. 5;
Left fielders -- Feb. 7; Center fielders -- Feb. 8; Right fielders -- Feb. 9;
Right-handed starters -- Feb. 10; Left-handed starters -- Feb. 11; Closers -- Feb. 12.
AL Preseason Division Outlooks: East | Central | West | NL: East | Central | West
Position
Rank
Andriesen
Brunell
Rosecrans
Fantasy: White
Avg., Player
1
Mauer
Mauer
Mauer
Mauer
1.0 - Mauer
2
V. Martinez
McCann
McCann
V. Martinez
2.8 - McCann
3
McCann
Posey
Posey
Posey
3.3 - Posey
4
Posey
Santana
Y. Molina
McCann
5.3 - Santana
5
Santana
Ruiz
Ruiz
Santana
5.5 - V. Martinez
6
Soto
M. Montero
V. Martinez
Soto
7.5 - Ruiz
7
Arencibia
Wieters
Santana
Suzuki
8.0 - Soto
8
Ruiz
Soto
Suzuki
M. Montero
8.8 - M. Montero
9
Wieters
Y. Molina
Montero
Wieters
9.3 - Y. Molina
9.3 - Wieters
For figuring avg.: Unranked players receive a worth of 12; Listed alphabetically if tied
Why ranked 1-5
David Andriesen: No. 1
Evan Brunell: No. 1
Joe Mauer, Twins
This one is easy. He's 27, heading into what data indicates should be three of the best years of his career, and he's already the best there is. Slowed by injuries and missing Justin Morneau's lineup protection last year, he still put up a .327/.402/
.469 line. Great hitter, great defender, great makeup.
Joe Mauer, Twins
A long-term deal will keep Mauer in Minnesota and behind the plate for a very long time. The one part of his game that is lacking is home run production, but that's splitting hairs.
C. Trent Rosecrans: No. 1
Fantasy -- Scott White: No. 1
Joe Mauer, Twins
I'm not sure there's much to discuss here.
Joe Mauer, Twins
Even with the decline in power, Mauer was easily the most productive catcher in Fantasy last year. Injury risk is the only reason you wouldn't draft him in the first round.
Ranked No. 2
Andriesen: No. 2
Brunell: No. 2
Victor Martinez, Tigers
He's 32 with a catcher's mileage, but that's trumped by his consistent track record and the fact that most of his 2010 averages were in line with his career averages. Maybe he's not the same guy in the third year of this exercise, but he's going to be very strong the first couple.
Brian McCann, Braves
McCann is extremely underrated and deserves more recognition. He is right there with Mauer on offense and defense, but is a year younger, profiles better behind the plate and hits for power.
Rosecrans: No. 2
Fantasy -- White: No. 2
Brian McCann, Braves
McCann has five All-Star bids and four Silver Sluggers before his 27th birthday (which is later this month). He played more games behind the plate last year than any other catcher in the NL.
Victor Martinez, Tigers
Martinez's consistency as a .300-hitting, 20-homer guy is unparalleled among catcher-eligible players. Moving to DH only works to his advantage by keeping his bat in the lineup.
Ranked No. 3
Andriesen: No. 3
Brunell: No. 3
Brian McCann, Braves
McCann gets a slight edge over Posey just because he's more proven and bettered Posey in OPS (.828) and OPS+ (122) last year. An All-Star five consecutive years, the 26-year-old is one of the most under-the-radar guys in the game despite consistently impressive numbers.
Buster Posey, Giants
Posey could well rank No. 1 on this list, but despite his smashing debut, Posey still has less than one year experience in the bigs. Let's wait and see how he hits now that pitchers have a book on him.
Rosecrans: No. 3
Fantasy -- White: No. 3
Buster Posey, Giants
He lived up to -- and may have exceeded -- the high expectations everyone had for him in his rookie season, hitting
.305/.357/.505 with 18 home runs and winning the Rookie of the Year. He also shook the label that he wasn't ready behind the plate.
Buster Posey, Giants
Because their first priority is the pitching staff, catchers typically need a few years to break through offensively. Not Posey. His rookie numbers immediately vault him to elite status at a position short on elite talent. He's right there with Mauer and Martinez.
Ranked No. 4
Andriesen: No. 4
Brunell: No. 4
Buster Posey, Giants
Yeah, he's only done it once so far -- and not even for a full season -- but there's nothing to indicate Posey isn't going to continue his ascent. At 23, there seems no limit to what he could do.
Carlos Santana, Indians
Like Posey, Santana took baseball by storm in 2010, which was cut short by injury. What he showed in his time in the bigs is enough to put him on this list, as there aren't many catchers with his skills.
Rosecrans: No. 4
Fantasy -- White: No. 4
Yadier Molina, Cardinals
I value defense at the catcher spot more than nearly any other, and that's why a guy with a career 82 OPS+ is in my top five. Molina is by far the best defensive catcher in the game. He's also just 28.
Brian McCann, Braves
Playing in the NL hurts his value in Fantasy because he doesn't get to DH on his off days, but you can't knock his numbers. As far as homers and RBI go, he's as consistent as you'll find at the catcher position. If he hit .300 every year, he'd be right there with the top three.
Ranked No. 5
Andriesen: No. 5
Brunell: No. 5
Carlos Santana, Indians
I wish we'd gotten a full first season out of him (he was called up late, then out after a freak August injury), but his power profile and plate discipline make him a threat from both sides of the plate. Don't be surprised if this guy blows up.
Carlos Ruiz, Phillies
Pitchers love to throw to Ruiz, and the backstop's presence in Philadelphia was a major draw to Cliff Lee. Oh, and did you notice that he put up a .400 OBP in 2010? At just age 32, Ruiz should produce plenty over the next three seasons.
Rosecrans: No. 5
Fantasy -- White: No. 5
Carlos Ruiz, Phillies
One of the best receivers in the game, Chooch has improved at the plate both of the last two years, actually putting up a .302/.400/.447 slash line last season and a 128 OPS+.
Carlos Santana, Indians
Santana's knee injury last summer upended what would have been fascinating story with Posey breaking in at the same time. Santana actually finished with the higher OPS of the two and has similar upside, crazy as it sounds. Players his age shouldn't walk more than they strike out.
The criteria

Andriesen: Method to my madness: In planning a team for the next three years, there are a couple of things I value in particular. One is age -- I'm targeting guys who will spend most of this period in the proven high-output years between 27 and 31 or 32. I'll go older for someone with a consistent track record and no signs of early dropoff; younger for someone who has shown exceptional potential that looks like it will develop early. My other big one is on-base percentage. My team will have plate discipline and create a lot of opportunities on the bases.

Brunell: In my rankings, I focused more on youth and athleticism. The older one gets, the more risk that player has of falling off a cliff or getting injured. I'm going to shoot for guys who are in or nearing their upside. I did mark down some young players by dint of not being sure of their ETA or playing time. Overall game is extremely important too. Baseball isn't just a game of home runs or sparkly ERAs. You need to be able to contribute on both sides of the ball and on the bases. I trended toward those who had better overall games -- and thus, better opportunities to stay valuable -- rather than one-trick ponies.

Rosecrans: The fact that we're talking about the next three years makes it more difficult -- I want a mix of potential and actualization. Learning to be a full-time big-leaguer takes some time, so I want to make sure those on my list have already shown that they can hack it at this level for an extended time, but also aren't on the decline. It's a tricky balancing act of proof and potential.
Melchior & Scott White: In Fantasy, it's all about the numbers -- specifically, our 2011 projections. Defense means nothing. Contract means nothing. If a guy plays regularly and hits, he's the one you want.
For more baseball news, rumors and analysis, follow  @cbssportsmlb on Twitter or subscribe to the  RSS feed.