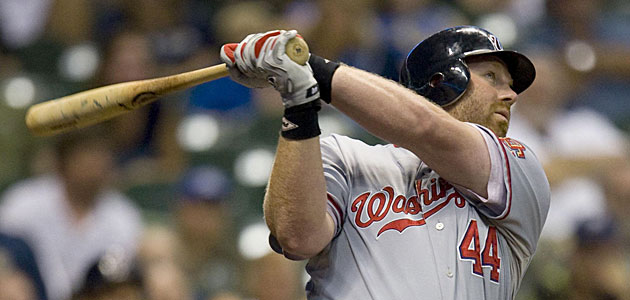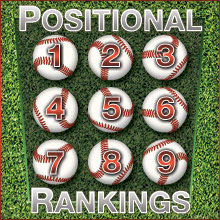 Check out this slugger's home run numbers for the past seven seasons, starting with last year: 38, 38, 40, 40, 40 40 and 46.
RBI? 103, 105, 100, 106, 92, 101 and 102.
Insert this big bopper into the Chicago White Sox lineup, which means playing 81 games in homer-friendly U.S. Cellular Field, and no wonder Adam Dunn is the No. 1 designated hitter in CBSSports.com's Positional Rankings.
Sure, Dunn strikes out a lot. He averaged 180 since 2004 and fanned a career-high 199 times last season. But the 31-year-old Texas native has drawn more than 100 walks six of the last seven seasons.
Thinking production through 2013, the Eye on Baseball crew agreed that Dunn would be their DH choice for a lineup card.
Fantasy Writer Al Melchior frowned at the strikeouts and batting average (.260 last season and a career .250 hitter), and made Dunn No. 3 on his list, while giving the top spot to Detroit's Victor Martinez.
The sleeper in the bunch might be New York Yankees prospect Jesus Montero, who Evan Brunell penciled in at No. 2.
Keep in mind projecting designated hitters is difficult because for one, DHs only exist in the American League. Second, DHs can be filled by anyone and you can't project anyone with absolute certainty to DH full time.
Positional Rankings lineup:
First basemen -- Jan. 31; Second basemen -- Feb. 1; Shortstops -- Feb. 2; Third basemen -- Feb. 3;
Catchers -- Feb. 4; Left fielders -- Feb. 7; Center fielders -- Feb. 8; Right fielders -- Feb. 9;
Right-handed starters -- Feb. 10; Left-handed starters -- Feb. 11; Closers -- Feb. 12.
AL Preseason Division Outlooks: East | Central | West | NL: East | Central | West
Position
Rank
Andriesen
Brunell
Rosecrans
Fantasy: Melchior
Avg., Player
1
Dunn
Dunn
Dunn
V. Martinez
1.5 - Dunn
2
V. Martinez
J. Montero
Butler
Butler
2.5 - Butler
3
Butler
Butler
V. Martinez
Dunn
2.8 - V. Martinez
4
M. Young
Lind
M. Young
M. Young
5.5 - Lind
5
Scott
V. Martinez
Lind
Ortiz
6.0 - M. Young
6
Lind
Carter
Scott
B. Abreu
7.5 - Scott
7
Hafner
Scott
B. Abreu
Lind
9.3 - B. Abreu
8
Guerrero
Matsui
Napoli
Guerrero
9.3 - Hafner
9
Quentin
Hafner
Hafner
Kubel
9.5 - J. Montero
For figuring avg.: Unranked players receive a worth of 12; Listed alphabetically if tied
Why ranked 1-5
David Andriesen: No. 1
Evan Brunell: No. 1
Adam Dunn, White Sox
Extremely productive, freakishly consistent, still just 31 and now left to focus on hitting alone. As long as he's not wearing a glove,who wouldn't want this guy in their lineup?
Adam Dunn, White Sox
Although Dunn should see enough time at first to keep him happy, the majority of his starts will be at DH. It's scary to think what he can do with just hitting to focus on and a field kind to homers.
C. Trent Rosecrans: No. 1
Fantasy -- Al Melchior: No. 1
Adam Dunn, White Sox
40 homers. 100 walks. 100 runs. Rinse, repeat. The game's most consistent performer is finally at the defensive position best suited to his skills -- DH.
Victor Martinez, Tigers
V-Mart won't be the most productive DH in Fantasy, but the fact that you can still use him at catcher gives him all sorts of value. He won't likely make it past the third round in most drafts.
Ranked No. 2
Andriesen: No. 2
Brunell: No. 2
Victor Martinez, Tigers
You'd like to see him at DH as much as possible, as catchers tend to fall apart earlier, and if so there's no reason he can't come close to keeping up his numbers the next three years. And they're very good numbers.
Jesus Montero, Yankees
Montero has to be considered the favorite to DH for the Yankees in 2012. He is ready to hit now and be among the better hitters in the game at just 21. It will be difficult for him to stay at catcher and he is blocked at first base.
Rosecrans: No. 2
Fantasy -- Melchior: No. 2
Billy Butler, Royals
Currently the Royals first baseman, Butler will soon move over to DH to make room for Eric Hosmer at first. Butler's one of the most overlooked young hitters in the game. Over the past two seasons he has a 130 OPS+ and 96 doubles.
Billy Butler, Royals
Butler ranked seventh in the AL in on-base percentage last year. He could break the .400 mark and still help Fantasy owners with 20-plus homers.
Ranked No. 3
Andriesen: No. 3
Brunell: No. 3
Billy Butler, Royals
He will likely DH for the bulk of the three-year period, and it's hard to argue against a 24-year-old with a .299 career average and 20-homer potential. It's a good sign that his on-base percentage is increasing.
Billy Butler, Royals
Butler will play first for the Royals in 2011, but should be pushed to DH after that to make way for Eric Hosmer. He doesn't have tons of power, but you can't complain with a .300-plus batting average and 40-plus doubles.
Rosecrans: No. 3
Fantasy -- Melchior: No. 3
Victor Martinez, Tigers
Like Dunn, Martinez will finally find his natural spot at DH. The Tigers will likely use him behind the plate some, but he can now concentrate on just hitting -- something he's done well with.
Adam Dunn, White Sox
Especially with the move to a homer-friendly park, Dunn continues to be a lock for close to 40 homers, but his strikeouts and mediocre batting average hinder his value.
Ranked No. 4
Andriesen: No. 4
Brunell: No. 4
Michael Young, Rangers
He'll be 37 in three years, but he's been durable and pretty consistent, and it's not like there are a lot of youngsters in this category. His numbers were down across the board last year, but still not bad, and not having to worry about defense could help him rebound.
Adam Lind, Blue Jays
Lind has a powerful bat, just no position. Whether he plays first or left field in 2011, his future seems set as DH. He has 58 home runs after the last two years and is just getting started.
Rosecrans: No. 4
Fantasy -- Melchior: No. 4
Michael Young, Rangers
Another first-year DH. THat's the trouble with this list, as DH has become a position for players past their prime, but still with some sock. Young can still hit, even if he's no longer an MVP candidate.
Michael Young, Rangers
Should he get dealt to an NL team, as rumored, talk of his new DH role becomes moot. However, with Fantasy eligibility at third base, his .280s average and 15 to 20 home runs look a lot more enticing.
Ranked No. 5
Andriesen: No. 5
Brunell: No. 5
Luke Scott, Orioles
Technically he just got bounced back to the outfield, but he'll be DH again before long. All of his slash line numbers from last year were the best for a full season in his career, which bodes well.
Victor Martinez, Tigers
He will spend the bulk of his playing time in Detroit DHing as first base is taken by Miguel Cabrera and Martinez is not suited for full-time duty at catcher. He has a sweet stroke and should flourish as a DH with the demands of catching removed.
Rosecrans: No. 5
Fantasy -- Melchior: No. 5
Adam Lind, Blue Jays
The question with Lind is if he's the hitter from 2009 (.932 OPS) or from 2010 (.712 OPS)? He has great power (58 homers over the last two seasons), but his consistency is a concern.
David Ortiz, Red Sox
With a .370 on-base percentage and 32 homers last year, Papi showed he still has gas in the tank. Still, at 35, it would not be a surprise to see those numbers drop off.
The criteria

Andriesen: Method to my madness: In planning a team for the next three years, there are a couple of things I value in particular. One is age -- I'm targeting guys who will spend most of this period in the proven high-output years between 27 and 31 or 32. I'll go older for someone with a consistent track record and no signs of early dropoff; younger for someone who has shown exceptional potential that looks like it will develop early. My other big one is on-base percentage. My team will have plate discipline and create a lot of opportunities on the bases.

Brunell: In my rankings, I focused more on youth and athleticism. The older one gets, the more risk that player has of falling off a cliff or getting injured. I'm going to shoot for guys who are in or nearing their upside. I did mark down some young players by dint of not being sure of their ETA or playing time. Overall game is extremely important too. Baseball isn't just a game of home runs or sparkly ERAs. You need to be able to contribute on both sides of the ball and on the bases. I trended toward those who had better overall games -- and thus, better opportunities to stay valuable -- rather than one-trick ponies.

Rosecrans: The fact that we're talking about the next three years makes it more difficult -- I want a mix of potential and actualization. Learning to be a full-time big-leaguer takes some time, so I want to make sure those on my list have already shown that they can hack it at this level for an extended time, but also aren't on the decline. It's a tricky balancing act of proof and potential.
Melchior & Scott White: In Fantasy, it's all about the numbers -- specifically, our 2011 projections. Defense means nothing. Contract means nothing. If a guy plays regularly and hits, he's the one you want.
For more baseball news, rumors and analysis, follow  @cbssportsmlb on Twitter or subscribe to the  RSS feed.