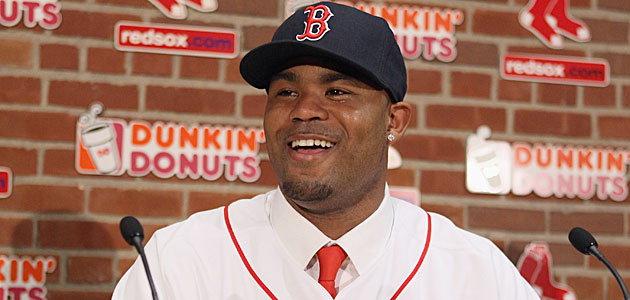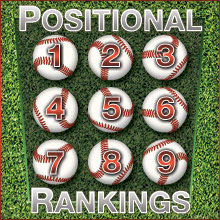 Carl Crawford has a lot to smile about.
Not only will the 29-year-old left fielder get to play in front of full houses at Fenway Park instead of his old Tampa home at Tropicana Field, he'll be doing it for $142 million over the next seven seasons.
The Red Sox weren't pleased about missing the playoffs in 2010, so in the offseason they went out and got the four-time All-Star, along with slugging first basemen Adrian Gonzalez.
"A dynamic player like this, he can be a game-changer for us," Boston GM Theo Epstein said back in December at Crawford's introductory news conference.
Last year Crawford set career highs with 19 homers, 90 RBI and 110 runs, while hitting .307 and swiping 47 bases. Plus, he won his first Gold Glove award.
Is Crawford the best left fielder in the game, thinking production for the next three years?
There's some tough competition out there.
Texas' Josh Hamilton hit .359 with 32 homers and 110 RBI last season in just 133 games and was named the AL MVP. Milwaukee's Ryan Braun, just 27, plays nearly every game while putting up impressive numbers of his own -- .304, 25 homers and 103 RBI in 2010.
The Eye on Baseball team and Fantasy writer Scott White rank their top nine in Part VII of CBSSports.com's Positional Rankings series.
Just don't get into an uproar if you don't see Colorado's Carlos Gonzalez on anyone's list. Even though he played mostly in left field last season, he's expected to play right in 2011.
Specific outfield positions were distinguished by depth charts from the respective team's websites.
Editor's note: Since left, center and right don't matter in most Fantasy leagues, the Fantasy writers will cover their top nine overall outfielders in Wednesday's column about right fielders.
Positional Rankings lineup:
First basemen -- Jan. 31; Second basemen -- Feb. 1; Shortstops -- Feb. 2; Third basemen -- Feb. 3;
Catchers -- Feb. 4; Designated hitters -- Feb. 5; Center fielders -- Feb. 8; Right fielders -- Feb. 9;
Right-handed starters -- Feb. 10; Left-handed starters -- Feb. 11; Closers -- Feb. 12.
AL Preseason Division Outlooks: East | Central | West | NL: East | Central | West
Position
Rank
Andriesen
Brunell
Rosecrans
Fantasy: White
Avg., Player
1
Crawford
Hamilton
Braun
Crawford
1.5 - Crawford
2
Braun
Crawford
Crawford
Braun
2.0 - Braun
3
Holliday
Braun
Holliday
Hamilton
3.0 - Hamilton
4
Hamilton
Holliday
Hamilton
Holliday
3.5 - Holliday
5
Prado
Bay
D. Young
Prado
7.3 - Gardner
6
Gardner
Morrison
Bay
Gardner
8.5 - Prado
7
Morrison
Soriano
Wells
D. Young
8.8 - Bay
8
Wells
Willingham
Gardner
Wells
8.8 - Wells
9
Tabata
Gardner
Tabata
Pierre
9.0 - D. Young
For figuring avg.: Unranked players receive a worth of 12; Listed alphabetically if tied
Why ranked 1-5
David Andriesen: No. 1
Evan Brunell: No. 1
Carl Crawford, Red Sox
He gets the slight nod over Braun because of all-around skill. Age 29 and still getting better, a .300 hitter with killer speed and Gold Glove defense. I wish his on-base percentage were better, but you Can't have everything.
Josh Hamilton, Rangers
What can you say about Hamilton that hasn't already been said? An MVP and one of the best hitters in the game, Hamilton oozes five tools although years of drug abuse have taken a toll on his speed and health.
C. Trent Rosecrans: No. 1
Fantasy -- Scott White: No. 1
Ryan Braun, Brewers
Sure, he's not going to win a Gold Glove out there, but the dude flat out kills the ball. A career 140 OPS+ hitter in his four years, he's averaged 32 homers a season.
Carl Crawford, Red Sox
Crawford is one of the premier sources of batting average and stolen bases every year, and he even hits a few homers to boot. He's consistently a borderline first-rounder in Fantasy, and signing with Boston should only help his cause.
Ranked No. 2
Andriesen: No. 2
Brunell: No. 2
Ryan Braun, Brewers
He's been consistently superb offensively, and I figure he's good for 30 homers and 110-plus RBI each of the next three years. When a player is entering his golden age 27-30 seasons with a career 140 OPS+, it's tough to find a better bet.
Carl Crawford, Red Sox
Crawford is an incredible baseball player -- there's no doubt about that. But he hasn't hit 20 homers in a season yet, and his defense will have less impact thanks to the Green Monster. But with his gap power and blazing speed, he easily ranks second.
Rosecrans: No. 2
Fantasy -- White: No. 2
Carl Crawford, Red Sox
The Red Sox didn't sign over the bank to him because he's a nice guy. He's an elite defender and a difference maker on offense, not only in the batter's box, but also on the bases. According to Bill James, he added 52 runs on the basepaths last season, the second-best mark in the majors.
Ryan Braun, Brewers
Even though his power numbers took a hit last year, Braun ranked second among left fielders in standard Fantasy leagues. His .300-hitting, 30-homer, 100-RBI ways should only continue into his prime, putting him more or less on par with Crawford.
Ranked No. 3
Andriesen: No. 3
Brunell: No. 3
Matt Holliday, Cardinals
When .312/.390/.523 with 28 homers and 103 RBI is considered a "down" year, that tells you the caliber of player we're talking about. He's going to deliver some big numbers the next three years.
Ryan Braun, Brewers
What can Braun do for you? The slugger feels underappreciated these days when all he does is crank out a .300 batting average, 30 home runs and 15 stolen bases. The only wart is his defense, but you can forgive that in left field. And he's just 27.
Rosecrans: No. 3
Fantasy -- White: No. 3
Matt Holliday, Cardinals
Had his lowest on-base percentage in four seasons last year, and he still had a .390 OPS. He also had the lowest BABIP of his career at .331. His home numbers have taken a little dip since he hit 36 as a Rockie in 2007, but he has a 144 OPS+ the last two seasons since leaving Denver, so it's not like he was a product of Coors Field.
Josh Hamilton, Rangers
When healthy, Hamilton may very well be the best left-handed hitter in the game, as his MLB-leading 1.044 OPS last year can attest. But his propensity for injury, which has cost him 102 games over the last two years, keeps him from topping this list.
Ranked No. 4
Andriesen: No. 4
Brunell: No. 4
Josh Hamilton, Rangers
It's definitely tough to project someone with such an unusual background, especially with some injury concerns. But if what he did last season shows he's really figured it out at 29, he could have some huge years ahead.
Matt Holliday, Cardinals
Holliday is among the elite outfield bats in the game, but is no longer a basestealing threat. Ranking No. 4 is nothing to sniff at: the talent at the top is undeniable although it drops off rather quickly after Holliday.
Rosecrans: No. 4
Fantasy -- White: No. 4
Josh Hamilton, Rangers
If I felt comfortable Hamilton would average just 125 games a season over the next three years, I'd have him No. 1. He's played in 90 or fewer games in two of his four seasons. On the field, he's a monster, but if I'm building a team, I want the consistency of the others on the list.
Matt Holliday, Cardinals
Holliday still has some detractors who claim he's not the same out of Coors Field, but he has proven he can hit anywhere, batting .324 with a .950 OPS in 221 games since joining the Cardinals. He's a complete enough hitter that he doesn't need to hit 30 homers to be elite.
Ranked No. 5
Andriesen: No. 5
Brunell: No. 5
Martin Prado, Braves
He's coming into his prime years with a track record of extreme consistency, and he's only going to get better. He'll hit for average with enough power (78 doubles the past two years) that he could end up a 20-homer guy.
Jason Bay, Mets
It was tough to choose between Bay and Morrison, but while Morrison has a lot of upside, Bay is too good with the bat to slip to No. 6 based on injury and his off 2010. When right, Bay is capable of 40 home runs and a monster season.
Rosecrans: No. 5
Fantasy -- White: No. 5
Delmon Young, Twins
Still just 25, and coming off a 21-homer season at Target Field. It'd be nice if he walked more, but he's still developing and had a nice .298/.333/.493 slash line last year, plus 112 RBI and 46 doubles.
Martin Prado, Braves
Prado earns some extra points here because of his versatility, but it's not like his numbers don't carry any weight. He proved last year he could maintain a .300 batting average as an everyday player, and he showed surprising power as well. What he lacks in upside he makes up for in reliability.
The criteria

Andriesen: Method to my madness: In planning a team for the next three years, there are a couple of things I value in particular. One is age -- I'm targeting guys who will spend most of this period in the proven high-output years between 27 and 31 or 32. I'll go older for someone with a consistent track record and no signs of early dropoff; younger for someone who has shown exceptional potential that looks like it will develop early. My other big one is on-base percentage. My team will have plate discipline and create a lot of opportunities on the bases.

Brunell: In my rankings, I focused more on youth and athleticism. The older one gets, the more risk that player has of falling off a cliff or getting injured. I'm going to shoot for guys who are in or nearing their upside. I did mark down some young players by dint of not being sure of their ETA or playing time. Overall game is extremely important too. Baseball isn't just a game of home runs or sparkly ERAs. You need to be able to contribute on both sides of the ball and on the bases. I trended toward those who had better overall games -- and thus, better opportunities to stay valuable -- rather than one-trick ponies.

Rosecrans: The fact that we're talking about the next three years makes it more difficult -- I want a mix of potential and actualization. Learning to be a full-time big-leaguer takes some time, so I want to make sure those on my list have already shown that they can hack it at this level for an extended time, but also aren't on the decline. It's a tricky balancing act of proof and potential.
Melchior & Scott White: In Fantasy, it's all about the numbers -- specifically, our 2011 projections. Defense means nothing. Contract means nothing. If a guy plays regularly and hits, he's the one you want.
For more baseball news, rumors and analysis, follow  @cbssportsmlb on Twitter or subscribe to the  RSS feed.