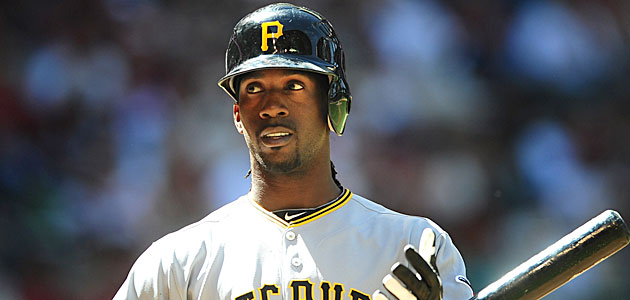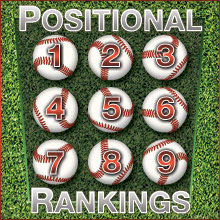 When is the last time a Pittsburgh Pirates player was considered the best at his position?
Barry Bonds in 1992?
Eighteen consecutive losing seasons has put a damper on the Pirates' reputation. The Steel City franchise last made the playoffs in 1992 after winning a third NL East pennant in a row. In the 70s, the Pirates claimed six division titles and two World Series.
But oh, how things have changed.
Maybe with the emergence of 24-year-old Andrew McCutchen, the tide is ready to turn.
McCutchen, the 11th overall pick and Bucs' first in the 2005 draft, is considered the No. 1 center fielder by three of four CBSSports.com experts. Eye on Baseball blogger C. Trent Rosecrans tabs McCutchen second behind St. Louis' Colby Rasmus.
In only two major-league seasons, McCutchen swiped 55 bases, 33 last season. The Fort Meade, Fla., native hit .286 in both years. He played in 108 games in 2009, hitting 12 homers with 54 RBI and finished fourth in the NL Rookie of the Year voting.
Last season, he played in 154 games, tallying 16 homers, 56 RBI and 94 runs. Plus, he is considered a better-than average defensive glove.
There's no telling what kind of ceiling McCutchen has. If he does produce, the fear is if the Pirates trade him when it's time to pay up.
Considering the next three seasons, the Eye on Baseball team and Fantasy Writer Al Melchior rank their top nine center fielders in Part VIII of CBSSports.com's Positional Rankings series.
Positional Rankings lineup:
First basemen -- Jan. 31; Second basemen -- Feb. 1; Shortstops -- Feb. 2; Third basemen -- Feb. 3;
Catchers -- Feb. 4; Designated hitters -- Feb. 5; Left fielders -- Feb. 7; Right fielders -- Feb. 9;
Right-handed starters -- Feb. 10; Left-handed starters -- Feb. 11; Closers -- Feb. 12.
AL Preseason Division Outlooks: East | Central | West | NL: East | Central | West
Position
Rank
Andriesen
Brunell
Rosecrans
Fantasy: Melchior
Avg., Player
1
McCutchen
McCutchen
Rasmus
McCutchen
1.3 - McCutchen
2
Kemp
Rasmus
McCutchen
Victorino
2.8 - Kemp
3
Victorino
Kemp
Kemp
Kemp
6.7 - Rasmus
4
Ellsbury
Bourn
Stubbs
Rios
7.0 - Ellsbury
5
Rios
B. Upton
Sizemore
Ellsbury
7.3 - Victorino
6
C. Young
Granderson
Jackson
C. Young
7.8 - Granderson
7
B. Upton
Ellsbury
Fowler
B. Upton
7.8 - B. Upton
8
Stubbs
Ad. Jones
Granderson
Granderson
8.3 - Rios
9
Granderson
Torres
C. Young
Stubbs
8.3 - Stubbs
10.3 - C. Young
For figuring avg.: Unranked players receive a worth of 12; Listed alphabetically if tied
Why ranked 1-5
David Andriesen: No. 1
Evan Brunell: No. 1
Andrew McCutchen, Pirates
A nice blend of speed, smart hitting and power. He has hit consistently throughout his minor-league career and his first two years in the bigs. At 24, his projection for the next three years is huge.
Andrew McCutchen, Pirates
McCutchen posted an .800-plus OPS his first two seasons in the majors, and he's only 24. This is a five-tool player who is on the cusp of breaking out as a perennial 30-30 hitter.
C. Trent Rosecrans: No. 1
Fantasy -- Al Melchior: No. 1
Colby Rasmus, Cardinals
Tony La Russa may not like him, but he was really good last year and at 24 is only going to get better. Rasmus hit 23 homers last season and should top that in 2011. His .276/.361/.498 line last season is just the tip of the iceberg.
Andrew McCutchen, Pirates
The 24-year-old has already made good on his stolen base and on-base potential, and he could hit even more doubles and triples. Even if power stagnates, he's a No. 1 Fantasy OF.
Ranked No. 2
Andriesen: No. 2
Brunell: No. 2
Matt Kemp, Dodgers
There are two camps: Those who believe Kemp will learn from 2010 and get back on track to stardom and those who don't. Call it a hunch, but I think he will, and his upside is as a dependable 30-30 guy. At this position, that's golden.
Colby Rasmus, Cardinals
Bizarre playing decisions by skipper Tony LaRussa aside, Rasmus is poised to give the Cardinals a fearsome 2-3-4 lineup. Rasmus might even be able to outproduce McCutchen in 2011. One problem is the hands-on approach of Rasmus' father, which is fouling up communication with the organization.
Rosecrans: No. 2
Fantasy -- Melchior: No. 2
Andrew McCutchen, Pirates
One of the most dynamic players in the game, McCutchen stole 33 bases last season and unlike many of the guys on this list, doesn't strike out a lot. He has a career 120 OPS+ and didn't turn 24 until after the season.
Shane Victorino, Phillies
His 14 homers in the first half a year ago were unexpected, but so was the .250 average. Expect him to have a more normal season, complete with 30-plus steals and a batting average around .280, placing him a shade behind McCutchen.
Ranked No. 3
Andriesen: No. 3
Brunell: No. 3
Shane Victorino, Phillies
For some reason he seems older than 30, and the key is for him to stay healthy. But he's a very well-rounded player who gets on base, racks up steals and rarely strikes out.
Matt Kemp, Dodgers
Let's get this out of the way: Kemp cannot field a lick and belongs in a corner. But with Andre Ethier in right and the club not even somewhat considering shifting Kemp, it's clear he's staying in center for a while. Everyone saw what he was capable of in 2009, but he needs to learn how to put things together. Of everyone on this list, he may have the best bat.
Rosecrans: No. 3
Fantasy -- Melchior: No. 3
Matt Kemp, Dodgers
An enigma, but an enigma with some serious talent. As much crap as he gets, he still played 162 games last season and hit 28 homers. The drop in batting average and OBP does raise an eyebrow, but is still at tempting talent.
Matt Kemp, Dodgers
After getting caught 15 times in 34 tries in '10, Kemp may be past his prime as a stolen base threat, but his power has increased in each of the last two seasons. With 20-plus homers and 90-plus RBI, he's still a legitimate No. 2 Fantasy OF.
Ranked No. 4
Andriesen: No. 4
Brunell: No. 4
Jacoby Ellsbury, Astros
Let's just pretend 2010 and the whole rib debacle never happened. Go back to 2009 and you're talking about a guy who stole 70 bases while batting .301 -- at 27 he can be that guy again, or at least something close to it.
Michael Bourn, Astros
This guy is Bourn to run. Pun aside, Bourn is extremely underrated, though his batting average slipped last year. He's a sensational fielder and burns on the basepaths, but does lack power. Even if he is only a true-talent .270 hitter, what he's done the last two years is remarkable.
Rosecrans: No. 4
Fantasy -- Melchior: No. 4
Drew Stubbs, Reds
You may not know much about the Reds center fielder, but he's one of the best defensive players at the position, can flat fly and has improved his approach at the plate, but still strikes out way too much.
Alex Rios, White Sox
He's not the best OF to help with on-base percentage, but his batting average won't kill you either. You can pencil him in for another 20-20 season.
Ranked No. 5
Andriesen: No. 5
Brunell: No. 5
Alex Rios, White Sox
He got off to a tough start after his trade to Chicago, but bounced back with a nice 2010. He has 20-homer, 30-steal potential.
B.J. Upton, Rays
Upton is way too inconsistent to rank any higher, but he's a far safer bet over the next three years than than Granderson (platoon issues), Ellsbury (jury's still out), Adam Jones (also inconsistent with a lower ceiling) and Torres (age 33). And come on, Upton's only 26.
Rosecrans: No. 5
Fantasy -- Melchior: No. 5
Grady Sizemore, Indians
Yeah, it's a gamble -- Sizemore has struggled with injuries the last two seasons, but he's still just 28. Sizemore does a little bit of everything and is one of the most talented players in the game.
Jacoby Ellsbury, Red Sox
His rib injury makes him riskier than he was a year ago, but all indications are that he'll be ready for 2011. He's as good a bet as there is to get stolen bases at the outfield position, and he'll hit for average, too.
The criteria

Andriesen: Method to my madness: In planning a team for the next three years, there are a couple of things I value in particular. One is age -- I'm targeting guys who will spend most of this period in the proven high-output years between 27 and 31 or 32. I'll go older for someone with a consistent track record and no signs of early dropoff; younger for someone who has shown exceptional potential that looks like it will develop early. My other big one is on-base percentage. My team will have plate discipline and create a lot of opportunities on the bases.

Brunell: In my rankings, I focused more on youth and athleticism. The older one gets, the more risk that player has of falling off a cliff or getting injured. I'm going to shoot for guys who are in or nearing their upside. I did mark down some young players by dint of not being sure of their ETA or playing time. Overall game is extremely important too. Baseball isn't just a game of home runs or sparkly ERAs. You need to be able to contribute on both sides of the ball and on the bases. I trended toward those who had better overall games -- and thus, better opportunities to stay valuable -- rather than one-trick ponies.

Rosecrans: The fact that we're talking about the next three years makes it more difficult -- I want a mix of potential and actualization. Learning to be a full-time big-leaguer takes some time, so I want to make sure those on my list have already shown that they can hack it at this level for an extended time, but also aren't on the decline. It's a tricky balancing act of proof and potential.
Melchior & Scott White: In Fantasy, it's all about the numbers -- specifically, our 2011 projections. Defense means nothing. Contract means nothing. If a guy plays regularly and hits, he's the one you want.
For more baseball news, rumors and analysis, follow  @cbssportsmlb on Twitter or subscribe to the  RSS feed.