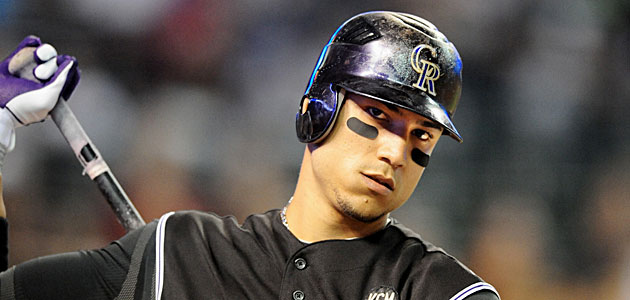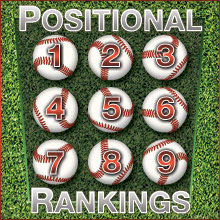 Remember the Triple Crown chatter last season?
Carlos Gonzalez, Albert Pujols and Joey Votto had a shot of becoming the first player since Boston's Carl Yastrzemski in 1967 to conclude a season as a league leader in batting average, RBI and homers.
Gonzalez finished as the NL batting champ, was second in RBI and fourth in homers. His .336 average beat out Cincinnati's Votto (.324); he was one RBI behind Pujols 118-117; and his 34 homers were eight back of the mighty Cardinals first baseman's league-leading 42.
Gonzalez, acquired by the Rockies in a deal with the A's for Matt Holliday before '09, also won his first Gold Glove last season.
Plus, 2010 was Gonzalez's first full campaign, playing 145 games. In '09, he hit .284 with 13 homers in 89 games. As a 22-year-old rookie in '08 with Oakland, he struggled a bit, finishing with a .242 average and four homers.
Now, the Venezuelan native is not only considered one of the top players in the majors, but he is the No. 1 right fielder in CBSSports.com's Positional Rankings.
Yes, he played more games in left field last season, but as stated in the LF Rankings, specific outfield positions were distinguished by the depth charts from the respective team's websites.
You might be surprised by the No. 2-ranked right fielder, however. Check out who it is and the rest of the top nine in Part IX of the series from the Eye on Baseball team and Fantasy writer Scott White below.
Plus, below the "Why ranked 1-5" you'll find White and Al Melchior's top nine overall outfielders for Fantasy purposes.
Positional Rankings lineup:
First basemen -- Jan. 31; Second basemen -- Feb. 1; Shortstops -- Feb. 2; Third basemen -- Feb. 3;
Catchers -- Feb. 4; Designated hitters -- Feb. 5; Left fielders -- Feb. 7; Center fielders -- Feb. 8;
Right-handed starters -- Feb. 10; Left-handed starters -- Feb. 11; Closers -- Feb. 12.
AL Preseason Division Outlooks: East | Central | West | NL: East | Central | West
Position
Rank
Andriesen
Brunell
Rosecrans
Fantasy: White
Avg., Player
1
Gonzalez
Heyward
Gonzalez
Gonzalez
1.8 - Gonzalez
2
Choo
Stanton
Choo
Choo
2.3 - Choo
3
Heyward
Choo
Suzuki
Cruz
3.8 - Heyward
4
Cruz
Gonzalez
Bautista
Suzuki
5.8 - Suzuki
5
Stanton
Bautista
Bruce
Heyward
6.8 - Stanton
6
Werth
Bruce
Heyward
J. Upton
7.3 - Werth
7
Pence
Suzuki
Werth
Ethier
7.8 - Cruz
8
J. Upton
Werth
Stanton
Werth
8.3 - Bautista
9
Suzuki
J. Upton
Ethier
Pence
8.8 - Bruce
8.8 - J. Upton
For figuring avg.: Unranked players receive a worth of 12; Listed alphabetically if tied
Why ranked 1-5
David Andriesen: No. 1
Evan Brunell: No. 1
Carlos Gonzalez, Rockies
I'd feel better about this if he had more than one big season under his belt, but all signs point to Gonzalez continuing his ascent. Is 40-40 out of the question?
Jason Heyward, Braves
Instantly proved in his rookie season that he was for real, and barring any surprises, should anchor the top of this list for the next decade. The Braves are incredibly lucky to have a new face of the franchise to build around when Chipper Jones retires.
C. Trent Rosecrans: No. 1
Fantasy -- Scott White: No. 1
Carlos Gonzalez, Rockies
There's not much Gonzalez can't do -- he can field all three outfield spots, hit, hit for power and run. Gonzalez is just 25 and will be a force for years to come.
Carlos Gonzalez, Rockies
The term "five-category stud" gets thrown around a lot in Fantasy, but Gonzalez may be the one player who legitimately fits that description. He's a 30-30 threat who won the batting title last year and is looking like a first-rounder for years to come.
Ranked No. 2
Andriesen: No. 2
Brunell: No. 2
Shin-Soo Choo, Indians
Choo doesn't have a huge ceiling, but at 28 he's proven to be extremely consistent, plays Gold Glove defense, and anybody who can get a .401 on-base percentage while in the middle of that lousy lineup is a heck of a hitter.
Mike Stanton, Marlins
He does one thing really well, and that's hit home runs. That comes with a drawback, though, and those are numerous strikeouts. He hit 22 home runs in 359 AB, but all those strikeouts dragged his batting average down to .259.
Rosecrans: No. 2
Fantasy -- White: No. 2
Shin-Soo Choo, Indians
Perhaps the most underrated player in the game. Right field is stocked with amazing talent, and Choo is one of the best. The 28-year old has hit .302/.397/
.500 the last three years, with 56 homers and 47 stolen bases, plus he's an excellent defender.
Shin-Soo Choo, Indians
Choo is a five-category stud. OK, so he's not Gonzalez, but he's gone 20-20 with a .300 batting average in back-to-back seasons. That's enough of a track record to cement his place atop the Fantasy rankings, especially when you factor in his walk rate.
Ranked No. 3
Andriesen: No. 3
Brunell: No. 3
Jason Heyward, Braves
The way he battled his thumb problem in his rookie year was as impressive as the numbers he put up in spite of it. The plate discipline he showed at 21 (.393 on-base) indicates he's the real deal.
Shin-Soo Choo, Indians
Choo plays for a team not may pay attention, but his production is finally getting some notice. He's cracked the 5 WAR barrier each of the last two years and would have been deserving of No. 1 if not for the NL East phenoms that burst on the scene.
Rosecrans: No. 3
Fantasy -- White: No. 3
Ichiro Suzuki, Mariners
Yes, he's 37, but he's still an elite defender and has led the majors in hits each of the last five seasons. Even at 36, he had 42 stolen bases last season. He doesn't give you the power of others, but he wins games other ways.
Nelscon Cruz, Rangers
Cruz a five-category stud? Well, we haven't had a chance to find out. Injuries, mostly to his hamstrings, have limited him to no more than 128 games in a season. Still, the potential for elite stats across the board make him a sure early-round pick.
Ranked No. 4
Andriesen: No. 4
Brunell: No. 4
Nelscon Cruz, Rangers
Yes, his health is a huge question mark, but I love everything about the way Cruz plays (OK, maybe not the defense). If he can stay on the field, he's capable of some very big numbers.
Carlos Gonzalez, Rockies
CarGon is a great player, there's no doubt about that. But there's the Coors Effect to worry about and despite his strong year in 2010, he still only has one full season on his resume. I need to see more before he can rank higher.
Rosecrans: No. 4
Fantasy -- White: No. 4
Jose Bautista, Blue Jays
Well, he's in right field for now. It's tough to overlook a 54-homer season. Considering Bautista had a total of 59 homers in his six previous seasons, there's still plenty of questions whether he can repeat his 2010 or not.
Ichiro Suzuki, Mariners
The across-the-board domination for right fielders ends with Ichiro, but what he does well he does as well as anyone. He's led the majors in hits six of the last seven seasons, stealing anywhere from 25 to 45 bases during that span, and is showing no signs of slowing down at age 37.
Ranked No. 5
Andriesen: No. 5
Brunell: No. 5
Mike Stanton, Marlins
We've dealt with a lot of guys for whom the three-year window of this exercise seems too late in their careers, but in this case you wonder whether the 21-year-old will have reached his potential by then. Is this a reach? Yes. But oh, that swing.
Jose Bautista, Blue Jays
Is 54 home runs a fluke? Probably, but Bautista showed tremendous consistency month-to-month and hinted at this explosion in September '09, so I'm comfortable penciling him in for around 30 home runs.
Rosecrans: No. 5
Fantasy -- White: No. 5
Jay Bruce, Reds
This is my off the board pick, but Bruce is the best defensive right fielder in the game, is coming off a .281/.353/.493 year with 25 homers and hasn't yet turned 24. Look for him to have a huge year.
Jason Heyward, Braves
Heyward's ranking is more about expectations than numbers, but he's the definition of a can't-miss player. A 20-year-old rookie, especially one with his power, shouldn't be able to produce a .393 on-base percentage. Could easily rank No. 1 here two years from now.
Fantasy: Top nine overall outfielders
1. Gonzalez (RF, Rockies); 2. Carl Crawford (LF, Red Sox); 3. Ryan Braun (LF, Brewers);
4. Josh Hamilton (LF, Rangers); 5. Matt Holliday (LF, Cardinals); 6. Choo (RF, Indians);
7. Cruz (RF, Rangers); 8. Suzuki (LF, Mariners); 9. Andrew McCutchen (CF, Pirates)
The criteria

Andriesen: Method to my madness: In planning a team for the next three years, there are a couple of things I value in particular. One is age -- I'm targeting guys who will spend most of this period in the proven high-output years between 27 and 31 or 32. I'll go older for someone with a consistent track record and no signs of early dropoff; younger for someone who has shown exceptional potential that looks like it will develop early. My other big one is on-base percentage. My team will have plate discipline and create a lot of opportunities on the bases.

Brunell: In my rankings, I focused more on youth and athleticism. The older one gets, the more risk that player has of falling off a cliff or getting injured. I'm going to shoot for guys who are in or nearing their upside. I did mark down some young players by dint of not being sure of their ETA or playing time. Overall game is extremely important too. Baseball isn't just a game of home runs or sparkly ERAs. You need to be able to contribute on both sides of the ball and on the bases. I trended toward those who had better overall games -- and thus, better opportunities to stay valuable -- rather than one-trick ponies.

Rosecrans: The fact that we're talking about the next three years makes it more difficult -- I want a mix of potential and actualization. Learning to be a full-time big-leaguer takes some time, so I want to make sure those on my list have already shown that they can hack it at this level for an extended time, but also aren't on the decline. It's a tricky balancing act of proof and potential.
Melchior & Scott White: In Fantasy, it's all about the numbers -- specifically, our 2011 projections. Defense means nothing. Contract means nothing. If a guy plays regularly and hits, he's the one you want.
For more baseball news, rumors and analysis, follow  @cbssportsmlb on Twitter or subscribe to the  RSS feed.