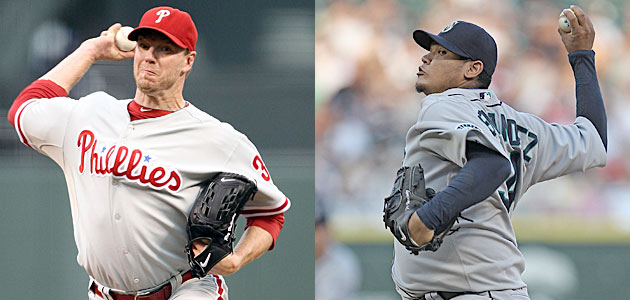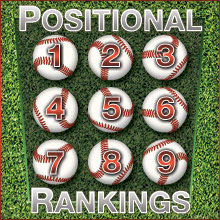 Let the debate begin.
Philadelphia's Roy Halladay or Seattle's Felix Hernandez. Thinking the next three seasons, which right-handed starter is a better ace to lead a team?
Do you go with the aged veteran? Halladay, who will be 34 in May, owns two Cy Young Awards, 169 career wins, a postseason no-hitter and a perfect game.
Or do you choose the young stud? Hernandez, who turns 25 in April, won the 2010 AL Cy Young after leading the league with a 2.27 ERA and finishing one strikeout behind Jered Weaver for the most in the majors (233-232).
OK, he went 13-12 last year, but that was for a Mariners club that lost 101 games. The season before when Seattle was more respectable in the win-loss column (85-77), Hernandez finished 19-5 with a 2.49 ERA and 249 strikeouts.



Thinking the next three seasons, which ace would you want on your team?
Roy Halladay
Felix Hernandez
Total Votes: 13,661
King Felix's career mark is 71-53 with a 3.20 ERA over six seasons. He does walk a few more batters (70 last season and 71 in '09) than Halladay.
The Phillies ace yielded just 30 free passes last year and only walked 48 batters or more once in the last eight seasons. Plus he has no problem with strikeouts, fanning at least 200 the past three seasons.
The experts are split on this one. Halladay and Hernandez received two No. 1 rankings each (out of four) and two votes apiece for the No. 2 spot.
Consider yourself the tiebreaking vote, so make your pick in the box on the left.
Below are the top nine by each member of the Eye on Baseball team and Fantasy Writer Al Melchior in Part X of CBSSports.com's Positional Rankings series.
Washington phenom Stephen Strasburg didn't make anyone's list because one lost year in a three-year window is too much to ignore.
Editor's note: Since righty/lefty doesn't matter in Fantasy leagues, Melchior and co-Fantasy Writer Scott White will list the top nine overall starters in Friday's column on left-handed starters.
Positional Rankings lineup:
First basemen -- Jan. 31; Second basemen -- Feb. 1; Shortstops -- Feb. 2; Third basemen -- Feb. 3;
Catchers -- Feb. 4; DHs -- Feb. 5; Left fielders -- Feb. 7; Center fielders -- Feb. 8; Right fielders -- Feb. 9;
Left-handed starters -- Feb. 11; Closers -- Feb. 12.
AL Preseason Division Outlooks: East | Central | West | NL: East | Central | West
Position
Rank
Andriesen
Brunell
Rosecrans
Fantasy: Melchior
Avg., Player
1
F. Hernandez
F. Hernandez
Halladay
Halladay
1.5 - Halladay
2
Halladay
Halladay
F. Hernandez
F. Hernandez
1.5 - F. Hernandez
3
Wainwright
Greinke
Lincecum
Wainwright
3.8 - Wainwright
4
Johnson
Verlander
Wainwright
Lincecum
4.5 - Lincecum
5
Lincecum
Wainwright
Johnson
Johnson
5.5 - Johnson
6
Haren
Lincecum
Jimenez
Haren
7.8 - Verlander
7
Jimenez
Hanson
Verlander
Jimenez
8.0 - Jimenez
8
Weaver*
Johnson
Weaver*
Verlander
9.0 - Haren
9
Latos
Latos
Gallardo
Carpenter
9.8 - Greinke
*-Jered Weaver; For figuring avg.: Unranked players receive a worth of 12; Listed alphabetically if tied
Why ranked 1-5
David Andriesen: No. 1
Evan Brunell: No. 1
Felix Hernandez, Mariners
Yes, Halladay's number are better, but Felix is nine years younger, which is a lifetime in baseball. History says Hernandez is the better bet to stay healthy throughout the next three years, so that gives him the slight edge.
Felix Hernandez, Mariners
There are a ton of young starters that have come along and pushed the older ones away, with Felix topping them all. (Young pitchers are also a safer bet to stay healthy.) It may appear blasphemy to rank Hernandez over Halladay, but check out King Felix's statistics and don't forget, we're ranking the next three years -- Hernandez is a far better candidate to hold up.
C. Trent Rosecrans: No. 1
Fantasy -- Al Melchior: No. 1
Roy Halladay, Phillies
The only argument I can think of not to have Halladay here is his age, but at 33, he's not so old that it pushes him out of the top spot. At the end of the 2014 season, he'll be 37 and a free agent. I'm guessing he'll find a job.
Roy Halladay, Phillies
He's been among the 10 starting pitchers with the lowest WHIP each of the last three years, and fewer than one out of four baserunners that has reached against him has scored over that span. That makes him the best in Fantasy.
Ranked No. 2
Andriesen: No. 2
Brunell: No. 2
Roy Halladay, Phillies
Halladay will be 37 at the end of this exercise, but he is simply freakish in his commitment to conditioning. An absolute workhorse who obviously is capable of anything every time he steps on the hill.
Roy Halladay, Phillies
Halladay is the only person over 30 to appear on this list, and he's well-deserving. Halladay has proven to be incredibly durable and racks up numbers. He's essentially a (much) older Hernandez with better control.
Rosecrans: No. 2
Fantasy -- Melchior: No. 2
Felix Hernandez, Mariners
Sure, he went 13-12 last season, but he had a 2.27 ERA, which was good enough to win the Cy Young Award. He owns a career 3.20 career ERA and a 2.38 ERA over the last two seasons (173 ERA+).
Felix Hernandez, Mariners
He walks a few more batters than Halladay, but that's no knock against the King. If he could be counted on for more wins, he would be the most valuable pitcher in Fantasy.
Ranked No. 3
Andriesen: No. 3
Brunell: No. 3
Adam Wainwright, Cardinals
How is he not a huge star? In four years as a starter he is 64-34 with a 2.93 ERA and 200-plus innings a year. He gets better every year, and, at 29, the next three years should be incredibly productive.
Zack Greinke, Brewers
The move to the NL should do wonders for Greinke, and being on a competitive team should get his juices flowing. This is an ex-Cy Young Award winner who at times looked disinterested in 2010. That won't be a problem any longer.
Rosecrans: No. 3
Fantasy -- Melchior: No. 3
Tim Lincecum, Giants
Four seasons, two Cy Young Awards. That's not too shabby. The 26-year-old has led the league in strikeouts in each of the last three seasons and a career 142 ERA+.
Adam Wainwright, Cardinals
Hitters will probably bat better than .219 off him this year, but he's still a threat to win 20 games. Even with a slightly higher ERA and WHIP, Wainwright is among the elite.
Ranked No. 4
Andriesen: No. 4
Brunell: No. 4
Josh Johnson, Marlins
When Johnson is on, he's virtually unhittable. He gives up 0.6 home runs per nine innings, his ERA+ last season was a ridiculous 182, and he's 27. A little shoulder issue last in 2010 is concerning, but not enough not to rank him here.
Justin Verlander, Tigers
Verlander is curiously underrated, as he doesn't seem to evoke many headlines. But rest assured, he is legit. Through seven seasons and age 27, he has an 83-52 record and 3.81 ERA. He's cracked 200 Ks the last two years with a staggering 269 in 2009.
Rosecrans: No. 4
Fantasy -- Melchior: No. 4
Adam Wainwright, Cardinals
Sometimes overshadowed by Chris Carpenter, Wainwright has pitched more than 230 innings in both of the last two seasons with an ERA at 2.63 or better and he's not yet 30.
Tim Lincecum, Giants
Take away his poor August stats (7.82 ERA, five home runs in 25 1/3 innings), and you have a much more typical Lincecum season. He will be among the best again this season.
Ranked No. 5
Andriesen: No. 5
Brunell: No. 5
Tim Lincecum, Giants
I've said this since watching him in college, and I still believe it: One day this kid's arm is going to fall off. Maybe, literally. Until then, he's awfully fun to watch.
Adam Wainwright, Cardinals
Wainwright's curveball haunts batter's dreams at night. Many remember him as closing out the 2006 World Series, but since then he has morphed into one of the best pitchers in the game, finishing third and second respectively over the last two years in the Cy Young Award hunt.
Rosecrans: No. 5
Fantasy -- Melchior: No. 5
Josh Johnson, Marlins
The rare player the Marlins have actually decided to keep and pay, and for good reason. Johnson led the league with a 2.30 ERA last season and a 182 ERA+, allowing just seven homers in 183 2/3 innings. In 665 career innings, he's allowed just 43 homers, 0.6 per nine innings.
Josh Johnson, Marlins
He took his strikeout rate above one per inning while maintaining his pristine walk rate. Johnson should top his career-high 15 wins this year while being among the ERA and WHIP leaders.
The criteria

Andriesen: Method to my madness: In planning a team for the next three years, there are a couple of things I value in particular. One is age -- I'm targeting guys who will spend most of this period in the proven high-output years between 27 and 31 or 32. I'll go older for someone with a consistent track record and no signs of early dropoff; younger for someone who has shown exceptional potential that looks like it will develop early. My other big one is on-base percentage. My team will have plate discipline and create a lot of opportunities on the bases.

Brunell: In my rankings, I focused more on youth and athleticism. The older one gets, the more risk that player has of falling off a cliff or getting injured. I'm going to shoot for guys who are in or nearing their upside. I did mark down some young players by dint of not being sure of their ETA or playing time. Overall game is extremely important too. Baseball isn't just a game of home runs or sparkly ERAs. You need to be able to contribute on both sides of the ball and on the bases. I trended toward those who had better overall games -- and thus, better opportunities to stay valuable -- rather than one-trick ponies.

Rosecrans: The fact that we're talking about the next three years makes it more difficult -- I want a mix of potential and actualization. Learning to be a full-time big-leaguer takes some time, so I want to make sure those on my list have already shown that they can hack it at this level for an extended time, but also aren't on the decline. It's a tricky balancing act of proof and potential.
Melchior & Scott White: In Fantasy, it's all about the numbers -- specifically, our 2011 projections. Defense means nothing. Contract means nothing. If a guy plays regularly and hits, he's the one you want.
For more baseball news, rumors and analysis, follow  @cbssportsmlb on Twitter or subscribe to the  RSS feed.