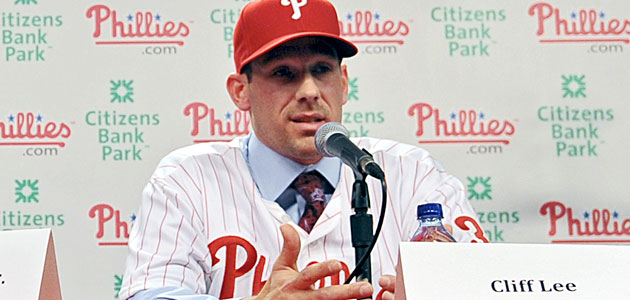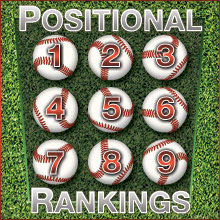 It's just not fair.
The Phillies not only feature the No. 1-ranked right-handed starting pitcher in CBSSport.com's Positional Rankings, but they can now claim having the best pitchers from both sides.
Considering the next three seasons, Philly's Cliff Lee was selected the top lefty by the Eye on Baseball team and Fantasy Writer Scott White in Part XI of the pre-spring training series.
Teammate Roy Halladay tied Seattle's Felix Hernandez for the No. 1 spot among righties, but your votes have given the edge to the 33-year-old veteran.
How are opponents going to deal with that 1-2 punch? Adding gas to the fire, the Phillies' Cole Hamels ranked No. 6 among lefties.
Might as well just hand Charlie Manuel's club the World Series trophy and wait to see which Philadelphia arm wins the greatest Cy Young Award race in NL history.
So with Lee No. 1, there are a bunch of stud pitchers up for the No. 2 spot.
There is Tampa Bay's David Price, who received the one-first place vote that Lee didn't from CBSSports.com's experts. What about Boston's Jon Lester or the Yankees' CC Sabathia?
Check out who is second best along with the rest of top nine. Plus, below the "Why ranked 1-5" you'll find White and Al Melchior's top nine overall starting pitchers for Fantasy purposes.
Positional Rankings lineup:
First basemen -- Jan. 31; Second basemen -- Feb. 1; Shortstops -- Feb. 2; Third basemen -- Feb. 3;
Catchers -- Feb. 4; DHs -- Feb. 5; Left fielders -- Feb. 7; Center fielders -- Feb. 8; Right fielders -- Feb. 9;
Right-handed starters -- Feb. 10; Left-handed starters -- Feb. 11; Closers -- Feb. 12.
AL Preseason Division Outlooks: East | Central | West | NL: East | Central | West
Position
Rank
Andriesen
Brunell
Rosecrans
Fantasy: White
Avg., Player
1
Lee
Lee
Price
Lee
1.3 - Lee
2
Price
Lester
Lester
Sabathia
2.8 - Lester
3
Sabathia
Kershaw
Sabathia
Lester
3.0 - Sabathia
4
Lester
Sabathia
Kershaw
Hamels
3.8 - Price
5
Hamels
Price
Lee
Liriano
5.3 - Kershaw
6
Liriano
Hamels
Liriano
Kershaw
5.5 - Hamels
7
J. Garcia
Danks
Hamels
Price
6.3 - Liriano
8
Kershaw
Liriano
Gonzalez
W. Rodriguez
10.0 - Danks
9
Gonzalez
J. Sanchez
J. Garcia
Danks
10.0 - J. Garcia
For figuring avg.: Unranked players receive a worth of 12; Listed alphabetically if tied
Why ranked 1-5
David Andriesen: No. 1
Evan Brunell: No. 1
Cliff Lee, Phillies
Due to health and age, this isn't a slam dunk, but the last three years have delivered a 2.98 ERA, 667 innings and a 1.122 WHIP, so you take the chance. I think staying in one place will help him, too.
Cliff Lee, Phillies
With the switch back to the NL, Lee should pair with Roy Halladay to form an unbeatable top of the rotation. His age (32) and balky back is a concern, but over the next three years, Lee shouldn't break a sweat in being the most valuable lefty in the game.
C. Trent Rosecrans: No. 1
Fantasy -- Scott White: No. 1
David Price, Rays
The former No. 1 pick is only going to get better -- and that's saying something. In his first full season, Price had a 2.72 ERA and a 19-6 record for the Rays.
Cliff Lee, Phillies
Lee has been toying with the title of "best left-hander in Fantasy" since his 2008 Cy Young campaign and will now have the same supporting cast that got Roy Halladay over the hump among right-handers last year. If it worked for one control artist with a propensity for complete games, it'll work for the other.
Ranked No. 2
Andriesen: No. 2
Brunell: No. 2
David Price, Rays
His second full year in the majors was a marvel, and at 25 he's poised to be one of the game's best for the next three years. Here's a great number: 0.8 career homers given up per nine innings.
Jon Lester, Red Sox
For some reason, Lester doesn't get any love in baseball, but chew on what Lester's done the last three years: 50-23, 3.29 ERA, 3.1 BB/9, 8.7 K/9. Yeah, that'll do it, especially in the cauldron that is the AL East. He's just starting his age 27 year, and it will be an upset if he doesn't get a Cy Young Award sometime in the next three seasons.
Rosecrans: No. 2
Fantasy -- White: No. 2
Jon Lester, Red Sox
Lester's 9.74 strikeouts per innings were second only to Tim Lincecum in the majors last season. Lester has one no-hitter under his belt and it wouldn't be a shock to see him add another.
CC Sabathia, Yankees
He doesn't have quite the strikeout rate of some aces and won't contend for an ERA title, but his reliability is unmatched. He has pitched more than 230 innings each of the last four years and will always win plenty of games pitching for the Yankees.
Ranked No. 3
Andriesen: No. 3
Brunell: No. 3
CC Sabathia, Yankees
I keep thinking a guy his size who throws so many innings is going to break down, and he might yet. But his consistency and potential to dominate are impressive.
Clayton Kershaw, Dodgers
The sky's the limit for this young lefty, who gets to play his home games in Dodger Stadium. For all the love heaped on Lester, Kershaw could be better. At just 22, Kershaw posted a 2.91 ERA (3.80 xFIP) and hurled 204 1/3 innings last year. The only concern here is the 483 major-league innings.
Rosecrans: No. 3
Fantasy -- White: No. 3
CC Sabathia, Yankees
I still don't think you're going to see another 300-game winner for a long, long time, but if any of the current pitchers has a chance, it's Sabathia, who turns 31 in July and already has 157 wins.
Jon Lester, Red Sox
Lester might have won the Cy last season if he didn't allow eight earned runs in his final start. Such hiccups keep him from No. 1 on this list, but you get the feeling he's not far off, especially since his strikeout rate is on par with other starting pitchers.
Ranked No. 4
Andriesen: No. 4
Brunell: No. 4
Jon Lester, Red Sox
Consistency, high strikeout rate, tons of innings, a 2010 WAR of 5.6 and 27 years old. A lot to like with Lester, who could put together a Cy Young season one of these years.
CC Sabathia, Yankees
Sabathia has been everything the Yankees could possibly have wanted and has to be good for at least 230 innings and an ERA in the low 3s. Price has better stuff, but the innings Sabathia chews up are immeasurably valuable as it saves the soft middle relief from exposure.
Rosecrans: No. 4
Fantasy -- White: No. 4
Clayton Kershaw, Dodgers
Talk to opposing batters and they just rave about Kershaw's stuff. He not only brings heat, but also has a wicked slider. He doesn't turn 23 until next month.
Cole Hamels, Phillies
Hamels quickly dismissed whatever doubts anyone had about him coming off a disappointing 2009, putting together the best performance of his career last year. He's still a bit under the radar because of his so-so win-loss record, but he could conceivably put up the best numbers of any Phillies pitcher.
Ranked No. 5
Andriesen: No. 5
Brunell: No. 5
Cole Hamels, Phillies
It's puzzling that Hamels doesn't win as often as his numbers say he should, but he had an ERA+ of 132 last season with 9.1 strikeouts per nine innings, and he's 27. Should be some good years ahead.
David Price, Rays
The lefty pitched over his head in 2010. Consider that his 2.72 ERA pales in comparison to his 3.99 xFIP. His stuff might be so octane, however, that he can consistently limit hitters to a BABIP significantly below .300. Look for some regression, although that's nitpicking.
Rosecrans: No. 5
Fantasy -- White: No. 5
Cliff Lee, Phillies
Lee struck out 10.28 batters for every one he walked last season -- just an amazing stat. Only one other pitcher has had a better single-season ration, that was Bret Saberhagen in the strike-shortened 1994 season (11.00).
Francisco Liriano, Twins
It took the better part of three years, but Liriano finally regained the stuff he put on display before needing Tommy John surgery in 2006, striking out more than a batter per inning to once again make Fantasy owners salivate over his potential. Imagine if he gets over 200 innings this year.
Fantasy: Top nine starting pitchers
1. Halladay (RH, Phillies); 2. Hernandez (RH, Mariners); 3. Adam Wainwright (RH, Cardinals);
4. Tim Lincecum (RH, Giants); 5. Lee (LH, Phillies); 6. Josh Johnson (RH, Marlins);
7. Sabathia (LH, Rangers); 8. Lester (LH, Red Sox); 9. Dan Haren (RH, Angels)
The criteria

Andriesen: Method to my madness: In planning a team for the next three years, there are a couple of things I value in particular. One is age -- I'm targeting guys who will spend most of this period in the proven high-output years between 27 and 31 or 32. I'll go older for someone with a consistent track record and no signs of early dropoff; younger for someone who has shown exceptional potential that looks like it will develop early. My other big one is on-base percentage. My team will have plate discipline and create a lot of opportunities on the bases.

Brunell: In my rankings, I focused more on youth and athleticism. The older one gets, the more risk that player has of falling off a cliff or getting injured. I'm going to shoot for guys who are in or nearing their upside. I did mark down some young players by dint of not being sure of their ETA or playing time. Overall game is extremely important too. Baseball isn't just a game of home runs or sparkly ERAs. You need to be able to contribute on both sides of the ball and on the bases. I trended toward those who had better overall games -- and thus, better opportunities to stay valuable -- rather than one-trick ponies.

Rosecrans: The fact that we're talking about the next three years makes it more difficult -- I want a mix of potential and actualization. Learning to be a full-time big-leaguer takes some time, so I want to make sure those on my list have already shown that they can hack it at this level for an extended time, but also aren't on the decline. It's a tricky balancing act of proof and potential.
Melchior & Scott White: In Fantasy, it's all about the numbers -- specifically, our 2011 projections. Defense means nothing. Contract means nothing. If a guy plays regularly and hits, he's the one you want.
For more baseball news, rumors and analysis, follow  @cbssportsmlb on Twitter or subscribe to the  RSS feed.