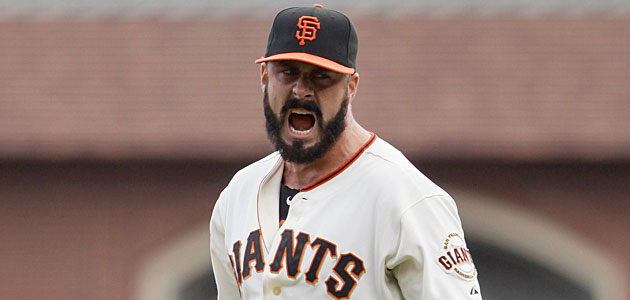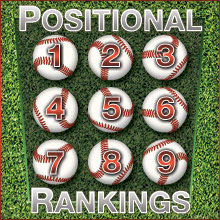 Closing with closers.
The perfect way to conclude CBSSports.com's Positional Rankings.
It's only fitting the top closer is the man who threw the final pitch of the 2010 season. Yep, the No. 1 stopper is San Francisco's Brian Wilson, who struck out Texas' Nelson Cruz in the Giants' World Series clincher in Game 5.
Thinking the next three years, Wilson and his beard slightly edged Kansas City's Joakim Soria according to the Eye on Baseball team and Fantasy Writer Al Melchior.
Wilson finished with 48 saves and a 1.81 ERA last season. Soria tallied 43 saves with a 1.78 ERA.
With Wilson's pick finalizing the 12-part series, here's a look at the top players at their respective positions. Albert Pujols and Joe Mauer were unanimous picks.
First base: Albert Pujols, Cardinals (all four first-place votes)
Second base: Robinson Cano, Yankees (three first-place votes, one second)
Shortstop: Troy Tulowitzki, Rockies (two first-place votes, two seconds)
Third base (tie): Evan Longoria, Rays (two first place votes, two seconds)
Third base (tie): Ryan Zimmerman, Nationals (two first-place votes, two seconds)
Catcher: Joe Mauer, Twins (all four first-place votes)
Left field: Carl Crawford, Red Sox (two first-place votes, two seconds)
Center field: Andrew McCutchen, Pirates (three first-place votes, one second)
Right field: Carlos Gonzalez, Rockies (three first-place votes, one fourth)
Designated hitter: Adam Dunn, White Sox (three first-place votes, one third)
Right-handed SP (tie)-*: Roy Halladay, Phillies (two first-place votes, two seconds)
Right-handed SP (tie): Felix Hernandez, Mariners (two first-place votes, two seconds)
Left-handed SP: Cliff Lee, Phillies (three first-place votes, one second)
Closer: Wilson
*-The fans voted Halladay over Hernandez in a tiebreaker for top right-hander.
Below "Why ranked 1-5" you'll find a list of other players with first-place votes, links to the other 11 Positional Rankings, CBSSports.com's Preseason Division Outlooks and the experts' criteria in selecting their top nine.
Position
Rank
Andriesen
Brunell
Rosecrans
Fantasy: Melchior
Avg., Player
1
Bailey
Soria
Soria
Wilson
2.5 - Wilson
2
Wilson
Thornton
Wilson
Bell
2.8 - Soria
3
R. Soriano
Rivera
Feliz
Soria
4.5 - Rivera
4
Bell
Marmol
Rivera
Feliz
5.3 - Bell
5
Rivera
Wilson
Marmol
Marmol
5.8 - Marmol
6
Soria
Feliz
Bell
Rivera
6.3 - Feliz
7
Axford
Chapman
Valverde
Papelbon
7.3 - Bailey
8
Papelbon
Bailey
Kimbrel
Bailey
9.5 - Thornton
9
Marmol
Bell
Chapman
Putz
9.8 - Papelbon
9.8 - Soriano
For figuring avg.: Unranked players receive a worth of 12; Listed alphabetically if tied
Why ranked 1-5
David Andriesen: No. 1
Evan Brunell: No. 1
Andrew Bailey, Athletics
In two seasons, Bailey owns a Rookie of the Year award, a 1.70 ERA and an insane career ERA+ of 255. And he's 26, entering the perfect window of experience and youth.
Joakim Soria, Royals
Just four years in the majors, Soria, who debuted at 23, already has 132 saves with a 2.01 career ERA. With four quality pitches, he can bring it. Over the last three years, Soria has saved 56 percent of Royals wins? Imagine if they won 90 games.
C. Trent Rosecrans: No. 1
Fantasy -- Al Melchior: No. 1
Joakim Soria, Royals
He's certainly not going to be a top Fantasy pick, because you're not going to get a lot of saves on a bad team. But in real baseball, the Mexicutioner is a flat-out stud. The last three seasons he's saved 115 of his 124 opportunities (93 percent).
Brian Wilson, Giants
Led the majors in saves last year, strikeout rate keeps rising, high ground ball rates, and a team that plays a lot of close games. What more can you ask for from a Fantasy closer?
Ranked No. 2
Andriesen: No. 2
Brunell: No. 2
Brian Wilson, Giants
Wilson's numbers are getting steadily better, and despite his interesting personality, he's as hard a worker and as serious a competitor as there is. Plus, you know, the beard.
Matt Thornton, White Sox
Thornton has yet to close and could still be cheated out by Chris Sale, but right now he's locked in as the White Sox closer. Thornton has a 2.70 ERA and 245 K in 200 innings over the last three years.
Rosecrans: No. 2
Fantasy -- Melchior: No. 2
Brian Wilson, Giants
While his outsized personality may overshadow his on-field performance, Wilson is a very good closer. The biggest move he made was throwing his cutter more, from 13.1 percent in '08 to 24.5 percent in 2009 to 35 percent last year. The continued development of that pitch should serve him well.
Heath Bell, Padres
He may not get as many save opportunities as Wilson, at least if he stays in San Diego for the whole season. That's about all that separates him from the Giants closer.
Ranked No. 3
Andriesen: No. 3
Brunell: No. 3
Rafael Soriano, Yankees
Soriano might not be closing for the Yankees the next three years, but he can close for my imaginary team anytime.
Mariano Rivera, Yankees
While Rivera is ageless and could easily pitch into 2013, he gets docked on the list due to his two-year contract calling into question his future after 2012. Rivera is simply unstoppable and leads all pitchers with at least 1,000 innings in career ERA+.
Rosecrans: No. 3
Fantasy -- Melchior: No. 3
Neftali Feliz, Rangers
Texas is flirting with the idea of moving Feliz to the rotation, but it's unlikely. Feliz throws gas -- serious gas -- but that's about it. He threw that pitch 80 percent of the time last season.
Joakim Soria, Royals
Allows contact a little more often than the top two closers, but once someone gets on base, he rarely lets them score. Three straight years of left-on-base rates above 85 percent are a thing of beauty.
Ranked No. 4
Andriesen: No. 4
Brunell: No. 4
Heath Bell, Padres
He's a natural as a closer, with 10.6 strikeouts per nine innings in his two years in the role. He's 33, but he doesn't have a lot of mileage on his arm -- never pitched more than 94 innings.
Carlos Marmol, Cubs
Marmol is the real life Wild Thing. He has no idea where the ball is going, but when crosses the plate, it does so without being touched by the batter. Marmol had a staggering 138 whiffs in 77 2/3 innings. How is that fair?
Rosecrans: No. 4
Fantasy -- Melchior: No. 4
Mariano Rivera, Yankees
Since this exercise is over the next three years and I'm not sure Rivera will pitch in 2013, but he'll be so good in 2011 and 2012 that he's worth taking the risk here.
Neftali Feliz, Rangers
If not for the possibility of his move into the Texas rotation, he would rank ahead of Soria. Wildness was a concern in the minors, but his command of the strike zone has been impeccable in the bigs.
Ranked No. 5
Andriesen: No. 5
Brunell: No. 5
Mariano Rivera, Yankees
Go ahead and release the hounds, but he's going to be 44 years old at the end of this exercise, and even the best ever is human.
Brian Wilson, Giants
OK, so not only is Wilson a World Series champ, he beat batters with a 1.81 ERA and 48 saves in 2010. he doesn't have great command but clearly has put it all together. Plus, he's a pretty awesome guy.
Rosecrans: No. 5
Fantasy -- Melchior: No. 5
Carlos Marmol, Cubs
Marmol still walks too many people, but he improved upon that this year and his stuff is just plain insane. His slider may be the best in the game -- much like Rivera's cutter, even hitters knowing it's coming have trouble hitting it.
Carlos Marmol, Cubs
Astronomical walk and flyball rates should be certain death for a closer ... that is, unless he can strike out batters at an unfathomable rate. Fortunately for Marmol, he did exactly that last season, and he could repeat the feat in '11.
Others receiving first-place votes at their positions:
2B: Chase Utley, Phillies (one vote)
SS: Hanley Ramirez, Marlins (two votes)
LF: Ryan Braun, Brewers (one vote)
LF: Josh Hamilton, Rangers (one vote)
CF: Colby Rasmus, Cardinals (one vote)
RF: Jason Heyward, Braves (one vote)
DH: Victor Martinez, Tigers (one vote)
LHSP: David Price, Rays (one vote)
Closer: Soria, Royals (two votes)
Closer: Andrew Bailey, Athletics (one vote)
Positional Rankings lineup:
First basemen -- Jan. 31; Second basemen -- Feb. 1; Shortstops -- Feb. 2; Third basemen -- Feb. 3;
Catchers -- Feb. 4; DHs -- Feb. 5; Left fielders -- Feb. 7; Center fielders -- Feb. 8; Right fielders -- Feb. 9;
Right-handed starters -- Feb. 10; Left-handed starters -- Feb. 11.
AL Preseason Division Outlooks: East | Central | West | NL: East | Central | West
The criteria

Andriesen: Method to my madness: In planning a team for the next three years, there are a couple of things I value in particular. One is age -- I'm targeting guys who will spend most of this period in the proven high-output years between 27 and 31 or 32. I'll go older for someone with a consistent track record and no signs of early dropoff; younger for someone who has shown exceptional potential that looks like it will develop early. My other big one is on-base percentage. My team will have plate discipline and create a lot of opportunities on the bases.

Brunell: In my rankings, I focused more on youth and athleticism. The older one gets, the more risk that player has of falling off a cliff or getting injured. I'm going to shoot for guys who are in or nearing their upside. I did mark down some young players by dint of not being sure of their ETA or playing time. Overall game is extremely important too. Baseball isn't just a game of home runs or sparkly ERAs. You need to be able to contribute on both sides of the ball and on the bases. I trended toward those who had better overall games -- and thus, better opportunities to stay valuable -- rather than one-trick ponies.

Rosecrans: The fact that we're talking about the next three years makes it more difficult -- I want a mix of potential and actualization. Learning to be a full-time big-leaguer takes some time, so I want to make sure those on my list have already shown that they can hack it at this level for an extended time, but also aren't on the decline. It's a tricky balancing act of proof and potential.
Melchior & Scott White: In Fantasy, it's all about the numbers -- specifically, our 2011 projections. Defense means nothing. Contract means nothing. If a guy plays regularly and hits, he's the one you want.
For more baseball news, rumors and analysis, follow  @cbssportsmlb on Twitter or subscribe to the  RSS feed.