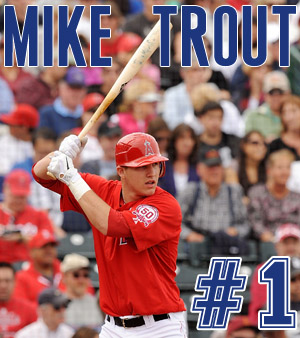 It's hard enough to make one top 100 prospect list -- but how about seven?
That's what the below players have done in landing on the CBSSports.com Top 100 Prospects list.
Six rankings -- from AOL Fanhouse, Baseball America, Baseball Prospectus (top 101), ESPN, MLB.com (top 50) and Project Prospect -- were tallied with points assigned in reverse order to come up with CBSSports.com Top 100.
Those ranked No. 1 -- only Mike Trout and Bryce Harper jockeyed for that honor -- received 100 points. A No.-2 ranking received 99 and so on. The top scores were compiled into a ranking of 1-100 from Trout to Carlos Martinez. Ties were not broken.
Each individual Top 100 list tends to have inherent biases -- preferring high-ceiling, some placing more of an emphasis on expectations and how close one is to the majors. Combining the six rankings helps even out these biases and provides a comprehensive Top 100.
Only those that qualify for rookie status in 2011 were considered. Some lists followed this format; some did not. Jenrry Meija would have been No. 66 on this list were he eligible. But the Mets called on the 20-year-old to be a reliever in the majors for part of last season. Fellow Met Fernando Martinez just missed the list at No. 101, but is also not rookie eligible. You can view the full list with all 156 ranked players here.
More: Which top prospects could impact majors in 2011
Prospects who could vault to top of 2012 list | Royals flush with tallent
Ages are as of April 1, 2011; Total number of players per position and team listed below the rankings.
The Top 100
No.
Name
Team
Pos
Age
B/T
Comments
1
Mike Trout
LAA
CF
19
R/R
Trout is causing many teams to wonder what they missed that caused the prospect to fall all the way to the No. 25 overall pick in 2009. Trout can do it all in every facet of the game and could be the most exciting five-tool player to hit the majors -- and produce in all five tools -- in a very long time.
2
Bryce Harper
WAS
RF
18
L/R
At just 18, Harper is already the consensus real deal and might even beat Trout to the majors, although that might be by virtue of having a major-league contract. He doesn't quite have Trout's five-tool quality, but he should make far more noise in driving balls out of the park.
3
Domonic Brown
PHI
RF
23
L/L
Domonic Brown might not be completely ready for the bigs, but he doesn't have much choice as he attempts to fill the shoes vacated by Jayson Werth. When right, he's got a nice blend of five tools and should eventually emerge as a worthy successor to Werth, but it may take a few years.
4
Jesus Montero
NYY
C
21
R/R
Montero can flat out hit -- that's not in question as he could rake in the major leagues right now. What is in question is his defense; catcher does not appear to be a feasible position for him to play and first base is blocked in New York. Wherever he ends up, Montero will become an elite bat.
5
Eric Hosmer
KC
1B
21
L/L
Billy Butler is a pretty good player, but he'll have to slide over to DH to make room for Hosmer once K.C. is ready to promote him. That could come in September, and Hosmer's sweet swing will fit nicely in the middle of the order.
6
Jeremy Hellickson
TB
SP
23
R/R
Hellickson is ready to step into Tampa Bay's rotation and might do a pretty good approximation of the departed Matt Garza's numbers. The Rays don't like to promote prospects until they are ready to be a major contributor, so don't look past Hellickson simply because he is a rookie.
7
Julio Teheran
ATL
SP
21
R/R
Teheran is the best pitching prospect in the game now that Hellickson has graduated, and Teheran could challenge for a late-season promotion with the pitching-rich Braves. It's not out of the realm of possibility he opens 2012 in the rotation.
8
Dustin Ackley
SEA
2B
23
L/R
Ackley has made an admirable transition to second base to the point he projects to be an average fielder. With the bat he's toting around, that's more than enough to make him one of the most intriguing second basemen in the game once he hits Seattle which could be as early as Opening Day.
9
Aroldis Chapman
CIN
SP
23
L/L
Chapman will remain as a reliever in 2011 although he could still end up a starter. He should be absolutely filthy in that role and could supplant Francisco Cordero by season's end as closer. If he can develop his changeup, he could front a rotation.
10
Mike Moustakas
KC
3B
22
L/R
Power is Moustakas' game and the 22-year-old appears on track to make his Royals debut in the summer. He'll be the first of the heralded prospects to arrive, but the jury is out on just how effective he can be in the bigs due to sketchy plate discipline. He has his problems hitting lefties, too. (Check out an interview Moustakas did with CBSSports.com Senior Writer Danny Knobler.)
11
Wil Myers
KC
RF
20
R/R
Myers was originally a catcher -- which may have influenced the rankings -- but will switch to right field to focus on his offense. Smart move, as Myers' bat is too good and his defense too questionable to attempt to make catcher work as a position. 2011 will determine just how good he can be.
12
Shelby Miller
STL
SP
20
R/R
Miller is rising fast and has been compared to Chris Carpenter, which likely stems from Miller considering Carpenter a role model. Those are some lofty expectations, but Miller's numbers (140 K in 104 1/3 IP, 33 BB for Class A) are nothing short of impressive. And the timetable is perfect for an arrival in St. Louis, as Carp's contract expires after 2012 (provided the club option is picked up, which it will be).
13
Desmond Jennings
TB
LF
24
R/R
Jennings could use a little more seasoning in the minors but before long will be asked to fill Carl Crawford's shoes for Tampa. He'll never be Crawford, but will provide a reasonable approximation. Look for him to be first up in case of an outfield injury.
14
Zach Britton
BAL
SP
23
L/L
If Britton can develop -- and there's nothing indicating he can't be another Brian Matusz -- it will give Baltimore a two-headed left-handed monster at the top of the rotation. There's quite a few new Orioles on the team, but Britton could end up making the most impact, and certainly so long-term.
14
Jameson Taillon
PIT
SP
19
R/R
Taillon is the Pirates' Great Hope: there's virtually no pitching promise in the system aside from Taillon and fellow 2010-draftee Stetson Allie. That's a ton of expectations for a 19-year-old in an organization that's shown no capacity for developing pitchers so far. But that can all easily change with Taillon's big arm.
16
Kyle Drabek
TOR
SP
23
R/R
Drabek could be the frontline ace Toronto needs after trading away Roy Halladay, but he'll start off in the back of the rotation. He impressed in his three major league starts last year and there's a chance he cracks the 200-inning barrier.
17
Matt Moore
TB
SP
21
L/L
Moore can strike out anyone he wants, but his command isn't perfect. The Rays will take it slow with Moore because of age and organizational philosophy. He could hit the majors in 2012 if all goes right, but 2013 is the better bet.
18
Brandon Belt
SF
1B
22
L/L
Belt was a non-story in being drafted, but a tweak in his mechanics caused him to go bananas. He is ready right now, but is blocked by Aubrey Huff and Pat Burrell. Eventually, he'll get his chance in San Francisco and should give the Giants an exciting one-two punch along with Buster Posey.
19
Freddie Freeman
ATL
1B
21
L/R
Freeman doesn't have the ceiling of other young first-basemen, but is ready to be a major league contributor right now at age 21. You won't ever call him a top-three 1B most likely, but a few All-Star Games are in his future.
20
Michael Pineda
SEA
SP
23
R/R
Pineda is thought to be ace 1A to Felix's 1, but not everyone is sold on that. While Seattle is likely lining up for another forgettable season, Pineda could be a big part of a surprising resurgence for the M's in 2012. Look for him later this season.
21
Manny Machado
BAL
SS
18
R/R
Just the second position player on the list so far that was grabbed in the 2010 amateur draft, Machado could be a special player and plays a high-value position. He could easily develop into an All-Star hitter, but there are questions on his ability to stick at shortstop long term.
22
Mike Montgomery
KC
SP
21
L/L
Montgomery might rank higher on the list if he hadn't missed so much time due to injury, but could end up fronting the Royals rotation as long as he stays healthy. 
23
Martin Perez
TEX
SP
19
L/L
Perez had a brutal season, posting a 5.96 ERA in 23 starts, but that came as a 19-year-old in Double-A and his peripherals held strong, save for an uptick in walks. A high BABIP and a shockingly low strand rate were largely responsible for his troubles. He should be just fine.
24
Jacob Turner
DET
SP
19
R/R
Turner is talented enough that he could end up in the top 10 next year, but still has to prove his worth past Class A. As he matures, he could pack on extra velocity to his mid-90s fastball, but needs to work on developing his changeup.
25
Jarrod Parker
ARI
SP
22
R/R
Parker missed all of 2010 due to Tommy John surgery but is still among the best prospects in the game. He'll need extended time in the minors but could be atop the D-Backs rotation by the end of 2012.
| | | | | | |
| --- | --- | --- | --- | --- | --- |
| No. | Name | Team | Pos | Age | B/T |
| 26 | Manny Banuelos | NYY | SP | 20 | L/L |
| 27 | Casey Kelly | SD | SP | 21 | R/R |
| 28 | John Lamb | KC | SP | 20 | L/L |
| 29 | Mike Minor | ATL | SP | 22 | R/L |
| 30 | Jonathan Singleton | PHI | 1B | 19 | L/L |
| 31 | Lonnie Chisenhall | CLE | 3B | 22 | L/R |
| 32 | Tyler Matzek | COL | SP | 20 | L/L |
| 33 | Chris Sale | CHW | SP | 22 | L/L |
| 34 | Aaron Hicks | MIN | CF | 21 | S/R |
| 35 | Jordan Lyles | HOU | SP | 20 | R/R |
| 36 | Jose Iglesias | BOS | SS | 21 | R/R |
| 37 | Kyle Gibson (More from Scott Miller) | MIN | SP | 23 | R/R |
| 38 | Gary Sanchez | NYY | C | 18 | R/R |
| 39 | Willin Rosario (More from Danny Knobler) | COL | C | 22 | R/R |
| 40 | Randall Delgado | ATL | SP | 21 | R/R |
| 41 | Devin Mesoraco | CIN | C | 22 | R/R |
| 42 | Jean Segura | LAA | 2B | 21 | R/R |
| 43 | Jason Kipnis | CLE | 2B | 23 | L/R |
| 44 | Zack Wheeler | SF | SP | 20 | R/R |
| 44 | Nick Franklin | SEA | SS | 20 | S/R |
| 44 | Brett Lawrie | TOR | 3B | 20 | R/R |
| 47 | Derek Norris | WAS | C | 22 | R/R |
| 48 | Miguel Sano | MIN | 3B | 17 | R/R |
| 49 | Anthony Rizzo | SD | 1B | 21 | L/L |
| 50 | Chris Archer | TB | SP | 22 | R/R |
| 51 | Dellin Betances | NYY | SP | 23 | R/R |
| 52 | Simon Castro | SD | SP | 22 | R/R |
| 52 | Tony Sanchez | PIT | C | 22 | R/R |
| 54 | Brett Jackson | CHC | CF | 22  | L/R  |
| 55 | Billy Hamilton | CIN | SS | 20 | R/R |
| 56 | Jurickson Profar | TEX | SS | 18 | S/R |
| 57 | Yonder Alonso | CIN | 1B | 23 | L/R |
| 58 | Grant Green | OAK | SS | 23 | R/R |
| 59 | Trey McNutt | CHC | SP | 21 | R/R |
| 59 | Anthony Ranaudo | BOS | SP | 22 | R/R |
| 61 | Travis d'Arnaud | TOR | C | 23 | R/R |
| 62 | Dee Gordon | LAD | SS | 22 | L/R |
| 63 | Nick Castellanos | DET | 3B | 19 | R/R |
| 64 | Jarred Cosart | PHI | SP | 20 | R/R |
| 65 | Drew Pomeranz | CLE | SP | 22 | R/L |
| 66 | Matt Dominguez (More from Scott Miller) | FLA | 3B | 21 | R/R |
| 67 | Arodys Vizcaino | ATL | SP | 20 | R/R |
| 68 | Alex White | CLE | SP | 22 | R/R |
| 69 | Wilmer Flores | NYM | SS | 19 | R/R |
| 70 | Jaff Decker | SD | LF | 21 | L/L |
| 71 | J.P. Arencibia | TOR | C | 25 | R/R |
| 72 | Hak-Ju Lee | TB | SS | 20 | L/R |
| 73 | Brody Colvin | PHI | SP | 22 | R/R |
| 74 | Chris Carter | OAK | 1B | 24 | R/R |
| 75 | Zach Lee | LAD | SP | 19 | R/R |
| 76 | Jake Odorizzi | KC | SP | 21 | R/R |
| 77 | Tanner Scheppers | TEX | RP | 24 | R/R |
| 78 | Tyler Skaggs | ARI | SP | 19 | L/L |
| 79 | Danny Duffy | KC | SP | 22 | L/L |
| 79 | Hank Conger | LAA | C | 23 | S/R |
| 81 | Matt Harvey | NYM | SP | 22 | R/R |
| 82 | Zach Stewart | TOR | SP | 24 | R/R |
| 83 | Yasmani Grandal | CIN | C | 22 | S/R |
| 84 | Christian Colon | KC | SS | 21 | R/R |
| 85 | Craig Kimbrel | ATL | RP | 22 | R/R |
| 86 | Danny Espinosa | WAS | 2B | 23 | S/R |
| 87 | Ben Revere | MIN | CF | 22 | L/R |
| 87 | Zack Cox | STL | 3B | 22 | L/R |
| 89 | Stetson Allie | PIT | SP | 20 | R/R |
| 90 | Adeiny Hechevarria | TOR | SS | 21 | R/R |
| 91 | Andrew Brackman | NYY | SP | 25 | R/R |
| 92 | Jordan Walden | LAA | SP | 23 | R/R |
| 93 | Nick Weglarz | CLE | LF | 23 | L/L |
| 94 | Oswaldo Arcia | MIN | RF | 19 | S/R |
| 95 | Jake McGee | TB | RP | 24 | L/L |
| 96 | Brent Morel | CHW | 3B | 23 | R/R |
| 97 | Reese Havens | NYM | SS | 24 | L/R |
| 98 | Chris Dwyer | KC | SP | 22 | R/L |
| 99 | Jeremy Jeffress | KC | RP | 23 | R/R |
| 100 | Carlos Martinez | STL | SP | 19 | R/R |
Breakdown
NL
AL
Position
ARI: 2
BAL: 2
C: 10
ATL: 6
BOS: 2
1B: 7
CHC: 2
CHW: 2
2B: 4
CIN: 5
CLE: 5
3B: 8
COL: 2
DET: 2
SS: 12
FLA: 1
KC: 10
LF: 3
HOU: 1
LAA: 4
CF: 4
LAD: 2
MIN: 5
RF: 4
MIL: 0
NYY: 5
SP: 44
NYM: 3
OAK: 2
RP: 4
PHI: 4
SEA: 3
PIT: 3
TB: 6
SD: 4
TEX: 3
SF: 2
TOR: 6
STL: 3
WAS: 3