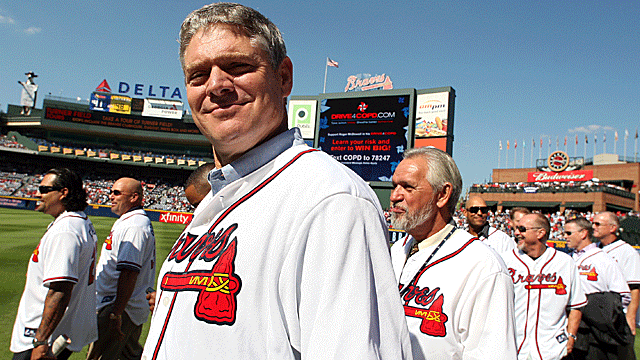 Same old Dale Murphy. Here he is on the telephone, discussing his Hall of Fame candidacy, when the call waiting interrupts.
"Can I call you right back?" he asks. "I've got to talk to my wife."
It's always been all about family for Murphy, one of the greatest players of the 1980s, one of the classiest gentlemen ever to play the game. And as he threads his way through his last Hall of Fame ballot, so it remains.
Murphy is not expecting to be elected in this, his 15th and final year on the ballot, not after receiving only 14.5 percent of the vote in 2012. Immortality requires 75 percent. It is not forgiving.
Never comfortable shilling for himself, Murphy's candidacy has taken a unique turn this month. Chad, 32 and the eldest of Murphy's eight children, wrote an eloquent letter to the voting members of the Baseball Writers' Association of America in support of his pop. Taylor, 25, has started an online petition. And Madison, 19, and the only daughter in the bunch, published "My Dad is a Super Hero" at hallofverygood.com.
"I couldn't be more blessed," Murphy says from his Utah home. "I don't even know how to say how proud I am of them."
Say this, the kids have futures as defense attorneys. Their point is not necessarily unique -- others have advanced similar arguments on Murphy's behalf -- but with Hall ballots in the hands of the voters, it is worth a listen.
In short, it centers around BBWAA Rule No. 5 for Election: "Voting shall be based upon the player's record, playing ability, integrity, sportsmanship, character and contributions to the team(s) on which the player played."
If Mark McGwire, Rafael Palmeiro, Barry Bonds, Sammy Sosa, Roger Clemens and others are being docked votes based on the "integrity, sportsmanship, character" part of that … well, then, what's the corollary?
Maybe that that borderline candidates such as Murphy get a few extra credit points in that department?
Shouldn't that at least be up for discussion?
"It is very interesting timing," Murphy says, his last days on the ballot now on a direct collision course with the bull-rush of Steroid Era candidates this year. "It's probably a better time than last year to have this discussion."
There's something else I've been thinking about a lot this month, with the Hall ballot sitting here on my desk (it's due Dec. 31): No small part of the crime of the Steroid Era is that those who juiced and grotesquely twisted the record book also shoved retired legends into the shadows when those legends never should have moved out of the spotlight.
Full confession here: Much as I admire and respect him, I have not voted for Murphy in the past. To me, his 398 career homers (53rd all-time), 1,266 RBI (123rd) and 1,197 runs scored (174th) fell just short.
His back-to-back NL MVPs in 1982 and 1983 and his seven All-Star appearances are ample evidence that he was among the very best in the game, the best for a couple of years.
When he fell off the cliff, he fell hard. By the late 1980s, in his early 30s, his best days were long behind him. More than anything else, that's what has kept me from voting for Murphy: His brilliance just didn't extend long enough.
But here's what increasingly bothers me on that last point, and why I'm re-evaluating this year: As Hall ballots came and went throughout the early 2000s, the prolonged late-career brilliance of those like Bonds, Clemens and Palmeiro badly distorted the past. Measured against, say, Bonds' four consecutive MVP awards from 2001-2004 from ages 36-39, the steep decline of Murphy at 32 and 33 made it increasingly easier to bypass him on the Cooperstown ballot.
"There's no question it helps you immeasurably as an older athlete," Murphy says of steroids. "Bonds was 37 when he hit 73? I was 37 when I retired."
Murphy had battled a staph infection when he was 36, his knee was shot ... he had no magic potion to ward off the aging process and, more importantly, help the recovery process and delay natural muscle breakdown.
"Longevity to a career is an invaluable thing," Murphy says, and boy, didn't we see that in inhuman proportions during the Steroid Era. "That steroids and PEDs add to it doesn't get talked about enough."
However this vote turns out -- and since peaking at 23.3 percent in 2000, Murphy hasn't crossed the 15 percent threshold -- there will be no sweeter Hall of Fame moments between now and the July 28 induction ceremonies than his children working overtime to boost his candidacy.
Like many dads, Murphy isn't overly well-versed in digital this and blog that. While Chad, Taylor and Madison have led the charge, Murphy's other five kids are tweeting and re-tweeting, and one of them has advised him to go on redditt.com and do an "AMA" (Ask Me Anything).
Known as one of the all-time good guys, an AMA with Murphy might not be quite as sexy as one with, say, Eminem.
But Murphy is candid, especially now in the twilight of his Hall candidacy with storm clouds rolling in.
No, he does not think Bonds, McGwire, Palmeiro and the rest belong in Cooperstown. Yes, he thinks his own numbers warrant induction.
"I don't spend a lot of time whining and complaining," he says, cheerfully. "It's an unfortunate thing. Do I complain? Yeah, I just did. But it's one of those things that happened."
He credits baseball for what it's done to clean up the game, though he would like to see stiffer punishment for those caught using today.
He also acknowledges his (and others') too-passive role in the players' union led by Marvin Miller when he broke in, and then Don Fehr.
"I'm part of the group back in the day that said, 'Hey, no testing. We're not doing that,' " Murphy says.
He regrets it.
"Yeah," he says. "I understand why. Marvin was there, and then Don Fehr, and the players agreed with the thought. It is a valid argument. But if we had it to do over again, I think we would have been better stewards of the game.
"So I applaud the players [today who have agreed to testing]. It is invasive. It is uncomfortable. It's not private. But it's a different day and age.
"I wish we would have done it differently. It wasn't that big of a problem at the time, it was more recreational drugs. It is a rights issue, and we thought we were on the right side.
"It ended up coming back and hurting us."
As we know, without testing, baseball became the Wild West for a generation. Toward the end of his career in the late 1980s, Murphy saw some bodies change dramatically, "but it wasn't a thing where I knew someone well enough to say, 'Are you on the juice? What are you doing?'" "I definitely should have been more outspoken about it," Murphy says. "One thing that bothers me is when people say, 'Oh, everybody knew. It was a clubhouse secret.'
"It's not that. Everybody you work with ... you want to help people, but you don't go to the GM and say, 'This guy was drunk out of his mind last night, did you know that?' "
Much like the repercussions, the looking back and wondering will stretch out for generations. Only thing we know unequivocally about the Steroid Era is we're never going to be able to box and store it away.
Many did wrong, and many were hurt. Maybe it's guys like Murphy and Fred McGriff who were hurt as badly as anyone, borderline Hall of Famers who have been washed away by the stampede of PED users.
Hall of Famer and former Brave Phil Niekro routinely tells Murphy when they see each other, "Man, we've got to get you in."
"I've had some encouragement," Murphy says.
He's been to Cooperstown a couple of times in retirement, perhaps most enjoyably on a recent Father's Day Weekend. He participated in a baseball-oriented weekend with several other retired players and had a blast.
He also played in a couple of Hall of Fame games years ago with the Braves.
"Met Ted Williams one year," Murphy says. "He was at home plate as we exchanged lineup cards, and I introduced myself.
"He said, 'Dale Murphy! How are you doing? I watch you play all the time on TBS from my home in Florida. Hey, you've got to get better pitches to hit!' "
Murphy chuckles at the memory.
"He was always very nice," he says. "Cooperstown is a pretty cool place."
Maybe one day he'll return for the induction weekend. He hasn't given up hope, though he acknowledges that his best chance probably will come later with the Veterans Committee.
Meantime, his kids pound the pavement on his behalf. A labor of love, and that vote means more than anything else ever could.
"I don't have anything on my Christmas list," Murphy says. "Christmas came early this year."