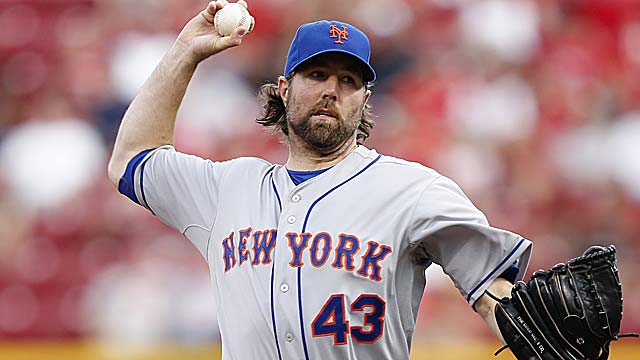 At this point, the only way the Toronto Blue Jays could screw up what they've done this winter is by placing drug cheat/outfielder Melky Cabrera in charge of the club's website.
Assuming that isn't going to happen.
Are you kidding? Alex Anthopoulos, the Jays' crafty general manager, owns this winter like the North Pole elves own hot chocolate.
He has added speed in Jose Reyes and Emilio Bonifacio; lineup depth with Cabrera (if the Melk-man can operate effectively minus the synthetic testosterone); versatility with Maicer Izturis; and muscle to the rotation with R.A. Dickey, Mark Buehrle and Josh Johnson.
This wouldn't all be so meaningful if the Jays hadn't started with a base that includes sluggers Jose Bautista and Edwin Encarnacion and a young nucleus of Brett Lawrie, J.P. Arencibia, Ricky Romero and Brandon Morrow.
Yes, Anthopoulos is taking some knocks for daring to deal such highly touted prospects as catcher Travis d'Arnaud, pitchers Noah Syndergaard and Justin Nicolino, shortstop Adeiny Hechavarria and outfielder Jake Marisnick in mega-swaps with the Marlins and Mets.
But here's the thing too many people overlook: Prospects serve two functions. They are vital to establishing a club's nucleus, controlling its costs and inoculating against a roster aging too quickly. They also are for trading.
Not always for trading. And usually not as a first resort. But in a perfect world, for a franchise rich in prospects, some of those prospects will grow onto the major-league roster, while others will create areas of depth.
You trade from areas of depth to improve your ballclub in other areas.
Anthopoulos has been knocked by many rivals since taking over as Jays' GM before the 2010 season for overvaluing his prospects and being too difficult to trade with. Now he's getting knocked by some pundits for dealing prospects.
You can't win in this business.
Since 1992-'93, that has been the Blue Jays' problem. They can't win. Now, from his lightning-rod position overseeing the Jays, Anthopoulos has them in their best position to win in more than a decade.
"Especially with the Yankees trying to hit their salary numbers because of luxury tax issues, and with the Red Sox in disarray," one rival executive says. "I think it's the right time to strike."
After the Jays completed the monster deal with the Marlins, colleague Danny Knobler listed many good reasons why now is the right time to strike in Toronto.
Among them: The Yankees' self-imposed economic restraints (c'mon, stop laughing), the Red Sox's issues, the prospect that the Rays were likely to trade James Shields (they did, hello Royals) and the fact that the Orioles went 29-9 in one-run games, best record in baseball history.
Even before this winter, Toronto was closer to contending than many realized. Last spring, I had them as my surprise team in the AL and picked them as the second wild-card team. Instead, they suffered a raft of pitching injuries, fielded a rotation that ranked 25th in the majors in ERA (4.82) and 26th in innings pitched (916) and wound up a highly disappointing 73-89.
Enter Dickey (233 2/3 innings pitched in 2012), Buehrle (202 1/3) and Johnson (191 1/3). Together, they combined for a 3.46 ERA last season.
Look past the quality innings, and there's another angle that isn't getting nearly enough attention: The different looks Toronto pitchers offer only increase the degree of difficulty for rival hitters.
They go lefty (Buehrle, Romero) and righty (Dickey, Morrow, Johnson). They go flamethrower (Johnson, Romero, Morrow) and finesse (Buehrle, Dickey). They go fluttering knuckleball (Dickey) and searing slider (Romero).
"I think it's going to be a factor, I really do," Braves hitting coach Greg Walker says of the varying looks. "It will be interesting to see how they set it up.
"It's a very unique rotation."
Walker spent time last season studying Johnson and Dickey while preparing his Atlanta hitters for the Marlins and Mets. He worked in the same dugout as Buehrle for several years. And in Chicago in recent seasons before moving to the Braves in 2012, he helped prepare White Sox hitters for Morrow and Romero.
"I like all five," Walker says. "You've got power arms, you've got finesse guys.
"Romero was electric two years ago. I don't know what happened last year. Buehrle is the ultimate competitor. He fields his position, he takes away the running game, he expands the zone. He is really, really good at it. You've got to be disciplined against him.
"Morrow has an elite arm and started figuring it out a couple of years ago. Dickey is pretty amazing to me. Back in the day, I faced the Niekros [Joe and Phil] and Charlie Hough, and we saw Tim Wakefield, and this guy throws the knuckleball harder than any of them.
"And the thing that baffled me is, the Mets' catcher caught it. We didn't get any breaks last year with walks or passed balls. We never got the feeling facing him that we were going to get them.
"Traditionally, you beat knuckleballers with home runs and passed balls."
Walker recalls facing Johnson in interleague play a couple of years ago "and he was better than anybody in our league. It's a good rotation."
Issues remain, of course. Can the fragile Johnson stay on the mound? Will Dickey duplicate his consistency? Can Romero bounce back from wherever he went in 2012?
If he does, the Jays will not be far behind.
However this plays out, the array of weapons and angles in this rotation will be captivating for us watching, and cringe-worthy for the hitters.
"I'm sure they're going to put a lot of thought into who follows who," Walker says. "It will be interesting to see how it plays out.
"Bottom line is, all five are really good."
So, too, should be these Jays.
Now Melky, behave yourself.