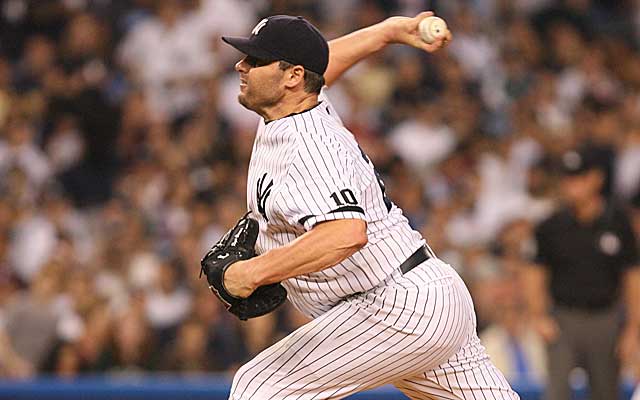 Hall of Fame voting should come down to yes or no.
That's it. A guy's a Hall of Famer, or he isn't.
Yes or no?
There's no way to vote "not now." But that's what I'm doing.
I'm voting "not now" on the steroid-era players, just as for so many years they voted "not now" on testing that could have helped clean up the game and identified the cheaters. By fighting so hard against testing, the players union allowed the steroid cheats to hide among them.
Because the players fought testing -- and because management happily went along -- we as Hall of Fame voters have been left with two options, neither one satisfying.
We can ignore steroids and vote to celebrate the cheaters, or we can make (sometimes-educated) guesses on who cheated and who didn't.
The first one just feels wrong. The second one just feels unfair.
I suppose there's a third choice, and that would be to bypass the entire steroid era and elect no one.
But that feels both wrong and unfair.
Isn't that what I'm doing, since "not now" doesn't appear on the ballot and I'll be voting no (more accurately withholding my vote) from all the steroid-era guys?
If everyone voted the way I have, then obviously it would be. But just as obviously, not everyone is voting the way I am. The best players from the steroid era (including Barry Bonds and Roger Clemens) are certain to get the 5 percent of the vote needed to remain on the ballot for consideration next year. The most controversial guys (Bonds and Clemens) are almost certain not to get the 75 percent needed for election.
They may never get in, but my guess is eventually they will.
I don't mind that. I don't even rule out the possibility of voting for them in the future. I'm just not ready to help them get in now.
The conversation should go on, for them and for their steroid-era peers.
In the meantime, it's worth having one more conversation on the Hall-worthy (or in some cases almost-worthy) players who preceded them.
Some voters who choose to ignore steroids find their ballot filling up this year (voters can choose up to 10 players each year). More voters will find their ballot filling up next year, and thus election will become tougher.
So once I decided against voting for anyone from the steroid-era, I then decided to take an even harder look at the older players on the ballot. It was one last look, in some cases, at players who I haven't voted for in the past.
Defining the steroid era isn't simple, of course. There's no guarantee that someone I voted for didn't use steroids. There's no guarantee, in fact, that none of the players already in the Hall of Fame were steroid-free.
The three players I settled on (and the others I seriously considered) played most of their careers before steroids were in vogue. I'll take the chance that I'm wrong, but these guys are beyond the stage where it's reasonable to vote "not now."
The three I voted for:
•  Jack Morris. I've long been a supporter. I understand the arguments against. But he was the dominant starting pitcher of his era. We've never elected a pitcher who spent his entire career in the American League during the DH era. Morris deserves to be the first.
•  Alan Trammell. I didn't vote for him at first, considering him just short of having Hall of Fame credentials. But I voted for both Trammell and Barry Larkin last year, writing at the time that I thought the two shortstops had very similar careers. I still think that. Larkin was voted in a year ago. Trammell deserves to stand there alongside him.
•  Tim Raines. I haven't voted for him before, but I always review every player every year, not because their numbers change but because opinions do. Raines was a dominant leadoff hitter, and if his career fell a little short of Rickey Henderson's, that's fine, because Henderson may well have been the best leadoff hitter ever. There's room in the Hall for the second most dominant leadoff man of the generation, so Raines gets my vote.
The others I considered:
•  Don Mattingly. His first three full seasons (1984-86) were absolutely Hall-worthy. His next three were very good. Then, in large part because he wasn't healthy, he tailed off dramatically. He's close, but there had to be just a little more.
•  Dale Murphy. I've read the appeals. Yes, it would be great to celebrate the first steroid-dominated ballot by electing someone we'd all feel good about. But the answer on Murphy is once again no, despite the back-to-back MVP awards (not that much different from Mattingly finishing first one year and second the next). He just wasn't great for long enough. It's a close call, but it's a no.
•  Lee Smith. He led the major leagues in career saves when he retired. Isn't that enough? No, because the save hasn't been around for long enough, and the position of closer hasn't existed for long enough. We've elected other closers, and will elect more. If Lee Smith were to get in, I wouldn't argue, but his career and accomplishments fell just a little short of getting my vote.
As for the others on the ballot?
Not now.