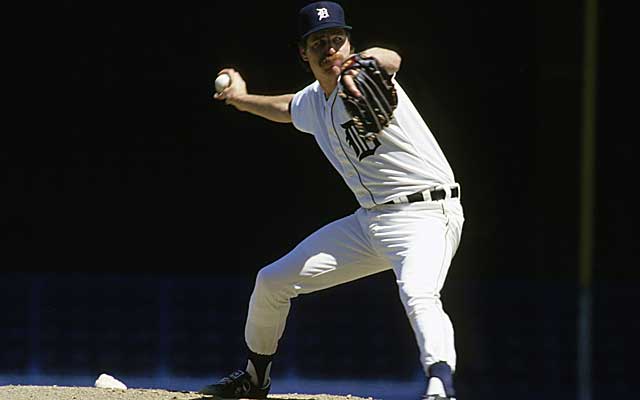 Don Mattingly played 13 years in the big leagues. He's been retired long enough that this is his 13th year on the Hall of Fame ballot.
And of the 80 pitchers he faced 25 or more times in his career, just one has made it into the Hall of Fame.
Jack Morris pitched in the big leagues for 17 years, his career roughly paralleling Mattingly's.
Of the 10 batters he faced 104 or more times in his career, seven have made it to the Hall of Fame.
Notice a difference?
For more than a decade now, we've been electing hitters to the Hall of Fame at a fairly normal rate. For more than a decade, we've basically been ignoring starting pitchers.
Only one of the last 21 players elected to the Hall was a starting pitcher -- Bert Blyleven -- and he retired 20 years ago.
Blyleven debuted in 1970. Not one starting pitcher who has debuted since then has yet been deemed Hall-worthy.
Obviously, that's soon to change. Roger Clemens would be getting in this year, if not for the steroid taint. Tom Glavine and Greg Maddux are almost sure bets next year, and Randy Johnson, Pedro Martinez and John Smoltz reach the ballot the year after.
These things go in cycles, without doubt. Some eras are pitching-heavy. Some aren't.
But 12 years passed between Blyleven's debut and Clemens' first game. It was another four years after that before Randy Johnson arrived in the big leagues.
In baseball terms, that's a generation.
And you're telling me we went through an entire baseball generation without a single starting pitcher who deserved to get in?
If you're thinking this is another way to get at the "Does Jack belong?" argument, well, yes, it is. I happen to think that Jack does belong, and I've been arguing it since he made it to the ballot.
His vote total has risen, and last year his 66.7 percent was the highest total of anyone who didn't get in.
The election gets more complicated this year, because the "steroid guys" begin arriving on the ballot in full force. Since some people will vote for them and some (me included) won't -- and because no one can vote for more than 10 players in any one year -- it's going to be harder for anyone to get the required 75 percent.
And assuming none of the "steroid guys" get in this year (a fairly safe assumption, I think), then it'll get even tougher next year, with even more big names on the ballot and even more ways for voters to split their 10 possible votes.
If Morris is going to get in, you'd think it would have to be this year.
Morris has never been a favorite of the stat faction. In fact, our Eye On Baseball team, which leans to the sabermetric side, lists Morris as just the 18th best candidate on this year's ballot.
Morris' career ERA of 3.90 is high, although it jumped nearly 20 points because of his poor final two seasons with the Blue Jays and Indians. Morris never did get close to 300 wins (finishing at 254), and I'll admit, the title of winningest pitcher of the 1980s isn't all that meaningful.
Why not the winningest pitcher from 1976 through 1992? Of course, that's also Morris.
My argument for Morris has always been that he was a winning pitcher (the stat guys hate that term). The argument could never be based solely on his big postseason moments -- especially the 1-0 Game 7 win in 1991 -- but there's no question that should work in his favor.
In the biggest games, great teams chose him. He started Game 1 of the World Series for the Tigers, the Twins and the Blue Jays.
But the other argument for Morris is the one that compares him to the other starting pitchers of his time.
As voters, we've already put him atop that list. All the other starters between Blyleven and Clemens have already dropped off the ballot.
We honored the best of the generation of starters before Jack: Not just Nolan Ryan and Tom Seaver and Steve Carlton, but also Don Sutton and Phil Niekro.
We'll almost certainly honor the generation of starters after Jack, even if we keep Clemens out. Maddux and Glavine will get in, and surely others will, too.
But what of Jack's generation, especially those like Morris who pitched their entire career in the American League in the first couple of decades after the designated hitter rule was adopted? What of the guys who pitched to Mattingly, but also to Hall of Famers like Robin Yount, Cal Ripken, Rickey Henderson and Paul Molitor?
Is it possible that none of those pitchers were Hall-worthy themselves?
Sure it's possible. It's obvious that not many of them were, because none of them have been voted in so far, and Morris is the last guy standing.
I'd argue again that he deserves to get in, as the dominant starting pitcher of his short era.
If not, he'll just stand out as the guy who pitched to a lot of guys who did get in.