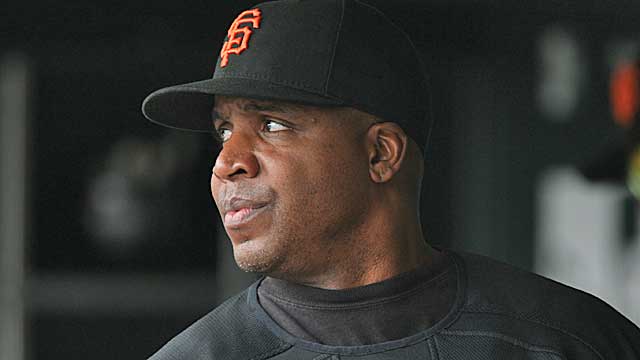 This year's Hall of Fame ballot contains the most star-studded collection of baseball names outside of, well, the Hall of Fame.
But, oh, what a mess.
The first honest-to-goodness steroid-era ballot is comprised mostly of elite players -- even all-time greats -- with a taint and others who were awfully good and played by the rules. There are 20 players of 37 who have some sort of case. But unless you find illegal performance-enhancing drugs OK or irrelevant, for some there may not be even one easy "yes" on this ballot.
Yes, a mess.
It's possible no one gets in. If one or two does, the most likely may be the scrappy, consistent, persistent Craig Biggio, who had 3,000 hits, played three positions ably and has no steroid taint. However, he still may not be one of the 10 best players on this ballot.
Apart from voters so upset they turned in a blank ballot, very few ballots will look alike. (I saw a friend's ballot and it was totally different, and I mean every single name.)
None of us can be too happy about a ballot that feels like more plight than task. Filling out the ballot is supposed to be a privilege. For this first time, it felt like a burden.
Some may view this ballot as our punishment for doing such an awful job of protecting the game from steroid abuse. And we did do a very bad job (myself included). Maybe it is justice.
There are a number of ways to view this group. And likely no right answers.
If someone else wants to wants to simplify things, not worry about steroids and just go by the players' accomplishments, their feats and their numbers, regardless of how they achieved them, I get it.
If someone wants to ignore the character clause, I get that too. There are already plenty of scoundrels in Cooperstown, I know.
If someone wants to disregard the steroid taint because the players (many of them anyway) got away with it at the time, I understand that, too.
If someone wants to point out that steroids weren't specifically disallowed in baseball before 2002, well, I can buy that, too -- to a degree. But I will point out that steroids were illegal even then, and that everyone understood it was a no-no to the point where everyone except Ken Caminiti who took them and was asked about them, even back in those days, lied about it.
And if someone wants to make the call that the truly elite all-time greats (Barry Bonds and Roger Clemens) would have been Hall of Famers even without pharmaceutical help, I understand.
If someone wants to say the Hall of Fame wouldn't be the same without Barry Bonds and Roger Clemens, I understand that, too. Because it wouldn't.
And if someone wants to differentiate between a failed test, an admission, a pseudo admission, a sudden inability to speak English, anecdotal or other circumstantial evidence, of course I grasp that, as well.
I leaned for months toward disregarding their obvious steroid ties and voting for Bonds and Clemens, arguably the best position player and pitcher over the past 40 years (at least by what they did on the field). But ultimately, I just couldn't do it. At least not this time.
The more I thought about it, the more I didn't want to celebrate their careers. Not yet, anyway.
More to the point, I didn't want to reward the cheats.
The steroid guys already hit more home runs, recorded more strikeouts, made more money and won more awards thanks to one thing: having less integrity than some or many of their clean competitors.
I am not about to add to their already crowded mantles.
It's more than the character clause, though. Or even a sense of fairness. We should all wonder about the authenticity of the numbers, too.
How real are the numbers of the steroid guys? And how do we know?
Just to get a gauge what victims of the unleveled playing field think, I quizzed a few former players I respect about what they thought. Don Mattingly, responding to my query at the winter meetings last month about whether I should vote for the steroid guys, answered with two words: "What for?"
What for, indeed. We blew it in the '80s and '90s, and we'll never find exactly the right way to balance things. But why continue to make them less balanced, less fair. Why, indeed.
One of Clemens' legal mouthpieces recently chastised writers who might dare omit Clemens from the ballot. But I have news for him.
This isn't like his case where the lawyer gets to pick the 12 dummies who might fall for his courtroom BS. And even though Clemens' high-priced talkers somehow got him acquitted of perjury, that hardly erases the mountain of evidence that he's one of the greatest juicers in baseball history.
Maybe that jury didn't believe he belonged in jail. But that doesn't mean he belongs in the Hall, either.
This isn't a court of law. Nobody is being thrown in jail. The standard for proof isn't quite as high.
But justice should be a goal.
Nobody should feel great about their ballot. I know I don't.
In my attempt to form an all-clean ballot, I have omitted arguably the seven players whose numbers are best, whose accomplishments are greatest and whose place once seemed most secure. That's not a happy feeling. But ultimately, I voted yes on the six players I felt were deserving of the Hall, six we can honor and happily celebrate.
Below is my ballot, followed by my near misses, the "very good but not great," a few in the "what are they doing here" category, and then far too many "Not This time."
My ballot
1. Tim Raines: The second greatest leadoff hitter of his era walked a lot and rarely was thrown out trying to steal (second best steal percentage for those with 300 steals). Works for those who want to see greatness (like myself) with seven superb years to start the career, but also for those who like career numbers since he hung around for 16 mostly good to very good seasons after the initial seven great ones. Should take a big jump and eventually get in.
2. Jack Morris: He defined workhorse and ace in the '80s and early '90s, yet he remains as controversial a non-steroid candidate as there is. He made 14 Opening Day starts, tied with Steve Carlton, Randy Johnson, Walter Johnson and Cy Young for second most ever, behind only Tom Seaver, and was also the No. 1 pitcher of three World Series winners, clear evidence of his reputation and impact in his day. Tom Verducci of Sports Illustrated had the stat that defines him: in 14 consecutive seasons, he pitched eight innings or more in 52 percent of his starts. Detractors point to a less-than-glowing career 3.90 ERA, but his career is better summarized by a great decade (most wins of the '80s) and great moments (his Game 7 performance in 1991 for his hometown Minnesota Twins was maybe the best pitching performance under the circumstances in decades). He was good enough to receive Cy Young votes in seven seasons. I can't allow his vast accomplishments to be re-evaluated downward by a new emphasis on different numbers.
3. Dale Murphy: He was about the best power hitter in the game for a seven-year span and won five Gold Gloves in that time. A clean living Josh Hamilton. Hurt by career petering out in normal fashion, pre-steroid style, leaving him two home runs shy of 400. A feel-good vote in a feel-bad year.
4. Curt Schilling: Was great for seasons, and for postseasons. Scores high on the impact meter, but maybe not for longevity. He was one of three pitchers who had three 300-strikeout seasons (Randy Johnson and Nolan Ryan are the others), he owns the best strikeout-to-walk ratio in modern baseball and he helped pitch his teams to three World Series championships. Pitched to a lot of steroid guys, and while he might not seem all that credible on some other issues, there's no evidence he juiced.
5. Don Mattingly: Career was very much like Murphy's. Was among the best players for a short period of time. Also won a bunch of Gold Gloves (nine) and set a great example. Also am not going to let a retroactive range guess dissuade me from believing he was one of the very best defensively at first.
6. Fred McGriff: His home run total of 493 would look a lot better if so many around him weren't juicing. Hit 30 or more home runs seven consecutive seasons and had 100 RBI eight seasons. He's 26th all-time in homers even if he came up seven short of the magic number (and would be a lot higher if everyone played by the same rules).
Near misses
7. Alan Trammell: There are a lot of great arguments for Trammell, including the one where someone points out that the Tigers never would have traded him straight-up for Ozzie Smith. But none apparently has quite convinced me yet.
8. Craig Biggio: He probably has the best chance to get in this year considering his impressive lifetime numbers (did you know he's the all-time leader for doubles by a right-handed batter?), and I certainly wouldn't object if he did. I am one who doesn't think there are magic numbers, (i.e. 3,000 hits) and prefer greatness to longevity, so I leaned no, on first go-round anyway.
9. Edgar Martinez: Had that pretty slash line of .312/.418/.515. But since he was mostly a DH, I would have liked a bit more power, longevity or speed. Great, but pretty one-dimensional.
10. Bernie Williams: He had many great moments, almost all of them in October. Add his postseason stats and you're getting closer.
11. Lee Smith: He retired as the all-time save leader and had many of the four- five- and six-out variety. Terrific and consistent, but I'm a tough grader on specialty guys. There's a reason relievers, even closers, make a lot less than starters.
12. Kenny Lofton: I'm glad he has some supporters because it opened my eyes to what a very fine career he had. But he finished in the top 10 in MVP voting only once (in the strike year of 1994).
13. Larry Walker: He had terrific all-around talent, and for a while, otherworldly numbers. But he did most of his damage in Coors Field's pre-humidifier days. Hard to know how to judge, but doesn't quite make it here.
Very good but not quite great
14. David Wells:
Won a fair number of games, struck out a lot more than he walked, was very good in October and pitched a perfect game. Very, very nice career.
15. Shawn Green: Had .494 career slugging percentage. Darned good.
16. Steve Finley: One of only eight players with 300 home runs and 300 steals. Better than you think or remember.
17. Sandy Alomar Jr. : Good player, great leader.
18. Julio Franco: Oldest player to hit a home run (48, if he was even that young).
19. Reggie Sanders: Another one of the eight players with 300 home runs and 300 steals.
20. Jeff Conine: A winner. Though probably not on Jan. 9.
21. Roberto Hernandez I: Nice long career, and 326 saves.
22. Jose Mesa: Basically had Roberto Hernandez's career. Five fewer saves, though.
23. Ryan Klesko: Had .870 career OPS, which is pretty darned good.
What are they doing on the ballot?
24. Aaron Sele: Nice curveball.
25. Jeff Cirillo: Had decent career. Can't possibly get a vote.
26. Woody Williams: Was in the postseason a fair amount, though he wasn't especially good those times.
27. Royce Clayton: Better player than actor.
28. Todd Walker: Very nice complementary player.
29. Mike Stanton Capable set-up man was said to have been set-up for HGH by his agent.
30. Rondell White: Nicest man to appear in Mitchell Report?
Not this time
31. Barry Bonds: Love the 1.422 OPS in 2004. When he was 40.
32. Roger Clemens: Twilight of his career was better than real part of his career.
33. Mark McGwire: Can be compared to only three batters after age 33: Babe Ruth, Ted Williams and Bonds. Before that, he was compared to Jay Buhner.
34. Rafael Palmeiro: Hall of Fame stats and congressional acting performance.
35. Sammy Sosa: There's really no more hard evidence on him than a few others, but between the corked bat, the 66 home runs, a report of a failed 2003 test and confused testimony, he seems emblematic of an era. Will delay my vote on him until more evidence is in.
36. Mike Piazza: As with Sosa, I delayed my "yes" vote on the greatest hitting catcher of all-time to await more evidence. It has been reported he's writing a book, so perhaps he will shed some light.
37. Jeff Bagwell: Deserving on the numbers, but as with Sosa and Piazza, I delayed my "yes" vote until further proof/word.