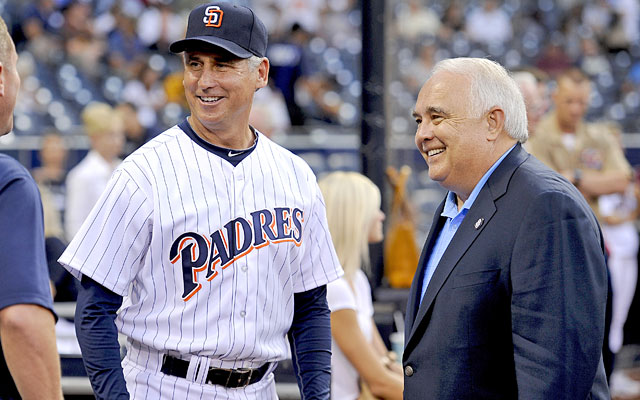 Because I'm a such a sucker for both the downtrodden and abused, I spent part of a vacation morning last week with a San Diego Padres fan.
David Marver is a 25-year-old analytical scientist with a lifelong passion for baseball, a zeal for the Padres and a finely calibrated BS detector. Instead of finding a psychologist's couch to weave those last two incompatible things together in his life, the guy did something far more productive.
He emailed and invited me to the movies.
A smart man with a deft talent for navigating the digital age, Marver has spent his spare time over the past few years collecting and bookmarking video and sound bites in which various Padres officials send one truth after another through the spin cycle. This winter, he painstakingly aggregated his work into a 36-minute documentary that he took public this week through his Change The Padres Facebook page.
The way he figures it, social media spurred the Arab Spring and has toppled dictators.
So maybe he can spur a grassroots effort that will force Padres ownership to, you know, actually stop fibbing to its fans and maybe try to win one of these years.
That, by the way, is his only goal. He is not trying to sell his documentary. He wants no money.
I was sold.
"I understand the odds are remote," he told me over a plate of Mexican food this week. "But I still think it's worth the effort. I live by the motto that you can't have less than zero chance.
"The goal is for people to stop spending their money on the Padres until they change their behavior."
All corporations -- sports organizations included -- at times play fast and loose with the truth. But from John Moores to Jeff Moorad right up to their new owners, the Padres and truth far too often aren't even in the same zip code.
Current owner Ron Fowler promised upon taking control of the team last summer to try and keep the current young core together, and that "if good players want to be here, we'll try to keep them."
To that end, third baseman Chase Headley is his first significant test case. And while the Mets re-signed David Wright this winter (eight years, $138 million), the Padres last week only agreed to avoid arbitration with Headley on a one-year, $8.575 million deal.
With Headley eligible for free agency following the 2014 season, the lack of serious talks are a pretty good indication to anybody with even a rudimentary working knowledge of the Padres that Headley soon will be hand-delivered the same one-way ticket out of town that Jake Peavy and Adrian Gonzalez were given before him.
Marver's knowledge of his beloved home team is far more than rudimentary. Which makes him dangerous.
His parents were season-ticket holders from the mid-1990s until the early 2000s. Still burned into his mind is that giddy 1998 night on which, following a crucial playoff win over Houston, David and his brother shouted out the back-seat windows as the family car snaked its way through a congested Qualcomm Stadium parking lot toward the exit. Around them in the sea of cars, it seemed like everyone was honking and hollering.
Game 1 of that series, he had ditched his sixth-grade class to go home and watch as Kevin Brown fanned 16 Astros in a 2-1 San Diego win.
"I literally just got up and walked out of class and went home," he said. "My fourth-grade teacher put the playoff games on the radio [in 1996]. My sixth-grade teacher wouldn't. And I just said, 'I'm watching the Padres.'"
There were many other nights and many other highlights. Until there weren't. In recent years, despite a new ballpark that opened in 2004, the Padres quietly have become the cheapest team in baseball.
And Marver their newest documentarian.
His film is called The Padres: The Sad Truth.
Ironic title, as it catalogs a litany of mistruths, half-truths, outright lies, fibs, blatant exaggerations, quarter-truths, tall tales and eighth-truths.
It is divided into four chapters: The Padres Have Lied to You, The Cheapest Team in Baseball, The New Ownership is the Old Ownership and How You Can Help.
The work really picks up steam when Moorad takes charge in 2009.
As Marver noticed while aggregating his archive, "Moorad says more things that were false than that were true."
Including promising that the club's payroll in 2010 would "start with a four." It started with a three: $37.8 million.
And stating in '09 that he wanted Gonzalez to be around for years to come (instead, the Padres stunned the baseball world by winning 91 games in '10, then shipped Gonzalez to Boston that winter).
And promising that there would be "talent coming back" from Pittsburgh in the Ryan Ludwick trade.
The Padres took cash instead of the player to be named later.
Marver, who says he achieved a perfect math score on his SATs, is employed by one of the world's leading predictive analytics firms and works numbers the way a forensic scientist works DNA.
As he points out in his well-sourced documentary, between 2009 and 2012, noted cheapskates Miami ($67.2 million), Kansas City ($60.8), Tampa Bay ($60.5) and Oakland ($55.5) all produced higher average payrolls than the Padres' highest payroll ($55.2 million).
So beginning in '09, Marver stopped going to Petco Park. Friends invite him, and they are unable to believe it when the biggest Padres fan they know continually declines their offers. (He did slip once in the past four years, attending a game late in 2010, and his guilty conscience still hauls that around like a sin).
"I'm still a Padres fan," he says. "I just don't go. I still root for them to win every night."
But he gives his money to the Angels. And to the NBA's Clippers. And to the NFL's Chargers. And until the Padres "change their behavior," that's what he is hoping to convince other fed-up fans to do.
Even under new ownership, the Padres are more invisible than a pack of unicorns heading into spring training. They signed exactly one major-league free agent this winter (bringing back pitcher Jason Marquis). The TV squabble that meant 42 percent of San Diego County could not watch them on television last summer remains ongoing. The latest is that roughly 22 percent of San Diego County -- those whose cable carrier is Time-Warner -- will not have access to Padres games in 2013.
Marver's is an admirable goal, and as social media continues to change the world, who knows? Maybe righteous fans will figure out ways to hold their teams accountable when necessary.
"I figure if you get good video out there and enough people see it, it will influence them to act," Marver says. "That's the hope, at least.
"They say bad news travels fast, right?"