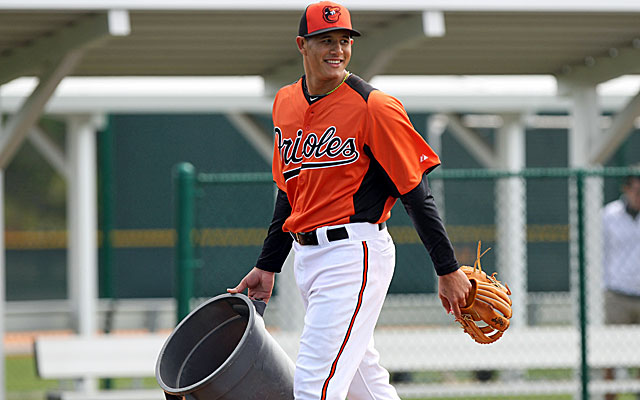 SARASOTA, Fla. -- What I like, and dislike, about the Orioles:
Things I like
•  The excitement that has returned to what can be a great baseball city and a great baseball environment. It came back late last season. Now it's up to the Orioles to keep it and build on it.
•  The two young emerging stars at key positions. If you were going to start a team, you could do a lot worse than put Adam Jones in center field and Matt Wieters behind the plate. Jones has matured on and off the field. Wieters is such a good game-caller that the Orioles staff believes he may save a run a game with that skill alone.
More on Spring Training
Related links
More on Orioles
•  The seemingly mismatched pair of Dan Duquette and Buck Showalter. Both had their detractors before coming to Baltimore. Both hires raised some eyebrows, even inside the organization. But it worked last year, and there's every reason now to believe that it can keep working.
•  Manny Machado. If you didn't see the play he made last September against the Rays, click on this link and watch it now.
•  Nick Markakis, healthy again and back atop the batting order. One of the best of Showalter's many smart moves last year was to try Markakis as the leadoff hitter. His .390 on-base percentage batting first was second-best in baseball behind Mike Trout, and the Orioles went 33-21 with him at the top of the lineup.
Things I don't like
•  Is the owner really committed to building and sustaining a winner? By the end of the 2012 season, Peter Angelos seemed more interested in his baseball team than he had been in years. But then the offseason began, and all you heard was that the Orioles didn't have the money to spend big in the free-agent market.
•  The Orioles could have used some kind of big offseason boost. But the money apparently wasn't there, and Duquette was understandably reluctant to part with any of his fine young pitching prospects, so a big trade never happened, either.
•  The Orioles were heavily reliant on their bullpen, which was outstanding. But bullpens are more volatile than any other part of a team, so can you really expect the same success again? Duquette says yes, because Showalter will keep the relievers from getting overworked, and because each one has at least one strong pitch.
•  No, it wasn't all luck. It may not have even been mostly luck. But there's a reason that no team before the 2012 Orioles had ever won more than 75 percent of one-run games. There's no way that happens again.