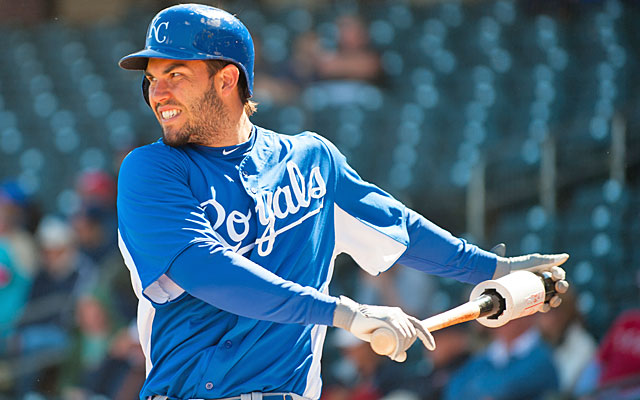 SURPRISE, Ariz. -- Kansas City Royals first baseman Eric Hosmer will replace the injured Mark Teixeira on the United States team at the World Baseball Classic.
Hosmer received a text message late Tuesday from Tony Clark of the players union, asking if he would be interested in a spot on the roster. After getting a call from U.S. manager Joe Torre and receiving the blessing of the Royals, Hosmer quickly agreed to join the Americans.
"It's a great opportunity," Hosmer told the Associated Press on Wednesday. "Any chance you get to represent your country, you're going to jump at the opportunity. So I'm very excited."
Teixeira strained his right wrist while swinging off a tee Tuesday, shortly before the U.S. tied 4-4 with the Chicago White Sox in an exhibition game.
X-rays were negative and an MRI exam revealed a strain on the outside of Teixeira's right forearm, near his wrist. He flew to New York and was to be evaluated further Wednesday by Yankees team physician Dr. Christopher Ahmad and hand specialist Dr. Melvin Rosenwasser.
Yankees general manager Brian Cashman said Tuesday night in Tampa, Fla., that Teixeira would be out a minimum of 10 days.
"I certainly feel bad for Tex, but it's one of those things, it just seems like it's unavoidable," Torre said. "You never want to wish a thing like this upon any player, especially here in spring training."
Hosmer left the Royals' spring training complex to catch up with the U.S. team on Wednesday, just in time for a team picture in Scottsdale, Ariz. The U.S. team was then scheduled to play its final tuneup against the Colorado Rockies before starting the tournament.
The Americans open Pool D play against Mexico on Friday night in Phoenix.
"I don't know what the situation is or what my role is going to be," Hosmer said, "but I'll get over there and find out. I'm excited to get started."
Torre refused to speculate Tuesday on who might replace Teixeira, though Hosmer makes sense.
Not only is he already at camp in Arizona -- rather than having someone fly into town from a camp in Florida -- but he is also a left-handed hitting first baseman. The U.S. team has lineup loaded with right-handers, and Torre said he would try to find someone to provide balance.
"Regular spring games don't mean a dadgum thing," Royals manager Ned Yost said. "They're playing in a tournament that means something, so it's great experience.
"It's playing with stars from different organizations," Yost said. "There's a lot you can learn in those types of situations, and it's a competitive tournament that's going to be watched by a lot of people, and it's played to win. There's a lot of benefits for a guy like Hos."
Hosmer had a sensational rookie season in 2011, hitting .293 with 19 homers and 78 RBI in 128 games. But he endured a maddening sophomore slump a year ago, his average plummeting to .232 with 14 homers and 60 RBI in his first full season in the big leagues.
He worked with his brother in the offseason on his swing, and the changes appear to have helped. He's 9 for 23 with a homer and eight RBI in nine spring training games.
"Hopefully I can carry that over, absolutely," Hosmer said.
Hosmer will be joining a roster that doesn't have another true first baseman. Joe Mauer can play the position, but he's also one of the team's catchers. Ben Zobrist and Willie Bloomquist are versatile players who also have experience at first base, but could be needed elsewhere.
And he'll also be joining a roster managed by Torre, now an MLB executive vice president.
"When it comes to managing in baseball, that's one of the first names you think of," Hosmer said. "It'll be a pretty fun experience with the amount of talent."
Royals general manager Dayton Moore said it was an honor for Hosmer to be called up by the U.S. team to play in the tournament. He'll be joining left-hander Tim Collins on the roster.
"I found out late last night what the situation was, and we wondered what they'd do," Moore told the AP. "I think it's great to be able to get that honor, and I think he'll represent Team USA, and I think it's a good thing."
It won't be the first time that Hosmer has represented his country.
Hosmer was one of six Royals farmhands who played in qualifying for the 2010 Pan American Games tournament. He hit .389 with a homer and seven RBI during the competition.
"Just hearing the national anthem on the line, and looking up and down the line and seeing the 24 guys you're representing your country with, there's no better feeling than that," Hosmer said, "and I couldn't be more excited to see these guys."