Not that spring training was ludicrously long this year, but the Giants' Marco Scutaro turned a walk into a double the other day simply because the Padres needed a nap.
Not that this spring dragged, but since Day 1 of camp, the Catholic church dipped into the free agent pool to find a new pope. Mr. Twin Joe Mauer revealed his wife is pregnant with twins. And Prince Fielder was left stranded on the way to a Grapefruit League game by a flat tire.
Miguel Cabrera has promised not to leave Fielder stranded this summer.
Baseball, 2013: Turns out, not only has man walked on the moon, but the Astros will walk on American League soil. Quick, anybody for a glass of Tang?
Two general managers were hospitalized.
Brian Cashman fractured a leg and dislocated an ankle while skydiving and underwent surgery. Wheelchair-bound, he was still in better shape than poor Joe Girardi, who is stuck managing a roster of pins and casts.
The Brewers' Doug Melvin was stung by a scorpion, leaving his left arm numb and instantly instilling meaning into that grand old Arizona Fall League franchise, the Scottsdale Scorpions.
Me, I knew it was time for opening day when I set a cup of coffee on the back of a golf cart in Kansas City's camp the other morning while talking with manager Ned Yost.
A Royals trainer soon hopped in and, mid-conversation with Yost, I watched my coffee disappear into the distance, still upright on the back of that cart.
Now if the Royals can take the rest of the AL Central deep like that cup of Starbucks. ...
Baseball, 2013: Let's rock. ...
AL East
1. Blue Jays: We knew they meant business, but final proof came the other day when they optioned one-time ace Ricky Romero to Class A Dunedin and installed J.A. Happ in the rotation. Had to be, given Romero's regression. Jose Reyes, Jose Bautista, Edwin Encarnacion, Josh Johnson, Mark Buehrle ... how can the Jays not be Happ-y at season's end?
2. Orioles: When Kevin Gausman and Dylan Bundy arrive, these Birds will be bad to the beak. Given how the O's staff fell in love with Gausman, we may see the former Louisiana State University ace sooner rather than later. For now, there are enough pieces for Buck Showalter to contend, despite the fact that the Orioles' going 29-9 in one-run games and 16-2 in extra-inning games last season suggests regression in 2013.
3. Rays: Dangerous game, not picking the Rays for first or second in the division, and if Evan Longoria plays in 150 games this prediction will play worse than Tropicana Field. Matt Moore and Alex Cobb will infuse the rotation with youth, but how badly will the Rays miss James Shields' 200 innings and B.J. Upton's offensive production?
4. Red Sox: Jon Lester and Clay Buchholz showed they still have it this spring. John Lackey dropped probably 40 pounds and was upgraded by one scout to "serviceable." No David Ortiz on opening is a bummer. No Bobby Valentine is not.
5. Yankees: Curtis Granderson, Mark Teixeira, Derek Jeter and Alex Rodriguez open on the disabled list. Vernon Wells opens in left field, Brett Gardner in center and Lyle Overbay at first. Joe Girardi's spring comment that the Yankees are a 95-win team is funnier than anything Craig Ferguson said this spring.
AL Central
1. Tigers: Justin Verlander is a candidate to pitch a no-hitter each time out. Miguel Cabrera realistically could win another Triple Crown (his batting average last summer was down 14 points from 2011!). Max Scherzer could win 20 games. Torii Hunter is a vast upgrade over Delmon Young. Victor Martinez is back. As Ann Arbor native and Tigers fan Bob Seger sings, We've Got Tonight, babe. Who needs tomorrow?
2. Royals: Mark it down: This is the summer winning baseball returns to Kansas City. Shields, Ervin Santana and Wade Davis boost the rotation. Yost has his pick of power arms in the bullpen: Closer Greg Holland, Aaron Crow, Luke Hochevar, Kelvin Herrera. The key to this deal is Eric Hosmer and Jeff Francoeur rebounding at the plate. If Hosmer, who likely will open the season sixth in the order, is hitting fourth before the All-Star Game, this team could go places.
3. Indians: No team's optimism increased in spring camp more from 2012 to '13 than Cleveland's. Not only is Terry Francona a proven winner, but Tribe vets like Chris Perez, Jason Kipnis and Lonnie Chisenhall see Francona and know the organization is re-committed to winning, and doing so soon. Know who can make Tito's job much, much easier? Starting pitchers Justin Masterson and Ubaldo Jimenez. So much of Cleveland's summer depends on which way this duo goes.
4. White Sox: One concern is that starter Chris Sale threw 192 innings last season, an increase of 121 from his 2012 total. This is a guy who should be in the Cy Young conversation for years, but will last summer's workload make for a stagnant 2013 for him? Tyler Flowers gets his chance behind the plate. He'll be fine eventually, but A.J. Pierzynski may be appreciated a little more by some in his absence.
5. Twins: Vance Worley is the opening day starter. Think he beat out Scott Klingenbeck and Rich Robertson for the gig.
AL West
1. Angels: With Mike Trout, Josh Hamilton and Albert Pujols aboard the S.S. Scioscia, there is no reason why they shouldn't crush everything in sight. Anything less than 100 wins will be a disappointment. With this lineup, they could pitch Zooey Deshanel and win. Which some nights, after Jered Weaver, it will appear as if they are.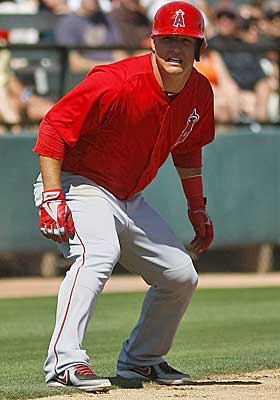 2. Athletics:
Yoenis Cespedes
will be a treat to watch this summer now that he knows the league and its pitchers. But now that the league knows
Tommy Milone
, will opposing hitters sit on his changeup? The A's will go as far as their young pitching -- Milone,
Brett Anderson
,
Jarrod Parker
and A.J. Griffin -- takes them. Great bullpen, too. Time to believe.
3. Rangers: Pitching is a worry. If Colby Lewis and Neftali Feliz return from injury as expected during the season, things will be immeasurably better. Martin Perez suffered a broken arm in camp. Ian Kinsler's refusal to move from second base to first to open a spot for Jurickson Profar didn't help. The Rangers can still win, but it will be more difficult than in the past few years.
4. Mariners: Do not be surprised if they spring up to second or third. Rival scouts and a couple of Cactus League managers were really impressed this spring. Their offense has more pop with Kendrys Morales and Mike Morse and the further development of Kyle Seager and Dustin Ackley. Raul Ibanez can still hit. Felix Hernandez is a legit ace and who knows, if Taijuan Walker and Danny Hultzen hit the big time this year.
5. Astros: A poor disabled man who was trapped on the "It's a Small World" ride at Disneyland for 30 minutes in 2009 successfully sued for $8,000 this week. That's the 2013 Astros, minus the $8,000. Stuck, same mind-numbing, godforsaken tune screeching in their ears ... this team could lose 120. It's not a world of laughter, but it is a world of tears.
NL East
1. Nationals: If only our do-nothing Congress worked this well together. Baseball's best record last year, and they're even better this season. Bryce Harper and Stephen Strasburg for an entire summer. A legit leadoff man in Denard Span. A beefed-up pen with closer Rafael Soriano. A veteran starter in Dan Haren. A healthy Jayson Werth. Look out.
2. Braves: The outfield alone should be worth the price of admission, with B.J. and Justin Upton and Jason Heyward. It's easy to forget Heyward is still only 23. Then you mix in shortstop Andrelton Simmons (23), Freddie Freeman (23), pitcher Julio Teheran (22) ... the Braves enter the season as the fifth-youngest team in baseball, which should serve them well in the dog days of August. They also have lots of playoff experience. Great mix.
3. Phillies: If Roy Halladay is healthy enough to throw 175-200 quality innings, Philadelphia can win. Problem is, he sure didn't look anywhere near ready to do that as camp ended. The Phils still carry the swagger from winning five consecutive NL East titles, but it's clear that the erosion is in full force. And defensively, with Delmon Young in right field and Michael Young at third, there are holes.
4. Mets: Marlon Byrd? Really, Mets?
5. Marlins: They're trying to goose ticket sales to their home opener through Groupon. Maybe they could find a new owner that way, too.
NL Central
1. Reds: Now that the endless Aroldis Chapman debate is finished (will he start or close, and how fast will he be driving when the decision is made?), Cincinnati can get on with its season. They made the correct decision in returning Chapman to his closer's role, because this is a team built to win now. Especially with a healthy Joey Votto and five starters who each can cross the 200 innings pitched threshold: Johnny Cueto, Mat Latos, Bronson Arroyo, Homer Bailey and Mike Leake.
2. Brewers: Maybe the signing of Kyle Lohse this week didn't rock your world. In Milwaukee, they sold 34,000 individual-game tickets that day, up from 7,000 on a normal day a week before the season opener. Yes, they do wear cheese garb on their heads. But do people in Wisconsin know something you don't? This team at least has a chance to contend for a wild-card slot. Keep an eye on young shortstop Jean Segura, whom the Angels soon will regret for trading (Zack Greinke deal).
3. Cardinals: Everything goes right, St. Louis can win the division. But David Freese already is starting the season on the disabled list, and shortstop Rafael Furcal is done for the year with an elbow injury. And there is no Chris Carpenter. Can Carlos Beltran stay healthy all year? Yadier Molina? Adam Wainwright? They'd better.
4. Pirates: Quick, hands over eyes when August and September come around!
5. Cubs: Some clubs spend the season searching for a fifth starter or a closer. The Cubs will spend the summer searching for the Astros, wondering where those 15 games against Houston disappeared to.
NL West
1. Giants: While lots of folks are getting swept up by the Dodgers' projected record $230 million payroll, let's remember who has won two of the past three World Series. Buster Posey is a candidate to win a second consecutive MVP award. Matt Cain, Madison Bumgarner, Ryan Vogelsong and even Barry Zito pitch and win. No manager is better than Bruce Bochy. Now, here's the thing: By season's end, who will be closing == Sergio Romo or Tim Lincecum?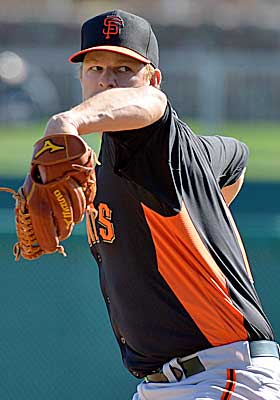 2. Dodgers:
Matt Kemp
,
Andre Ethier
,
Hanley Ramirez
,
Mark Ellis
,
Carl Crawford
... what do all of these guys have in common? None is a stranger to the disabled list. Watch this as the Dodgers' season rolls along backed by the melodious voice of Vin Scully: If injuries are kept to a minimum, they can win the division. But for all of that money, they've got a lot of guys who get hurt.
3. Diamondbacks: Losing rookie center fielder Adam Eaton late in camp was a big blow. The kid can play. With him having a Rookie of the Year-type of season, the D-Backs could contend. By the time he returns -- he's expected to be out two months with an elbow injury -- will Ian Kennedy, Trevor Cahill, Wade Miley and Brandon McCarthy have been able to pitch the Snakes into a spot from which they can contend?
4. Padres: The temptation was there to pick the Padres third. But catcher Yasmani Grandal is out the first 50 games due to suspension. Third baseman Chase Headley will miss the season's first month with a thumb injury. And re-signing outfielder Carlos Quentin likely will be a mistake. His bad knee limited his outfield time this spring and, historically, he hasn't been able to stay on the field. We'll see.
5. Rockies: Troy Tulowitzki (now healthy) and Carlos Gonzalez together again will be a sight to behold. Their pitching will not.
Wild cards
AL: Orioles and Royals. Playoff baseball returns to the home of Arthur Bryant's barbecue for the first time since 1985. And the Royals enjoy it so much they win the one-gamer.
NL: Braves and Dodgers. This time, there is no dastardly infield-fly rule scenario. And the Braves move on.
World Series
Tigers over Nationals: This from the guy who correctly predicted the Tigers and Giants in last year's World Series. Except, I, um, had the, uh, Tigers over the Giants last year. Fear not, this is the year I get the Motown pick right.
AL MVP: Mike Trout, Angels. With both Pujols and Hamilton hitting behind him, how can Trout not win it?
NL MVP: Buster Posey, Giants. In a close decision over the Reds' Joey Votto. Posey and Trout simply are the two best all-around players in the game.
AL Cy Young: Justin Verlander, Tigers. Verlander, David Price of the Rays and Felix Hernandez of the Mariners, you could pick from this pool each year. But nobody is more of a horse than Verlander.
NL Cy Young: Clayton Kershaw, Dodgers. If the Nats' Stephen Strasburg, with no innings limit this year, doesn't snatch it from him.
AL Rookie of the Year: Aaron Hicks, Twins. He can go get the ball in center field, hit for power, hit for average.
NL Rookie of the Year: Jedd Gyorko, Padres. He played second base all spring but may shift to third early in the season with both Headley and Logan Forsythe out. Either way, the opportunity is there and the kid can hit. Get ready for him. And it's pronounced "Jerk-o."
AL Manager of the Year: John Gibbons, Blue Jays. He was fired for no good reason the first time around. And nobody handles a bullpen any better than Gibbons.
NL Manager of the Year: Davey Johnson, Nationals. A victory lap in his final season.
Wild pitches
AL Comeback Player of the Year: Victor Martinez, Tigers. Remember him? He can flat-out hit. And in this loaded lineup, he'll see pitches to hit.
NL Comeback Player of the Year: Troy Tulowitzki, Rockies. No-brainer. The groin injury that wrecked his 2012 is history. He's healthy again.
AL Surprise Player: Scott Kazmir, Indians. Came to camp in great shape, both physically and mentally, and impressed the Indians from Day 1.
NL Surprise Player: Marco Estrada, Brewers. Good command, very good curve, late-bloomer ... all of this meeting opportunity. He had a good spring and pitched well for the Brewers last summer (1.14 WHIP). And the Brew Crew will score.
AL Bust: Shane Victorino, Red Sox. Didn't we go through this a couple of years ago in Boston with Mike Cameron? Aging outfielder who clearly isn't what he once brought in and asked to play every day.
NL Bust: Roy Halladay, Phillies. Almost 2,700 innings have been logged by that big right arm. The decreased velocity, the body rebelling ... these aren't just random spring occurrences. Halladay edges out the Dodgers' Zack Greinke in this category, by the way. Greinke's sore elbow this spring is a very worrisome development.