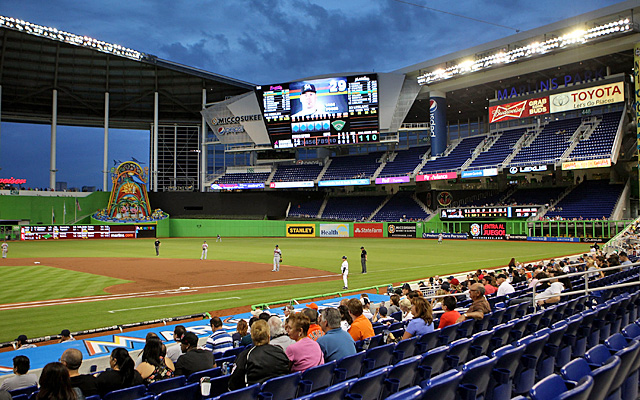 The Miami Marlins play every day next week, so this is what they need to do: They need to lose, and not just one or two games. Not three, not four, not five ...
The Marlins need to lose six games next week, maybe all seven, and then keep it up. Don't slow down just because the season's a grind and it's hard to play at a historic level for six months. If anyone can do it, the Marlins can -- and will, I hope.
Because of him.
You know. Him. Jeff Loria. The owner. The rip-off artist running the Major League Baseball franchise in Miami, though the Marlins don't deserve to be called a major-league franchise anymore. They're more of a minor-league team.
Which rhymes with Ponzi scheme.
Which is what the Marlins resemble these days under Jeff Loria, who took the victories and expenditures of recent years and used them to fool taxpayers and local politicians into investing heavily. The Marlins have a beautiful, year-old ballpark downtown that will cost Miami-Dade County $2.4 billion over the next 40 years. Over the years Loria has traded everyone worth trading, first Derrek Lee, then Josh Beckett and Mike Lowell, then Miguel Cabrera and Dontrelle Willis, and finally damn near everyone else in a 12-player deal with the Blue Jays in November in which Loria dropped all pretense of caring about the product on the field, the fans who support it or the taxpayers who subsidize it.
For that, the Marlins need to go right into the dumpster. And not to punish the fans, but to save them. I see just one way out, and even this is a crapshoot because Loria quite clearly isn't normal. He might just keep doing what he's doing for another decade out of spite, because he can. But we need to find out, so this is what needs to happen:
The Marlins need to lose, and lose big. And then keep on losing. What's the record for futility in the big leagues, the 1962 Mets? That team went 40-120, the most losses in modern major-league history.
The Marlins need to lose 121.
By Sept. 12.
And then they need to finish the season with a flourish. Starting Sept. 13 they play 10 games at home, 10 games in 10 days, and nobody should go watch. By mid-September the Marlins need to have more losses (121) than they do fans, and by God I think they can do it. All of them. The team, the fans, everyone. This has to be a partnership, Marlins fans. You understand? It's the only way. Does Loria keep the team if nobody goes to the stadium, nobody buys a ticket or a soda or a hot dog? Could he afford to keep the team under those conditions?
Find out.
As for me, the Marlins have become my obsession this baseball season. It's somebody or something every couple of years, because look -- 162 games is a grind, and I need something to keep it interesting. Five years ago it was the possibility of Elijah Dukes. For the next few seasons it was the futility of Adam Dunn.
Now it's the misery of Jeff Loria.
This is my fascination, and this is my hope: that he loses like no owner has ever lost. This is a man who helped kill off baseball in Montreal -- he owned the Expos until their last viable breath, which he choked out in 2002 by selling the team to the league and being rewarded with the Marlins. Baseball moved the Expos to Washington, D.C., in 2005.
Now Loria is killing off baseball in Miami unless something happens, something so bad -- so much losing, so little attendance -- that he sells the team. Marlins fans would hate this season, but it's my Band-Aid theory. You can be scared of that Band-Aid as it sits near your knee, clinging to all that hair on your leg, and you can try to remove it slowly. Carefully. You'll feel every single hair follicle being forcibly removed from the skin, and it'll be five minutes of agony, but by all means do it that way.
Or you can rip it off in a split-second and be done with it.
That's what this season is, Marlins fans. It's a blink in the course of a franchise. Rip it off -- as Jeff Loria has done to you -- and be done with it. Otherwise you're doomed to year after year of this stuff, one 69-93 season after another. Torn out of you.
The players on the Marlins would suffer, but these things don't come easily. And anyway, compared to fans -- if not to other players around the National League -- they're being paid well to lose. This is a Jeff Loria production, so the better ones will leave as free agents or trade bait anyway. The worst ones? They're getting big-league pay and fame, and accumulating big-league retirement benefits, with minor-league talent. Feel bad for them? Can't do it.
There's only so much room in my heart, and when it comes to the Marlins my heart is full of disgust for Jeff Loria. It's why the Marlins' box score is the first one I look for in the morning.
Did they lose? God I hope they lost. And they did! Over and over they did, a regrettable victory on April 5 salvaged by losses every other time out for a spiffy 1-8 record through nine games. They have played three games at home -- all losses! -- and after drawing 34,439 fans for their home opener they were down to an announced attendance of 14,222 the next night. Three games into the season the Marlins drew just 13,810 spectators.
You can do this, Marlins fans. You're doing it already, tuning out the owner -- not the jerseys on the field, but the empty suit in the owner's box -- and making him suffer. Good for you. You understand what I understand, that the Marlins have to fail this season. They have to fail like nobody has ever failed before.
Only then, maybe, will an art collector named Jeff Loria stop blowing his nose into this bauble once known as a Major League Baseball franchise.