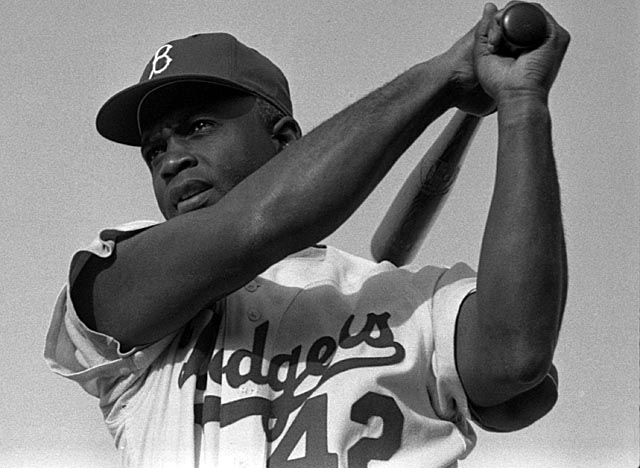 A life is not important, Jackie Robinson told us, except in the impact it has on other lives.
Think about that. Take a minute to toss it around, like a baseball with friends in a vacant lot. Let it hang in the air. Listen to it pop. Strap it to your handlebars as you bicycle home.
More than ever, our baseball players and celebrities are larger than life. Gazillion-dollar contracts, shoe deals, high-def straight into your living room.
Jackie Robinson wasn't larger than life until he was a giant no longer walking among us. Should have been. Was about to be. But wasn't.
Yet before Martin Luther King Jr., before the Civil Rights movement and Rosa Parks and the Voting Rights Act of 1965, there was Jackie, artfully living one of the most important and influential lives in history. In baseball, out of baseball, anywhere.
"What he's responsible for ... he deserves more, in my opinion, than what he has already," says Don Newcombe, the former Dodgers pitcher and Robinson teammate.
"I think Jackie is entitled to and should have a national holiday for what he did to make things right in this world. Especially for black people."
Lord knows, making things right in this world is not easy. No matter your race, color, creed, religious affiliation or political persuasion. I'll never get out of this world alive, wrote country music legend Hank Williams, and you know what he means.
Robinson was a doer, not a talker. His daughter, Sharon, born in 1950, was not even aware of her own father's place in history until one summer afternoon when she was at day camp near her family home in Connecticut when she was 8 or 9.
Rain falling too hard for the kids to go outside, everyone huddled around a screen as they fired up a film -- The Jackie Robinson Story.
"That was the first time I became aware of it," Sharon said during a recent phone conversation. "It was pretty shocking.
"I'm the only black kid in camp, we were living in an all-white neighborhood. I didn't understand enough to know all that had happened."
This was Robinson's own daughter as a child.
Nearly seven decades after Robinson smashed baseball's color line in 1947, can you blame an entirely new generation for being sketchy on some of the details?
That's where Hollywood and 42 come in this week with all of the extra, welcome and overdue attention pouring Robinson's way as what deserves to be a blockbuster movie's opening coincides with the 66th anniversary of the pioneer's first major league game.
The movie is not perfect -- it's a little too Disneyfied, a lot short on soul and a little too cliché -- but it is a worthy effort and a vital story. And the relationship between Jackie and his wife, Rachel, is so sweet.
"He wasn't a guy who preached about the way he lived," Sharon Robinson said. "He was very religious. I went to Sunday school every Sunday. We would go as a family occasionally.
"He would say to me, 'It's not whether you go to church every Sunday. It's about how you live your life.'
"He did it by his behavior."
She said one of her father's favorite places to go was the Harlem YMCA, a New York City institution that played a critical role in the black community throughout the segregation era. Robinson coached basketball there.
Sharon Robinson was a first-hand witness to her father's lifelong impact on both children and adults. Particularly after he retired before the 1957 season, angrily, when Walter O'Malley's Dodgers traded him to the Giants a year before the two teams would move west.
"Whenever anything happened in the south, he would be on the next train, trying to get other athletes to join him," Sharon says. "He was always an example of giving back."
• • •
His pulpit was provided in Brooklyn, by the Dodgers' brave and legendary general manager Branch Rickey. What it must have been like at Ebbets Field on April 15, 1947.
"Ecstatic," Newcombe, now 86, says. "Especially among the black people.
"To buy a ticket and see one of our own in a major-league uniform. In a Dodgers uniform."
Paths cross and lives intersect throughout the years, again and again and again. Newcombe, Robinson and Roy Campanella were best buddies as they ascended through the Dodgers' minor-league system. Then history tapped Robinson.
Newcombe was at Ebbets Field that day not only to see Jackie, but because he too had some business with Rickey. The Dodgers had assigned Newcombe to Nashua, N.H., of the Class B New England League for the 1947 season. Campanella and other peers had been promoted to Montreal of the higher-level International League.
Having taken a personal loan of $1,000 from Rickey a year earlier, Newcombe was concerned he would not be able to repay it on another year of Class B salary.
As Robinson and the Dodgers took batting practice before the most historic game in major-league history, there was more than the ecstasy Newcombe described. There was tension so thick the sharpest butcher's knife would have been rendered dull and useless.
In Rickey's box as the GM watched batting practice, Newcombe spoke but Rickey did not hear.
"He said, 'Go to 215 Montague Street [where the Dodgers' offices were located] and get your release,' " Newcombe recalls. "I said, 'OK, I guess I'm finished being a Dodger.'
"I walked across the ramp to get a cab back to New Jersey [where he was living with his parents] before something inside of me said, 'Go back to Mr. Rickey.' "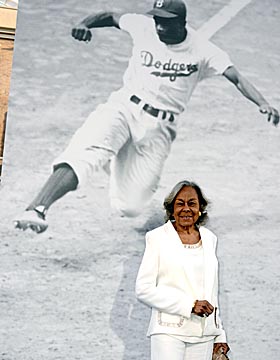 So he turned around. Back to Rickey's box he marched.
"What's the matter, son?" an irritated Rickey asked.
"Mr. Rickey, I owe you $1,000 and I can't repay it."
"What $1,000 are you talking about?"
"Don't you remember? You loaned it to me last year."
"Don, forget about the $1,000. Go to Nashua and do what you always do."
Newcombe, now sitting in the plush field-level seats in Los Angeles' Dodger Stadium, chuckles.
"I always kidded him, 'Mr. Rickey, you almost released me,' " says Newcombe, who joined Robinson with the Dodgers in 1949. "And he would always say, 'I was paying attention to Jackie.'
"I saved $1,000 by going back. And I saved my job."
That settled, Newcombe turned his attention to Jackie, too -- from a seat behind the visitors' dugout, a ticket provided by Rickey. Until that day, Newcombe's only trip to Ebbetts Field had been to see a football game.
"I was riveted," Newcombe says. "What a thrill seeing Jackie come to the plate. I saw him bat twice before I had to leave to go get ready for Nashua.
"I remember that day vividly."
• • •
From that day, a movement launched.
African-Americans had fought in World War II. If they could do that, why couldn't they play baseball? Why couldn't they use "white only" restrooms? Why couldn't they attend the best schools?
Here came Larry Doby. Here came Hank Thompson. Here came Monte Irvin, Sam Jethroe, Ernie Banks and Elston Howard.
Off the field, here came Rosa Parks stepping onto that bus in Montgomery, Ala. Here came Dr. Martin Luther King Jr. Here came the Little Rock Nine, taking a chunk out of segregation by enrolling at what had been a whites-only high school in Arkansas in 1957. They were able to attend classes only after President Eisenhower's intervention. A telephone call helped steel their courage.
"Can you imagine those kids calling me for inspiration?" Jackie marveled one day to Sharon, years later, about the Little Rock Nine.
When pushing forward requires all of your energy, you have neither the time nor the inclination to pause long enough to view yourself as a trailblazer.
The moment Sharon remembers vividly came when she was 13, in 1963.
"My father came home from traveling down south and told us it was important for us as a family to be involved in social change," she said. "And that we were going as a family to the March on Washington."
It was after that -- Aug. 28, 1963 -- that the Robinson family began hosting jazz concerts at their home in Connecticut, maybe once a year, maybe 10 during Jackie's lifetime, to raise money for jailed Civil Rights workers. Dizzy Gillespie. Duke Ellington. Miles Davis. Max Roach. Joe Holiday. Ella Fitzgerald.
"They were big fans of Ella Fitzgerald," Sharon says. "Both my mom and my dad."
And yes, Dr. King spent time at the Robinson home, too.
"I remember that very well," Sharon says. "I was very excited to meet him. He was a hero. I felt very proud to have him at our house.
"It wasn't because it was someone famous. It was because it was someone my father had so much respect for."
Then it was April 1968, and the television was on in what the Robinsons called their library -- the family room to most of us today -- and Sharon heard her grandmother scream. An assassin. Dr. King was dead.
She does not recall her father's whereabouts on that day. She just remembers watching the aftermath on TV. And the sheer, bone-chilling tragedy.
"It was very frightening," she says. "There were a lot of people in the streets. We were worried about what this meant for the country, and for the cities."
• • •
Yet again, the world was shifting under everyone's feet. Jackie had never much gravitated back toward baseball after retiring. You didn't see him at old-timers'games. He declined most invitations for baseball celebrations.
Battle-hardened and still fighting the righteous fight, he thought the game still had not done enough to hire minorities. Especially in leadership positions, like manager.
Diabetes hacked away at his health. Robbed him of much of his eyesight. His heart started to wear out. He made a rare appearance in Dodger Stadium on June 4, 1972, when the Dodgers retired his number, and those of Campanella and Sandy Koufax.
He returned to baseball one more time four months later, on Oct. 15, to commemorate the 25th anniversary of his breaking the color barrier before Game 2 of the World Series between the A's and Reds in Cincinnati.
During his televised speech, seeming far too old before his time at 53, he implored baseball to do more.
"I'd like to live to see a black manager," he said. "I'd like to live to see the day when there's a black man coaching at third base."
Nine days later, he died of a heart attack.
And for 41 years since, the battles have continued to be waged. In the game. In society. Some more successfully than others, the cause still just and righteous.
For all that it didn't do in the years before Robinson's death, baseball has worked hard at making up for lost time over the past decade. The dearth of African-American players today is striking, with a historically low 7.7 percent filling the 25-man rosters, according to a recent USA Today study. Commissioner Bud Selig says he will form a task force to study ways to reverse the decline.
Regardless, one of Selig's most inspirational decisions as commissioner has been to retire the No. 42 league-wide and, essentially, make Jackie Robinson Day a sort of national holiday within baseball.
It was the ever-classy Ken Griffey Jr. who in 2007 brilliantly concocted the idea of a player wearing No. 42 on April 15, first respectfully seeking the approval of Rachel Robinson and then obtaining Selig's blessing.
The Robinson family absolutely loved it.
"Within two years, players were all saying, 'We want to wear it, too,' " Sharon Robinson says. "To be on the ball field for the ceremonial [pageantry] before the game ... it's still moving.
"It's very moving to see all the players and coaches wearing No. 42."
Moving not only as a tribute. Even more vital is the ongoing education this day provides for each new wave of fans who, by virtue of the passing years, are further and further removed from the grainy, black-and-white Jackie Robinson era.
And when Selig speaks of baseball's "social responsibility" ... where those giant trees stand today, they sprung from the seeds planted when Robinson stepped onto Ebbets Field's diamond on April 15, 1947.
"Jackie and Branch together started the Civil Rights movement," Newcombe says. "What would have happened had Jackie failed?"
That we never had to answer that question strengthened both this game and this country. A life is not important except in the impact it has on other lives.
Think about that. Take a moment to bat it around, like sentences in a family conversation at the dinner table. Let it marinate with your children. Digest what it has already meant, and what it still can mean. Hang it on your wall like a cherished photo.
Through Jackie, that spirit remains alive and healthy today.
Through the Jackie Robinson Foundation, founded and lovingly nurtured by Rachel, he continues to impact lives more than four decades after his death.
Those words flow through the generations like a beautiful river, current pushing us ever steadily forward, moving toward what we hope is an even higher ground.