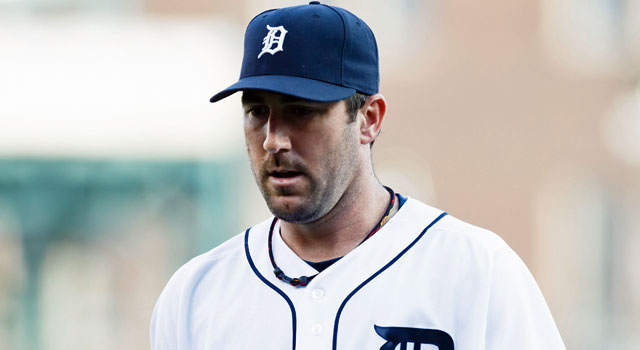 The year he would win the American League Most Valuable Player award, Don Baylor entered the final four games of the 1979 season with 700-plus plate appearances ... and 49 strikeouts.
He would finish with 36 homers, 139 RBI and a .901 OPS. But as those final games played out and the Angels put the finishing touches on their AL West title, Baylor was well aware of his strikeout total and was obsessed with keeping it under 50.
Then, in the 159th game of the season, the Royals' Dennis Leonard got him.
Ferguson Jenkins of the Rangers whiffed him again in Game No. 160, and the Angels' designated hitter finished with 51 strikeouts.
It still frosts him.
"It does," says Baylor, now hitting coach for the Diamondbacks. "I could have been under 50."
Today, Astros slugger Chris Carter has 51 strikeouts through just six weeks.
Over 13 seasons, Hall of Famer Joe DiMaggio never struck out as many as 40 times in a summer.
This season, three players fanned 40 or more times in the first month alone: Carter (44), the Reds' Jay Bruce (40) and the Red Sox's Mike Napoli (40).
If there is one word to describe the first leg of the 2013 major-league schedule, it is this:
Whoooooosh!
Major-league games produced an average of 15.29 strikeouts per contest during the month of April, the highest average for any month in history, according to the Elias Sports Bureau.
"Doesn't surprise me," says veteran Marlins outfielder Juan Pierre, who led the majors in 2003 with 747 plate appearances and fanned only 35 times. "Nobody cares about strikeouts anymore."
Second-highest ever? The final month of last season.
Look at the numbers, feel the breeze through your hair, and it is no mere coincidence.
Each of the past seven seasons has produced more whiffs than the year before, the growing tide of Ks rising to record rates. Last season's total of 36,426 strikeouts established a major-league record, according to Elias.
But don't mark that down in permanent ink: Already, major-league hitters this season are on pace to blow that away with more than 37,000 whiffs.
There are numerous reasons why: More hard-throwing pitchers than ever before. Big money that rewards power numbers. The lost art of the two-strike approach in the batter's box. Within the advent of the modern bullpen, the rise in specialist relievers. Umpires calling more strikes since the installation of the Pitch F/X system cameras in all ballparks in 2007. Maybe even post-Steroid Era adjustments.
As with most trends, there is not one smoking-gun reason as to why things change.
But, my, how things have shifted since the days when striking out was one of the greatest forms of on-field humiliation for a hitter.
"Their mentality is, it's an out," Orioles manager Buck Showalter says. "There's no such thing as a two-strike approach. They kind of look at you now.
"It's like Oscar Gamble said a long time ago when Billy Martin wanted him to take a strike leading off an inning to try and get the tying run in scoring position.
"He swung at the first pitch, and Billy jumped his ass. And Oscar said, 'Billy, when I'm in the batter's box, I am in scoring position."
Showalter still notes with pride that he once struck out fewer than 30 times in more than 600 plate appearances in a minor-league season (Nashville, 1980, 23 Ks).
"It's not the stigma that it used to be," Showalter says. "And you're not getting penalized in contracts and arbitration. Most things can usually be traced back to money."
"A lot of players now try to hit homers because they think home runs are the way to big contracts," Marlins hitting coach Tino Martinez agrees. "So they're not shortening up on 0-an-2 counts. They're still swinging like they're in hitters counts."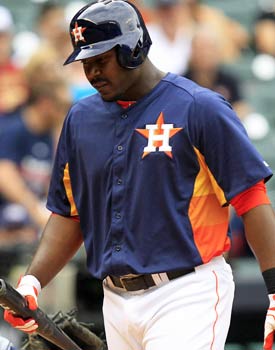 The rebuilding Astros this season are on pace to fan more than 1,600 times, which would set a major-league record. The Braves are on pace to whiff 1,530 times.
The Tigers and Astros last week struck out 18 times each in a 14-inning game. Anibal Sanchez set a Tigers record by fanning 17 Braves in a game last month, and the only reason manager Jim Leyland didn't send Sanchez out for the ninth inning in an effort to tie the record 20 strikeouts in a game held by Kerry Wood and Roger Clemens, was because Sanchez's pitch count was too high for this early in the season. That, and the Tigers already held a 10-0 lead.
Beginning on April 26, Tigers pitchers struck out 10 or more batters in seven consecutive games, the longest streak by an American League team since 1921, according to STATS Inc.
Red Sox pitchers, who currently lead the AL in strikeouts, are on pace for 96 double-digit strikeout games, which would set an all-time mark. Current record-holder? The Tampa Bay Rays at 61, who did it ... last year.
"I don't think it's one thing," says general manager Doug Melvin, whose Brewers pitchers racked up 1,402 strikeouts in 2012, falling just three short of breaking the 2003 Cubs' major-league season record of 1,404. "Since Moneyball came out, there's been an emphasis on getting more walks and taking more pitches, trying to get the starting pitcher out of the game.
"The more pitches players take, the more they find themselves with two strikes. And then they're vulnerable."
Despite today's emphasis on working the count, total walks have decreased in each of the past three seasons. Only one man in the majors walked more than 100 times last season: Adam Dunn of the White Sox.
Meantime, 111 hitters whiffed more than 100 times (and the prodigious Dunn, at 222, was the only hitter to cross the 200 threshold).
"I think there are a lot more foul balls than before, too," Melvin says. "I think hitters today don't get brushed back like they used to, and they're leaning out over the plate and foul off a lot of pitches, so there are a lot of two-strike counts because of that, too."
Another interesting twist is that while overall strikeouts are dramatically increasing, the totals of the starting pitchers on the leaderboards no longer are eye-opening.
In 2002, Randy Johnson led the NL with 334 and Curt Schilling was second at 316. In 2001, Johnson led at 372.
Last year, R.A. Dickey led the NL with 230, lowest total since Aaron Harang led at 216 in 2006. In the AL, Justin Verlander led with 239 -- 11 fewer than his league-leading total of 250 in 2011.
Hello, bullpen.
"Velocity and secondary pitches, and specialty relief pitchers," Padres manager and former pitcher Bud Black says. "Fresh arms coming in every night facing guys. Hitters are facing at times maybe four different guys, and at least three every night. A lot of times, as the game goes on, they're seeing better stuff."
Reds pitchers at midweek led the NL with 289 strikeouts in 35 games. Yet the only starter anywhere near the league leaders was Mat Latos (43), and he was tied for 10th.
Time was, Jenkins, Catfish Hunter and Mickey Lolich were expected to work deep into games.
"Now teams have a set-up guy they expect to strike out people, a closer they expect to strike out people and a lefty who comes in to face lefties and produces strikeouts," Melvin says.
And then, when hitters fall into a two-strike hole, rare is the time you see an adjustment.
"As a kid, you were told to choke up and go to right field," Baylor says. "You don't see anybody doing that. Hunter Pence is about the only guy I see who consistently chokes up, but he starts from the first pitch and does it to the last pitch."
According to a FanGraphs.com study, the major-league strikeout rate has increased over the past 30 years from 14 percent to 20 percent. Within that, it took 24 years to go from 14 percent to 17 percent, but only six years to move from 17 percent to 20 percent. Those six years, notes Dave Cameron, who authored the study, coincide exactly with the Pitch F/X era.
And within that, the past three seasons coincide with reduced walk totals. Umpires calling more strikes, more pitchers throwing at a higher velocity, hitters no longer turned into Supermen via performance-enhancing drugs ... several reasons may combine to illustrate the point.
Many hitters view an out as an out no matter how you make it, and some of the Sabermetrics-leaning analysts argue that strikeouts don't matter. And as new ways to view the game have emerged, they often are right. But not unequivocally.
There are situations in which a strikeout absolutely is more damaging than another out.
"When you've got a runner on third base and one out and you don't put the ball in play, it does matter," Melvin says.
"Hitters are not taught in the minors how to take a good, quality at-bat," Baylor says. "How to keep the inning going.
"Strikeouts are not going to keep the inning going."
Many managers and coaches in today's game are resigned to the fact that the big boys are going to whiff often while swinging for the fences. So, to a degree, the battle to reduce strikeouts has moved into a different theater, one involving the smaller guys.
In San Diego, for example, shortstop/second baseman Everth Cabrera fanned 110 times in 449 plate appearances in 2012 -- while producing two home runs.
Black says you never simply reach a point of acceptance with the flaws in anybody's game, no matter who they are.
"We preach it, because [fewer strikeouts] can add to a guy's RBI potential," he says. "But definitely for certain players, we talk more about it than with others. There are guys who we're adamant about cutting down on their strikeouts."
But like parents raising children in a cell phone-video game-iPad world, they must pick their battles.
Times have changed. Doesn't mean it's bad. Doesn't mean things are worse now than they were a generation ago.
Just means they're different.
And, in many ways even, upgraded. A decade ago, Johnson, the Big Unit, was a freak because he frequently hit 99 or 100 mph on the radar gun.
Now, there's one of those guys on almost every team.
"Everything gets better," Showalter says. "Our cars get better, our medicine gets better, everything should be getting better. And I think pitching's gotten better. It's almost a glut. ...
"These are the good old days. Things get better. God bless the play that Willie Mays made over his shoulder [in the 1954 World Series] that we've seen 100 times. But I've got to tell you, maybe it's because of TV and we see more highlights, we see something every night where I go, 'Wow!'"