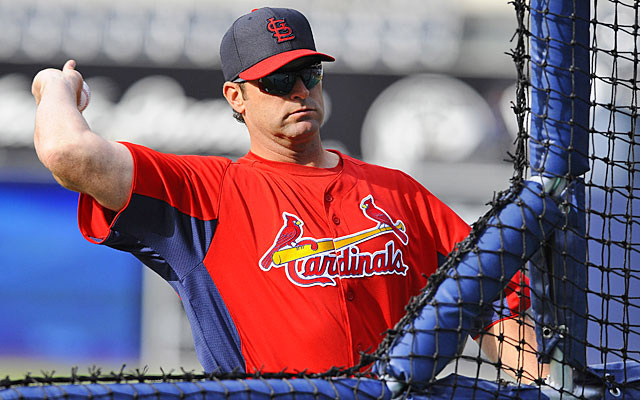 It is the baseball equivalent of packing the car, taking off on a cross-country vacation, blowing off oil changes, ignoring the dashboard warning lights ... and then cruising back into your garage at trip's end with the car as good as new.
There is no way the Cardinals should be leading the NL Central right now. No way.
There is absolutely, positively no way they should own the best record in the majors. Not even close.
Not after announcing on the eve of spring training that ace Chris Carpenter was hurt and did not figure into their 2013 plans.
Not after losing last season's 16-game winner, Kyle Lohse, to free agency. Not after Jake Westbrook was disabled earlier this season, and not after losing lefty Jaime Garcia for the season to a shoulder injury this week.
Certainly not by using a major league-high six rookie pitchers so far in 2013.
Yet here they are.
"There's a calmness this team has," slugger Matt Holliday said. "Something happens, an injury or whatever, you feel there is enough talent in the minor leagues. Guys can fill roles."
This side of the Yankees, no club has done a better job of absorbing shocks, deflecting blows and ducking roundhouses than these Cardinals.
They lost shortstop Rafael Furcal for the season this spring. Closer Jason Motte went down for the season shortly afterward. Mitchell Boggs, who excelled in a setup role last summer, went south and was optioned to Triple-A Memphis.
The calmness of which Holliday speaks undoubtedly helps St. Louis survive. But that's only the start of it.
The Cardinals have a great combination working for them, a fertile minor-league pipeline, all-world catcher Yadier Molina and a grand tradition that is passed down from generation to generation. Veterans such as Carpenter and Adam Wainwright nurture this tradition and personally ensure that it continues.
The franchise has been a model of stability under the same owner, Bill DeWitt Jr., for the past 18 seasons. During that time, the Cardinals have had just two general managers, Walt Jocketty and John Mozeliak, and two field managers, Tony La Russa and Mike Matheny.
Mozeliak worked under Jocketty.
Matheny played under La Russa.
Molina apprenticed under Matheny.
Pitching coach Derek Lilliquist, in his 12th season in the organization, succeeded legendary pitching coach Dave Duncan.
Hitting coach John Mabry played for the Cardinals from 1994-1998.
"Same ownership, same people preaching the same ideas," said Padres starter Jason Marquis, who pitched in St. Louis from 2004 through 2006. "When you're around the same people, you buy into their ideas. Especially when there's success."
Take St. Louis' pitching.
Shelby Miller has exceeded all reasonable expectations in his rookie season. He has the stuff to make scouts drool, sure. Beyond that, he's learning on the job from Wainwright ... who learned from Matt Morris and Carpenter ... who learned from Darryl Kile and Pat Hentgen. ...
"That's absolutely how it has worked here," said Matheny, who guided the Cardinals into the NL Championship Series as a rookie manager last year. "Guys take a lot of pride. We call it the Culture of Giving Back, to guys who invested into them as players."
The Cardinals talk about this throughout the year, starting in spring training.
"Adam had a lot of time with Chris Carpenter, who did have time with Matt Morris and also Darryl Kile, and also had time with Pat Hentgen. Pat Hentgen was one of the ultimate pros.
"It's just a great opportunity for guys to show selflessness, which is kind of counterintuitive in this game and in this life. But they've had people invest in them that they knew would probably take their jobs one day. And that's what they're doing, too, and it just kind of keeps that cycle going."
Talent, obviously, factors into the equation. That's where it has to begin. And despite drafting lower than many clubs based on the fact that they've been good enough to play in the postseason in nine of the past 13 seasons, the Cardinals have a farm system ranked No. 1 in the game by Baseball America.
Rookies Miller (five wins), Seth Maness (three), John Gast (two), Carlos Martinez, Trevor Rosenthal and Tyler Lyons, a winner in his major-league debut Wednesday night in San Diego, are products of both that farm system and the Kile-Hentgen-Carpenter-Wainwright chain.
It's almost collegiate, this model of what a program not only could be, but is. There is an organizational tug here that you don't find in many places. It's part of why Holliday opted to re-sign with the Cardinals after they acquired him from Oakland in 2009.
"I think I realized when I got over to the Cardinals and got around guys like Carp and Waino and Skip [Schumaker] that there was an atmosphere here, an expectation," Holliday said.
"The way the starting pitchers watch each others' bullpens. They're in the dugout on days they don't pitch, cheering their teammates on. The atmosphere here, there is an expectation of do what it takes to win."
It was an eye-opener for Marquis when he first arrived in St. Louis, this business where the starting pitchers watch each others' between-starts bullpen sessions. He has tried to carry that forward to the places he has gone since -- the Cubs, Nationals, Rockies, Diamondbacks, Twins and Padres.
"There is a lot of knowledge, a lot of sharing of thoughts there," Marquis said. "There's so many on the list of names. You can go through the pitchers and hitters. The coaches there now were in the minor leagues when I was there."
Marquis mentions not only Carpenter and Morris but Jeff Suppan and Woody Williams from the years he was there.
"Mike was part of that," Marquis said of Matheny. "And he passed on his knowledge to Yadier Molina.
"The cycle keeps going."
Molina is spoken of reverentially by the Cardinals, and it is no wonder. His work behind the plate has a chance to stand with the all-timers by the time he's finished. It may already.
"You have a guy like Yadier playing every day, who's tough as nails," Holliday said. "Nobody shakes him off. He does all of his homework. And on top of that, he's a .300 hitter.
"When you have a catcher like Yadier, you've got a piece to build around."
A foundation piece.
Matheny also mentions the well-decorated alums who guest as coaches each spring, making a trip to Cardinals camp a star-studded affair not only for the current players, but for visiting fans.
"Willie McGee and Ozzie Smith and Whitey Herzog and Red [Schoendienst] and Lou [Brock] and Gibby [Bob Gibson], and Bruce Sutter this year," Matheny says. "All of them wanting to come back and help the guys and talk to them.
"They hear something from somebody and they realize, hey, this is something I can pass along."
These alumni, this culture of giving back ... it is more special, probably, than you realize. You do not see this in very many places.
"I think that's fair to say," Matheny said. "We're real conscious of it. We talk a lot about it in the spring. The first day in you see Jon Jay and Carlos Beltran grabbing an Oscar Taveras, who you've heard so much about and who could potentially take a job in the outfield some day. But they are tireless about working with these guys.
"Because we celebrate it, one, and two, we make sure they remember. To some extent, somebody did that for you.
"And what that does is create an environment that it's not about me. You try to teach team, and then you go out there trying to salvage your own position all the time, you're really going against the whole concept of it being about us.
"You talk about we instead of me, and you do that by going out and helping other people."
Pretty darned good plan for how to build a winning organization that is sustainable for years.
Heck, pretty darned good plan for building a winning anything in life, isn't it?