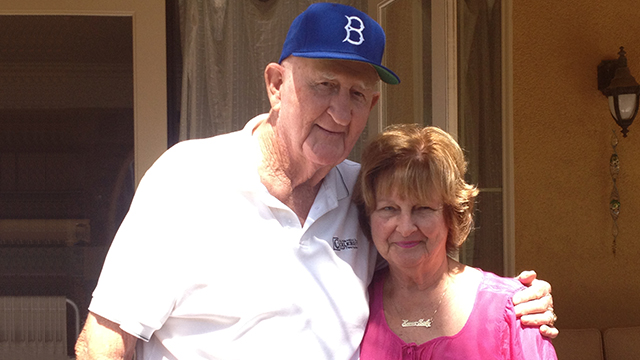 The phone starts ringing in Roger Craig's home whenever some club goes all Bad News Bears-awful and descends to the record pace of the humiliatingly horrible yet still charming 1962 Mets.
So, yes, the Astros and Marlins this season are starting to increase Craig's phone traffic as imaginations run toward Casey Stengel and 40-120.
"They all want to know how you deal with all of the losses," says Craig, a right-hander who went 15-46 in two seasons with the Mets. "One guy in New York, and only a New York writer would come up with this, once asked me, 'Are you ashamed of your record with the Mets?'
"I threw 27 complete games."
Smile.
"I enjoyed playing for Casey. At the time, he was too old to manage. But he was a neat, neat guy."
There is only one man in baseball history who started both the last game ever played by the Brooklyn Dodgers and the first game ever played by the New York Mets, and you can find him in a spacious condominium about a mile-and-a-half from Qualcomm Stadium in San Diego.
At 83 and blissfully content with his wife of 62 years, high school sweetheart Carolyn, Craig is still pitching complete games. He won a bout with prostate cancer four or five years ago, he has had three total knee replacements, four stents, a pacemaker "and a few other things, but I don't have any complaints."
He also has four grown children, seven grandchildren and four great-grandchildren whom he sees often. He owns a desert home in Borrego Springs, Calif., which he and Carolyn visit weekly. He golfs three or four times a week, he's about a month past a hole-in-one (177 yards, the third of his life) and he has got a treasure trove of baseball stories.
He's young enough to visit the local multiplex to see -- and love -- the film 42 ... and old enough to have played with Jackie Robinson and called him a friend. In his computer room today is a Brooklyn Dodgers cap with Rachel Robinson's autograph under the bill.
Craig was playing in Havana, Cuba, with the Dodgers' top farm team, Montreal -- he and Tommy Lasorda were the starters in a doubleheader that day -- when he was summoned to the bigs in 1955.
"I called my wife to tell her and the first thing she said was, 'What are you doing calling me from Cuba? This is going to be a $25 phone call,' " Craig says, chuckling. "I told her, 'I just got called up to the big leagues.' She said, 'You still shouldn't have wasted all of this money.' "
When he hung a complete game, 1-0, three-hitter on the Reds in his debut on July 17, Dodgers manager Walter Alston gave him a couple of days to return to Montreal to move his family to Brooklyn.
Overhearing the raw rookie with more questions than answers, Jackie Robinson piped up: "C'mon, kid, I'll give you a ride to the airport."
"It was my first day in the big leagues," Craig says. "And Jackie Robinson is taking me to the airport.
"He never said one word about what he went through. And I saw a lot of it [over the years]. He just told me, 'Kid, you're going to be a great pitcher.' "
Brooklyn won its only World Series that summer. Craig went 5-3 during the season and was the winning pitcher in Game 5 against the Yankees in the Fall Classic, moving the Dodgers into a 3-2 Series lead.
Craig went 74-98 in 12 seasons in the majors. He remained with the Dodgers through their move west until the '62 expansion Mets brought him in as the staff veteran for two seasons.
Though he didn't win much with the Mets after pitching in three World Series with the Dodgers, it was a rich experience in other ways with Stengel -- who always referred to the 32-year-old right-hander as MISTER Craig.
"The umpires didn't rub up the balls back in those days and I remember one day I was pitching and I was getting hit," Craig says. "Casey came to the mound and said, 'MISTER Craig, what seems to be the problem?'
"I told him the ball was slippery. He said, 'Would you look down? You've got about two tons of dirt down there. Would you rub up the g--damn ball?' "
As the staff veteran on a team sinking daily into the quicksand, Craig often was asked by Stengel to skip his between-starts throwing session.
"MISTER Craig," Stengel would say. "I know you pitched nine innings today and won't pitch again for four days, but don't throw between starts just in case we're ahead. I may need you to pitch an inning or two in relief then."
Fifty years later, Craig still laughs. Imagine. Just in case we're ahead.
And on the rare occasion the Mets were? Stengel would lean forward and look down the bench until he caught Craig's eye.
"And I'd go warm up," Craig says.
On airplanes, the Mets' trainer, Gus Mauch, was the keeper of a briefcase that contained Stengel's booze. Sometimes Craig would walk up the aisle and, next thing he knew, Stengel would be barking, "MISTER Craig! What are you drinking?" And he would sit down and have a pop with the skipper.
"He had a great personality," Craig says. "At his age, he'd fall asleep on the bench and wake up with the crack of the bat. In spring training one time, the crack woke him up and he said, 'Get [Johnny] Blanchard up!'
"And Blanchard wasn't even on our team."
Maybe as a reward for all of those losses, Craig's timing was perfect upon leaving New York: The Mets dealt him to St. Louis following the 1963 season, just in time for a one-year tour with a Cardinals team that would win the 1964 World Series.
"I lost a lot of games in New York but, as I look back, I was sitting in the bar of a restaurant one night and didn't know it, but Bill Veeck, the old owner, happened to be there, too," he says.
Eventually, the two of them got together and Veeck, watching the Mets' wreck, told him: "Roger, I've watched your career, and someday you're going to be a good pitching coach, or manager, after all you've gone through with the Mets."
"He was right," Craig says. "I never forgot that. Every time I'd see him after that, I'd thank him. You learn so much from losing. Because you keep thinking, 'How can we fix that?"
Craig spent the final two years of his playing career in Cincinnati (1965) and Philadelphia (1966).
Then, Craig became one of the most famous and influential pitching coaches of his time, guru of the split-finger fastball. It was the rocket fuel that launched dozens of pitchers into orbit, including Jack Morris, Mike Scott, Mark Davis, Rod Beck, Scott Garrelts and Kelly Downs.
How dominant was the pitch, and how influential was he?
When Craig was with the Tigers -- with whom he earned his third World Series ring in 1984 -- a Yankees executive contacted him one off-season at the behest of owner George Steinbrenner.
"George wants to give you and your wife an all-expenses-paid, two-week vacation in Hawaii if our pitching coach can spend a week with you," the guy told Craig.
No thanks, Craig said. Even though it was the off-season, he wasn't about to help another American League team. Plus, he and manager Sparky Anderson, who passed away in November 2010, were so close.
"I really liked my five years with Sparky," says Craig, who counts Sparky and Stan Musial as two of the nicest men he ever met in baseball. "What a great man he was. He treated the public so nice. I don't care if it was a 5-year-old kid or an 80-year-old woman, when he signed an autograph, he was the one who would say, 'Thank you very much.'
"And he was a great manager."
Craig became a pretty darned good one, too. Though his first managing stint only lasted two years with the 1978-79 Padres, he took over a Giants' team that had lost 100 games the year before and guided them to an 83-79 record in 1986.
In 1989, with his famous rallying cry of "Humm-baby!" in full force, he led the Giants to their second World Series appearance since moving to San Francisco in 1958.
Though beaten by the Athletics, his San Francisco days led to his final World Series ring: His former catcher, Bob Brenly, managed the 2001 champion Diamondbacks and had invited Craig to spring training as a consultant.
During a conversation not long after the title, Brenly asked, "By the way, what's your ring size? I've talked the owner into giving you a ring."
"I'll never forget his words," Craig says. "He told me, 'It's not so much for what you did last year, it's for what you did for me as a player, coach and manager.' "
The kicker? One of Brenly's Diamondbacks coaches -- and another former Giant under Craig -- Bob Melvin, later told him: "I'm not supposed to tell you this, but Bob paid for that ring himself."
"I called him and asked, 'What the hell did you do that for?' " Craig says. "That was an awfully rewarding thing for an old guy like me."
Truth be told, what the heck did Jackie Robinson volunteer to take Craig to the airport for? What did Craig teach all of those not-so-famous pitchers -- the guys not named Morris -- the splitter for?
In baseball, as in life, you recognize you can't always stand on your own two feet without some support. And neither can others.
"I've had guys come up to me and tell me, 'I didn't get to the majors, but you helped me get a college education,' " Craig says proudly of some of the young pitchers who have parlayed the splitter into a scholarship.
Because of baseball, Craig has been to Japan three times, Venezuela, Cuba ... he has participated in clinics in Europe and traveled all over the United States.
"I tell people I dropped out of college to go and play professional baseball because college interfered with my education," Craig says.
Reality? Craig was a prime candidate for a Ph.D. in baseball from the very beginning. He did marry Carolyn Ruth, after all. And, true story, her brother's name was George Herman.
"Her dad was a real Yankees fan, until I came into the family," Craig says, smiling.
As we talked, Carolyn read out on the patio, her pretty gold necklace sparkling in the sun.
"Humm Baby", it read.
Perfect.