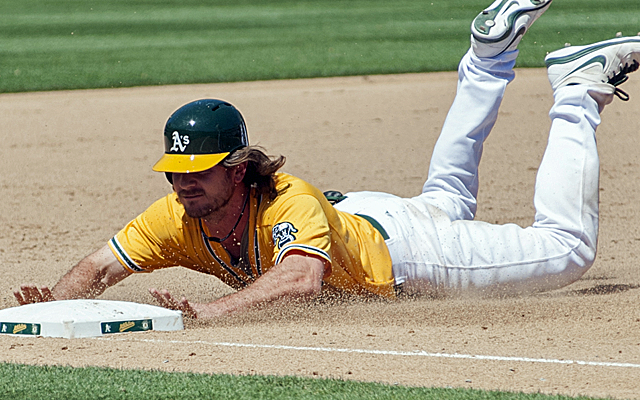 OAKLAND -- From Dave Stewart, Bob Welch, Mark McGwire, Rickey Henderson and Terry Steinbach to … Josh Donaldson, Yoenis Cespedes, Brandon Moss and Dan Straily? Nate Freiman and Eric Sogard?
Don't look now, but … wait. Check that.
Do look now. Quickly. Because here the A's go again.
After finishing a sweep of the Yankees with an 18-inning win on Thursday, the Oakland Athletics, who sit alone atop the AL West, have now won 21 of their past 26 games, including 11 straight at home, and are off to their best 68-game start since 1990. Yes, last time the A's started this well, they finished the season by playing in a World Series.
Attention all who still view last season's Athletics as a fluke: You're probably not buying into cell phones yet, either. Still depend on your land line?
"I think it's a continuation of last year," outfielder Josh Reddick said. "We have new personnel in the clubhouse, but we have a good vibe. Everybody's happy.
"We've got guys like Donaldson having a heck of a season. It's fun to see different guys doing it here and there, and not the same guy over and over."
Thing is, you know what the A's did last year in becoming the first team ever to come back from a five-game divisional deficit with fewer than 10 games to play.
This year's group is well ahead of that pace.
"By a lot," hitting coach Chili Davis siad.
Last June 13, they were 28-35 and nine games back in the AL West. It wasn't until after the All-Star break that the A's hit their groove, which started with a four-game sweep of the Yankees in Oakland on July 19-22.
Since last July 1, the A's are a major league-best 98-53.
Over their past 162 games, the A's are 103-59.
Despite a handful of new faces -- infielders Jed Lowrie and Freiman and outfielder Chris Young are all playing key roles in particular -- Melvin agrees with Reddick that this is a continuation of last year.
To a point.
"Some," the manager said. "We knew this year would be completely different. We knew there would be some roster turnover.
"The way it happened last year, you want to be able to use it as a resource. We haven't really discussed it as a team, but that's my feeling."
Melvin, as usual, is doing a wonderful job.
Wednesday night against the Yankees, Straily went 6 2/3 innings and won a career-high third consecutive game. Over his past five starts, he's 3-0 with a 2.20 ERA, and his latest victory over the Yankees was instructive.
"He's been on a roll, and I mean on a roll," Melvin said. "We've been giving him bigger at-bats.
"Before, I was taking him out before the really tough at-bats. Now, we're letting him go and he's really rewarding us."
Then there's Freiman, a Rule V pick waived this spring by Houston who had never played above the Double-A level. The A's scooped him up on March 23, and he has become part of Oakland's regular rotation against left-handed pitchers. A 6-foot-8 first baseman who graduated from Duke with a degree in history, Freiman (pronounced "FRY-man") is batting just under .330 since May 1, and .370 (10 for 27) with runners in scoring position. On Thursday, Freiman knocked home the winning run with an 18th-inning single off Mariano Rivera.
"The perfect Oakland platoon player," Reddick said. "You've seen the magic against CC Sabathia [against whom Freiman is 5 for 6 this season]. He hits lefties pretty good."
His emergence is a testament to the Athletics and their entire system, from the front office identifying parts that fit to the coaching staff identifying situations in which to use those parts.
"What I loved about him right away was his work ethic," Davis said. "He's all business. You say something to him, he takes it literally."
Freiman slammed 24 homers and had 105 RBI while hitting .298 for Double-A San Antonio last summer, but as the A's did with Straily before giving him more rope now, they're spoon-feeding Freiman in the early going.
"I don't want him to swing for power and then try and dissect him," Davis said. "So I told him, 'You're in the big leagues, so right now let's just work on squaring up the ball, take the single and double where you can.' He's taking that literally. He's been a huge surprise.
"Why did Houston let him go?"
Right behind Freiman as Oakland's biggest surprise this season has been Donaldson, who is hitting .317 with nine homers and 42 RBI and, notably, is tied for fourth in the AL with 13 go-ahead RBI. Call it hitting clutch or timely, your call, but call it winning.
"Biggest thing with him is he's controlled his effort level," Davis said. "Last year, he got big. He wanted to hit tanks.
"He's more disciplined and he's using the whole field. He's picking spots to drive in runs, when you know they've got to pitch to you."
The next task for Davis and the A's is to get Moss going. Wednesday's game, in which he clobbered two homers, might be the launching pad. Until a 15th-inning single Thursday, he was 5 for his past 45, and all five hits were homers.
Last year, Moss hit .291 with 21 homers and 52 RBI. This year, he's at .228.
"I definitely wish my average was a little better, but it's not," Moss said. "So keep going out and don't sacrifice what you do well. I've had some big hits. I wish I was hitting .290, .300, but I'm not."
The A's are clipping along nonetheless.
They are 27-8 when both Cespedes and Coco Crisp are in the lineup, 14-19 when they're not. Coming into Thursday's game at Oakland, they lead the AL in hit by pitches (27), rank second in walks (264) and fourth in on-base percentage (.296).
And their starters, over the past 25 games, are 15-3 and their staff ranks fifth in the AL with a 3.72 ERA.
"I give a lot of credit to [pitching coach] Curt Young and Bo Mel," Davis said. "Curt Young is handling a very young pitching staff. Last year, what I loved about what Bo Mel did, he put young players in a position in which they matched up really well, pitcher vs. hitters or hitters vs. pitcher."
They're continuing down the same road this year.
And it looks a whole lot like 2012 -- only a lot earlier.