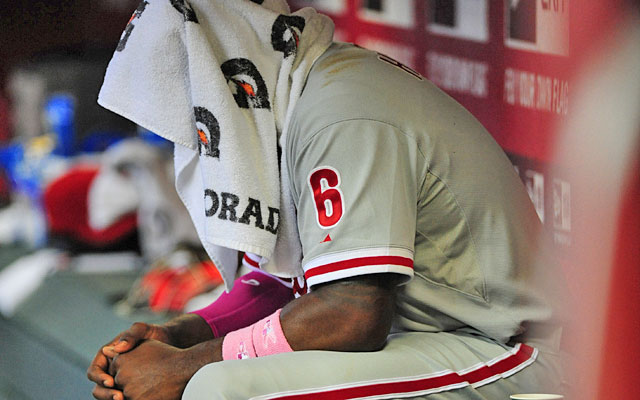 Welcome, welcome one and all to our annual Anti-All Star Barbecue, Picnic and Bake Sale. Donations are tax deductible -- we're raising funds for a private batting coach for B.J. Upton.
We'll announce this summer's team of underachievers and reprobates in just a sec. First, a couple of introductions.
Those gentlemen and ladies over there by the wireless router? They're from the National Security Agency. Look! That text message I sent you a few moments ago asking for more Mountain Dew? They read it before you did!
Those folks over by the sweet tea? They may tell you they're going over Yasiel Puig's credentials one last time, but they're not. They're poring over Manny Ramirez's tax returns. Those IRS dudes know how to party!
That guy over by the woods taking a leak? Meet our friend Edward Snowden. Wait! He's not taking a leak! He's leaking the 2013 Anti-All Star team!
Quick, flip the burgers and let's get this team announced before the leaks become widespread!
Few are in dire need of ice packs as much as Howard -- both for his knee and his numbers -- so we can only wish him Godspeed on his impending knee surgery. Hope he returns on the short end of the six-to-eight weeks he's expected out.
Before landing on the disabled list this month, Howard, at $20 million this year, essentially was reduced to platoon status. Against lefties, he's hitting .173 with a .218 on-base percentage. That's not hitting. That's praying.
The Phillies' frustration with their Big Man reached such epic proportions that general manager Ruben Amaro borrowed a page from the Brian Cashman Book of Calling Out a Player. Minus the F-bomb.
"If Ryan Howard is now relegated to being a platoon player, he's a very expensive platoon player and he needs to be better," Amaro told Philadelphia radio station WIP earlier this month. "I think he knows it. I know he's struggling. I know he's not happy with his performance. Neither are we. I think he's going to be better, but right now, he's just not doing the job."
Congratulations to Ol' Ugly for his second Anti-All Star appearance in three seasons. His 112 strikeouts through midweek led the National League and ranked third in the majors. Only Houston's Chris Carter (122) and Boston's Mike Napoli (118) have whiffed more. He's hitting only .203 to go with it. That's a lotta strikeouts between each of those 16 home runs this season.
Last Aug. 28, the Cubs signed Castro to a seven-year, $60 million deal. This summer, the shortstop is "rewarding" Team Billy Goat Tavern with a .232/.267/.332 (throat) slash line, five homers, 27 RBI and seven steals. Defensively, his 14 errors are more than every other shortstop in the majors this side of the White Sox's Alexei Ramirez (who also has 14. What's with Chicago shortstops?). Geez, even Disney has gotten a far better return on The Lone Ranger.
Sorry, Cubs. And we so wanted to go with the Tigers' Jhonny Peralta at short on our team after he missed time following an epic battle with clam chowder earlier this season.
"He ate some clam chowder, and he's allergic to it," manager Jim Leyland explained to reporters at the time. "He didn't realize it was clam chowder until he ate it."
By the All-Star break, A-Rod will have spent more time facing MLB investigators discussing Biogenesis than facing MLB pitchers exhibiting the biomechanics of home-run swatting. Broken down at 37, he is everything the Yankees should have seen coming before signing him to that ludicrous 10-year, $275 million deal on Dec. 13, 2007.
Still, let's be real here. We owe A-Rod a huge "attaboy." Because if not for him, we never would have had the pleasure of watching Cashman lose it a couple of weeks back, uttering the Quote of the Year. Quoth Cashman: A-Rod should "shut the f--- up."
Barely a year into his five-year, $60 million deal, Montero has fallen as swiftly as Paula Deen into a vat of butter. His .318 slugging percentage is the worst in the majors among catchers with enough at-bats to qualify for the batting title. Snakebitten, indeed.
In the closest positional race on our team, Quentin barely edges out the Dodgers' Matt Kemp. Credit Quentin for working hard to make our team by ... making sure not to show up for the starting lineup if even the slightest hangnail is out of place. He has played in only 68 of the Padres' 92 games, contributing -- count 'em -- 29 RBI. A partial Murderers' Row of left fielders with more RBI than Quentin so far: Vernon Wells, Seth Smith, J.D. Martinez, Kelly Johnson, Daniel Nava and Michael Brantley. Quentin ranks tied for 20th among major-league left fielders in RBI. Not all outfielders. Left fielders. And the Padres, without a gun to their heads, handed him $27 million over three years last July 22. No wonder Tom Garfinkel now is the Padres' ex-president. As for Kemp ... miserable season, but at least he's nice to fans.
There are no words to adequately describe the extent of Upton's wretchedness. Please, buy some of those Snickerdoodle cookies and peanut butter brownies at our aforementioned bake sale, and toss all of your loose change into the tip jar. We've gotta get Atlanta's hitting coach extraordinaire, Greg Walker, some new assistants or some headache-reducing Advil. Maybe both.
Don't look now, but over his past 14 games, Hamilton's bat has begun to show some life (.346, four homers, 14 RBI). If he keeps this up, we'll begin to recognize him again. But we're not looking at the past 14 games. We're staring, still stupefied, at his numbers through June 23: .207, 10 homers and a gazillion strikeouts. Even given his recent hot streak, Hamilton is up to only .229. We'll see what the second half brings.
Oh, Moreland is having a fine season (.263, 12 homers, 35 RBI). It's just that he ain't Chris Davis. Who the Rangers employed two years ago. Until Moreland's play convinced them that he would be more valuable to keep than Davis, whom Texas ended up dealing to Baltimore along with right-hander Tommy Hunter for lefty reliever Koji Uehara. Oops.
Hamilton isn't the only reason the Angels trail the Athletics by nine games in the AL West. Baseball's biggest underachievers also have not been able to overcome the batting-practice offerings of Blanton, 2-11 with a 5.40 ERA (hey, he has been much better over the past month) and a cornea-searing WHIP. In opting to rearrange the pitching staff by eighty-sixing Dan Haren and Ervin Santana last winter, Angels GM Jerry Dipoto bet on the wrong horse where Blanton is concerned. His 1.52 WHIP ranks 89th in the majors. Only the White Sox's Dylan Axelrod (1.56), the Padres' Edinson Volquez (1.61), the Astros' Luke Harrell (1.62), the Giants' Barry Zito (1.63) and the Royals' Wade Davis (1.75) are worse among qualifiers.
The rest of the Anti-All-Star rotation: Edwin Jackson, Cubs; Ian Kennedy, Diamondbacks; Vance Worley, Twins; Josh Johnson, Blue Jays; Carlos Carrasco, Indians.
Closer: Brody Baum, Indians
Woof! Give it up for Chris Perez's dog, here representing the entire Indians' bullpen, which has converted an MLB-low 53 percent of its save opportunities this season (tied with the Cubs). You might recall, Perez pleaded not guilty last month after he and his wife were arrested and charged with misdemeanor marijuana possession. The weed arrived at their suburban Cleveland home addressed to their dog. I don't know about you, but I've been watching my dog Slugger much, much more closely since that day.
Because of A-Rod, third base is taken. So in a new-age, digital world, here's a new-age, digital position. After earning a suspension and then his ticket out of Chicago earlier this summer by ripping the Cubs via Twitter, Stewart can air his latest gripes while the rest of our Anti-All Stars are introduced (by Paula Deen, by the way, our Anti-All Star emcee). #FTW.
Manager: Bo Porter, Astros
Quick, Bo: If you summon a relief pitcher, and the opposing manager sends up a pinch-hitter ... can you summon another relief pitcher if the first one has not thrown a pitch? Ooooh, story problems are hard.