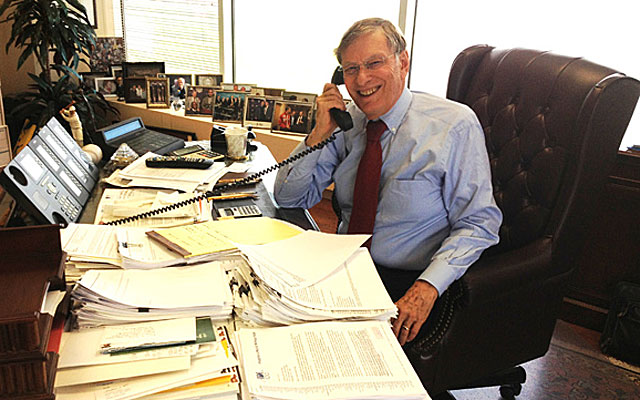 MILWAUKEE -- The most noticeable thing about commissioner Bud Selig's desk, all these years down the road, after all of the battles won and lost, is that, still, there is no computer to be found.
There is a landline telephone unit the size of Nebraska. Stacks and stacks of papers. And a cup of Diet Coke. Always, a Diet Coke.
He's updated now with an iPad, and is rumored even to use it regularly. And an iPhone.
"We warned him it was coming," said Mary Burns, his executive assistant who has worked, in one form or another, for the Seligs and the Brewers since 1988.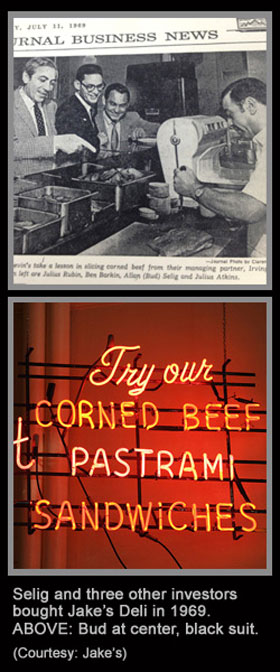 That's a lot of years, and you notice that about Selig, too. People in his constellation tend to last a long, long time, both in New York and Milwaukee.
"Because he treats people fairly," said Lori Keck, Selig's secretary from 1972 through her retirement in 2009. "And he treats people well."
Behind Selig in his office here on the 30th floor of the U.S. Bank building, Lake Michigan seems to stretch all the way back to the beginning of baseball time. Out his windows on this late June afternoon, it is another day in the life of Milwaukee.
In front of him, undoubtedly, are more triumphs and more frustrations. Both the All-Star Game and, from all indications, the end game in the Biogenesis investigation are steamrolling ever closer.
Diet Coke. Sip.
"Loyalty," Selig said, setting down his paper cup. "It is so important. It's an ingredient in the human equation that, without it. ... It's hard to have a relationship in life -- business or otherwise – where there isn't implicit and complete trust."
Including, for better or for worse, with technology. And iPhones.
He had an old flip cell phone. Then came battery issues. Then word that they were phasing out those batteries. Then Burns' warning.
"He's good at it," she said, smiling, iPhone tutoring sessions now firmly in the rear-view mirror. "He doesn't have a ton of apps. But he's great with it."
Name almost anything since Selig first became interim commissioner (1992), and then permanent commissioner (1998), and, time was, you figured it would have outlasted him. Doubleheaders. Milwaukee County Stadium. The Montreal Expos. Cell phone batteries.
So much has been phased out, yet one of the game's quirkiest, longest-running and most successful commissioners remains, presiding over the most prosperous era in the game's history.
At 78, Selig's imprint on the game is as indelible as the Louisville Slugger trademark. Expanded playoffs. Interleague play. Realignment. Luxury tax and revenue-sharing that have significantly improved competitive balance. Revenues that have blown up from $1.2 billion annually in 1992 to a staggering $7.5 billion in 2012. This year, that figure is expected to top $8 billion.
From the rumpled suits and furrowed brows of the mid-1990s have emerged 21 consecutive years of labor peace and one of the most transformative figures in the history of the game.
He is not Madison Avenue-slick or Armani-stylish like fellow commissioners David Stern (NBA), Roger Goodell (NFL) and Gary Bettman (NHL).
"I mean, he owns a delicatessen here," said Bob Uecker, the Brewers' Hall of Fame broadcaster and longtime friend of Selig. "How many of the others own a delicatessen?"
He has done his time in the public dunking booth, served his sentence as a punching bag ... and emerged on the other side of the philosophical and technological battlefield stronger than ever.
Agree or disagree with his landmark decisions, like him or loathe him for what he has done -- or hasn't done -- to drag his game into the 21st century, there is one important point that popular caricatures usually leave out.
Nobody loves this game of baseball more than Allan Huber "Bud" Selig.
His signature is found on every baseball each night of the season ... but it is the baseball that is stamped on his heart.
"When he owned the Brewers, he was absolutely nuts," said White Sox owner Jerry Reinsdorf, a close friend since 1980. "Watching a game with him was really something. He was into every game. Every pitch.
"When a game was tense, he'd hide behind a pole because he couldn't bear to watch it live.
"He's just an ordinary guy who, through circumstances, became commissioner."
And there is one more thing.
"If you know Bud Selig, you have to like him," Reinsdorf said. "You cannot dislike him if you know him."
Quirks and all.
Bud, the Senator and the ringer
Saturday morning. Sixth grade. Sherman Grade School in Milwaukee. The Pee Wee Baseball championship game.
Selig was the captain of his team.
Herb Kohl, who would grow up to become a United States Senator and owner of the NBA's Milwaukee Bucks, was the captain of his team.
"We all turned out, the sun was shining and we were ready to play," Kohl said. "I noticed a long, tall fellow, a pitcher, warming up on the other side of the field. I'd never seen him before. None of us had."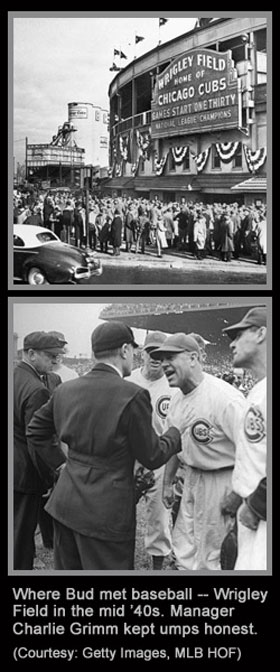 The kid looked very menacing. And very older.
"Hey Bud," Kohl said. "Where's this guy from? We were looking for Little Freddy. We were expecting Little Freddy to pitch. Where's Little Freddy?"
"Little Freddy couldn't come," Selig answered. "His mother wouldn't let him out of the house. He didn't drink all of his orange juice or something."
"So we started fighting," Kohl said, chuckling. "And after awhile, Bud says, 'C'mon, let's just play ball. Quit whining.'
"Well, 'play ball' is the magic word to a sixth-grader."
So they settled down and played. And Jack Halser -- Kohl remembers the name to this day -- mowed through the lineup, striking out everybody in sight. And Selig's team won the Sherman Grade School title.
"After that, Jack Halser vanished," Kohl said. "Nobody ever saw him again. Bud imported a ringer to cheat us out of the championship. I've never forgotten that."
Nor, as you would expect, has Kohl ever let Selig forget. Six decades later, they still meet for breakfast on Saturday mornings when they're in town at Jake's, the Milwaukee delicatessen partly owned by Selig.
"Now he's the commissioner of baseball, and his No. 1 responsibility is to protect the integrity of the game," Kohl said, laughing. "I tell him, 'Don't give me that stuff, Selig. You showed me who you were in sixth grade.'"
Selig's introduction to baseball came long before that. His mother would take him, his brother, Jerry, and friends -- including Kohl -- to old Borchert Field, where the minor-league Milwaukee Brewers played. The ballpark was at 8th and Chambers, long since paved over to accommodate Interstate 43.
His mother, Marie, was a huge baseball fan. His father, Ben, liked the game for the same reason fathers across the decades have enjoyed it: It was a way to spend time with his sons.
It was his father who took him to his first major-league game. Wrigley Field, Chicago, in May 1944. Selig doesn't recall the Cubs' opponent. His father had business in Chicago -- the famous auto business that Selig would inherit.
The Brewers were a minor-league team at the time, and you think you see red when your favorite team parts ways with one of your favorite players?
"I became a Yankees fan because they sold my favorite Milwaukee Brewer player, Hershel Martin," Selig said. "There's nobody left on earth who remembers him. They sold him to the Yankees, and then I became a Yankees fan and then, of course, a big Joe DiMaggio fan."
On many occasions when the Yankees traveled to Comiskey Park after that, Selig would be in the stands with his father and friends rooting them on.
Years later, as owner of the major-league Brewers, Selig would have a different experience with the Yankees. "He uses four-letter words with some degree of frequency," Reinsdorf said. "When he was upset at the owners' meetings, or with baseball economics, we'd have an over-under on how many F bombs he'd drop."
Sometimes when things weren't going well for the Brewers, Selig actually would emerge from behind that pole he used as a hiding place. It wasn't always pretty. One day, the Brewers were getting it handed to them by the same Yankees for whom Selig once cheered when New York owner George Steinbrenner made an observation.
"He was very quiet one day, and I was brutal," Selig said. "And he said, 'Selig, the world thinks you're a nice guy and I'm a terrible so-and-so. This isn't right. Listen to you. If I said half the stuff you've said, I'd get killed.
"And he was right. I couldn't argue with him.
"But one thing I've always said: If you don't have a passion for your sport, or your team, you shouldn't be in it. That's true for commissioners, too."
Bud, the fraternity and the future
The Braves moved to Milwaukee from Boston in 1953, coinciding with Selig's move from high school to the University of Wisconsin.
Bad time to plan to become a history professor for a guy who had box scores running through his veins and an emotional attachment to his transistor radio.
"Oh my goodness," one fraternity brother or another seemingly would tell him daily. "Every night, you're listening to Braves games."
Today, Selig teaches a sports and law course at Marquette University. And the University of Wisconsin keeps an office for him in hopes that he actually will retire as commissioner one day and return to Madison to teach and write his memoirs.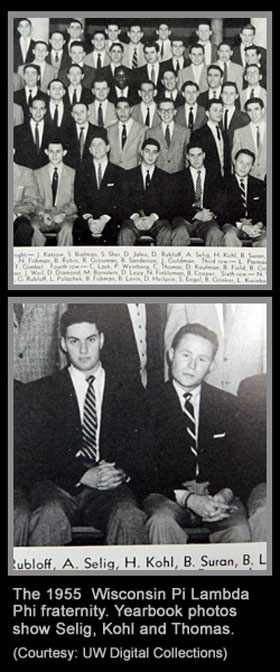 One of those stories, no doubt, will involve Charley Thomas, a backup running back behind Alan Ameche on the Badgers' football team at the time. Thomas, an African-American from Chicago, was waiting tables in the Pi Lamba Phi fraternity house and was universally liked.
Thomas was well aware of the comings and goings within the house. Selig, the fraternity president, frequently went to the library. One day, Thomas asked Selig to wait up.
"And every night after that, we went to the library together and we'd stop and have a hamburger or something," Selig said.
You know, Selig finally told Thomas, you really should be a part of this fraternity. This is, after all, 1955.
A month or so later, Selig brought it up again. "You really think so?" Thomas asked. Yes. Absolutely.
Quietly, Selig went to work behind the scenes. Does this sound familiar? All those times as commissioner that Selig successfully built a coalition among owners with disparate interests and backgrounds -- he had to pass Consensus Building 101 long before that, didn't he?
And so it was that the highly regarded Thomas became the first black member of the fraternity. And not long after the film 42 was released this spring, another fraternity brother and decades-long friend named Mel Pearl sent a note to Selig:
"Saw 42. I know how inspirational it has been for you. Now I know how much the Charley Thomas thing meant to you, and to all of us."
"Great letter," Selig said, clearly moved. "I guess I've always had this consensus-building thing inside of me. I don't like people who are arbitrary. I believe if you own a club, you ought to know everything I know.
"And if I make value judgments, I hope you'll trust my judgment, and I'll know what you're thinking."
Against baseball, history never had a chance with this guy.
"It changed when I graduated from college," Selig said. "I went into the service, and when I got out of the service my father said to me -- and I had a very close relationship with him -- 'Buddy, give me one year in the family business.'
"And in those days, when your father asked you to do something, you did it. And he was right. I liked business. I've always wondered what it would be like to be a history professor. To this day, I say that to Doris Kearns Goodwin all the time.
"I love history. I have a bunch of books at home that I'm reading, all history. But my career took a different turn."
A life selling cars also was destined to take an oh-fer when the Braves fled Milwaukee for Atlanta in 1965 ... and the Seattle Pilots went bankrupt following the 1969 season.
As one of the pitchers on that old Pilots club, Jim Bouton, put it so eloquently in his brilliant Ball Four: "You spend your life gripping a baseball, and in the end it turns out that it was the other way around all the time."
Bud, the new broadcaster and gravy
Now probably is as good a time as any to bring up Uecker, and the gravy-stained scouting reports.
Sometimes the silliest investments we make are when we're blinded by love, right? Sometimes the smartest, too. Nobody, including Selig, knew which way it was going to go when he spearheaded the purchase and move of the Pilots to Milwaukee in 1970.
"I don't know if anybody really sees how much he loves the game," Uecker says today.
Selig not only is the guy who brought baseball back to Milwaukee.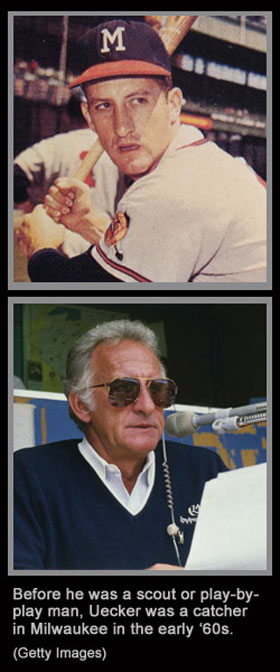 He is the guy who brought Uecker back to Milwaukee, too.
Uecker, then 35, had been out of the game for three years after finishing with the Atlanta Braves in 1967. He remembers Selig visiting the ballpark in the late 1950s and early 1960s to visit Frank Torre and Don McMahon. He would see Selig all the time.
Above all, Uecker wanted to become a broadcaster. So Selig hired him ... as a scout. He figured Uecker could do that until a spot opened in the new Brewers' broadcast booth. It is a trait that remains with Selig today, continuing to serve him well. Stash good people in strategic spots so they'll be around when he needs them.
Frank Lane was the general manager then and, well ... let Uecker tell it:
"We didn't have a scout in the Northern League," he said. "Frank Lane tells Bud, let's send him there. I didn't have a stopwatch or anything. It was a Class C league, and I didn't even know how to grade the players."
Uecker to Lane: "How do I grade them?"
Lane to Uecker: "Grade them like major-leaguers."
"So I hang around a couple of older scouts watching and listening, and now comes the time to make out the reports," Uecker said. "At the time, you had to make them out in triplicate. So I'm at an American Legion club, eating dinner with a couple of scouts, and I remember dropping food particles and gravy on the reports.
"And I wiped it off because I didn't want to do them over again."
The reports arrived back at Lane's office, and he told Selig: "Look at the crap this guy is sending back. There are food stains. Gravy stains. What the hell?"
"They kept those scouting reports so Bud could show people," Uecker said, cackling.
Later, for a time, Selig and Uecker were neighbors in Arizona. Then Selig moved, telling people he had to, because Uecker's place was wrecking his property value.
"I told him, 'I'll get rid of my outside plumbing if you stay,'" Uecker quipped.
There's the magic of Uecker, because baseball was no joking matter to Selig. Never has been.
Keck was Vince Lombardi's secretary for several years before leaving the Green Bay Packers when Lombardi resigned to take the same job for Selig.
The two had never met before Keck's first day of work. But, Selig had told her, "If you're good enough for Lombardi, then you're good enough for me."
"When the Brewers were losing, you didn't want to be in his path," Keck said. "The first year I was there, the worst were the afternoon games when the team was on the road. Because he was in his office, and I was in my office.
"The first time that happened, he was impossible. I walked out of the office to the switchboard, and I sat there until the game was over."
Years later, Selig can easily pinpoint exactly what he does not miss about those days: the eighth and ninth innings.
"I do miss my relationships with the manager, general manager, coaches, players, scouts," Selig said. "I love scouts. I miss that.
"I don't miss the eighth and ninth innings, pacing. I can still tell you about games we lost in '78 and '79 that nobody remembers but me."
Nobody knew those wholly unique Milwaukee County Stadium ramps that zig-zagged their way behind the press box and broadcast booths, suspended in the air above all the folks sitting down below, like Selig. They may as well have installed mile markers, for all the walking the guy did.
"I'd hide in the catwalks, not watching," he said. "I could tell by the crowd roar. If they were roaring, we were all right. I'd go to my office. If there was a loud crowd roar, I knew that we'd won.
"If there was silence, oh, God."
But for all of the raving lunatic moments, there was another side to Selig. Baseball didn't just bring out the beast in him. It also brought out the best in him.
The plane home from St. Louis following Game 7 of the 1982 World Series was tear-soaked and packed. The Brewers had taken their entire front office for what was supposed to have been a victory celebration, only to watch the club blow a 3-2 series lead in what remains the organization's only World Series appearance.
"I was completely devastated," Keck said. "You'd think he would have been slumped in a corner feeling sorry for himself. But he went to every single person on that plane -- players, office, staff -- making sure that they were OK, and that they knew we played a good game.
"I was sitting there crying, and he was the one who made me feel better. He was trying to lift everyone else up.
"Sometimes, he cares too much."
Bud, Lombardi and hot dogs
Each night when he is in Milwaukee, the television light flickers in Selig's home as he clicks through all of the out-of-market games, alternately exhilarating and fretting over developments as a parent over the triumphs and disappointments of a child.
As baseball's senior vice president for public relations, Pat Courtney's phone often rings on these nights.
"It's raining in Chicago -- are we going to lose this game?" Selig will worry.
No-hitters, a significant injury, an attendance issue -- especially an attendance issue -- Courtney picks up, and it is the commissioner, wanting more information.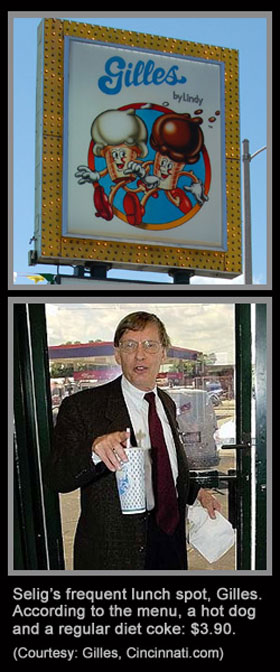 Routinely, an owner will phone the commissioner's office to check on one issue or another, Selig will mention something about that team's bullpen trouble and the owner will tell the commissioner, "You know more about my team than I do."
The late Tigers owner John Fetzer was his first mentor as a baseball executive. When the labor strife and unrest split the game and undermined then-commissioner Fay Vincent in the early 1990s, it was owners Edward Bennett Williams (Orioles), Steinbrenner (Yankees) and Carl Pohlad (Twins) -- all deceased now -- who first recognized that maybe running the Brewers wasn't Selig's highest calling.
He practically idolized Bart Giamatti and still has a framed photo of the late commissioner prominently displayed in his office.
Though his office is larger and his reach is far greater now -- not to mention his annual salary in the neighborhood of $22 million -- lifelong friends still frequently tell Selig "you're just like you were in college." And all these years later, he still views that as the highest form of compliment.
"He has the same friends," Reinsdorf said. "I've known some of his friends for 30 years. They're people you want to be with. They're unpretentious."
Really, how pretentious can a guy be when a life-sized statue of Happy Days icon Fonzie is displayed on a sidewalk eight blocks from his office?
His routines are legendary. Selig gets his hair cut each Friday at 10 a.m. Nails done each Thursday at 10 a.m. Rides his stationary bicycle every day (his Ripken-esque streak is at 1,833 consecutive days now). On many days when he's in town, he heads over to Gilles ("Milwaukee's Oldest Custard Stand -- Since 1938") for lunch.
"You've gotta admit," Selig said, hometown pride as rich as the Reese's Peanut Butter Cup frozen custard flavor of the day, "it's pretty good, isn't it?"
Frequently, lunch is a hot dog and a Diet Coke. Or, a grilled cheese sandwich.
"It's always ketchup on his hot dog," Reinsdorf said. "I needle him. Nobody eats ketchup on their hot dogs."
When Pohlad was alive, he kept Selig's measurements and would have his tailor, a man named Hubert White, regularly send Christmas and birthday presents.
"Suits, sport jackets, slacks, shirts, ties," Selig said fondly. "My wardrobe isn't the same since [Pohlad passed]."
He still thinks the world of Hank Aaron, his friend of some 55 years. Robin Yount and Paul Molitor continue to rank among his all-time favorites, too. And when they unveiled a statue of Selig outside Miller Park -- the construction of which was another hard-fought battle that eventually landed in his 'W' column -- the old Brewers flocked back. Teddy Higuera. Ted Simmons. Ben Oglivie. Cecil Cooper. Every single ex-player who was invited.
"He has the ability to know what each person needs," Keck said. "In that way, Vince Lombardi was the same. I always said that Lombardi was 75 percent psychologist and 25 percent coach. Selig has the ability to discern what the person needs and to see into the future. He's seen what baseball needs and he's very tenacious about it. And he follows through until it's done."
Yet in many ways, Selig remains a 12-year-old kid at heart.
"We'll be talking about something, and all of a sudden he'll pop up with a name that has nothing to do with what we're talking about," Reinsdorf said. "Dusty Rhodes. Wade Blasingame.
"I'll say, 'What made you think of that guy?' It'll have nothing to do with anything."
Bud, the Internet and the legacy
For a long time, these quirks and eccentricities sometimes maybe overshadowed the substance. Maybe that's part of why Selig has been underestimated for much of his life.
Here's a guy who does not do computers ... yet who spearheaded the hatching of Major League Baseball Advanced Media (BAM), under which the sport's Internet rights are centralized, and the creation of the MLB Network, which launched as the largest debut in cable television network history.
Both cutting-edge advancements have netted the sport hundreds of millions, and some have valued BAM's worth alone at more than $3 billion.
"My daughter and granddaughters will tell you I'm totally illiterate in that [computer] area and proud of it," Selig quipped. "Rave about BAM's success, take a lot of credit ... and yet as a practical matter, it hasn't helped much."
As Hurricane Biogenesis moves ever closer to making landfall this summer, many talking heads shift into autopilot and resort to the dog-eared, cliché script of bashing baseball for all of its wrongs. "Another black eye. ..." they begin screeching, and it's off to the races.
Yet it is not baseball that has had 34 players arrested during the offseason (and many more if you count lesser charges, like speeding), including one on a sensational first-degree murder charge. That's the NFL.
It is not baseball that lost large chunks of recent seasons to lockouts. That's the NBA and NHL.
It is baseball that has the toughest anti-doping program of any major professional sports league, and it's not even close.
Against the wishes of some of his closest advisers a decade ago, Selig commissioned the Mitchell Report to ferret out facts from the BALCO days. By its nature, that report was inherently flawed simply because without subpoena power, there was no way Sen. George Mitchell was going to be able to mine every dark corner to unearth every single truth. But it was valuable in that it was the start of a road map out toward the light.
No question, in a game that features swings and misses nightly, Selig has had his share. He and the owners were slow to react to performance-enhancing drugs initially against an intractable Don Fehr, then the players union chief. Contraction was an ethically and morally shady street, though the Twins and Marlins wound up with new ballparks (which was the whole point). Canceling the 1994 World Series after the players struck left a deep scar in the sport's history. Expanded instant replay is taking forever to arrive.
Selig's greatest challenge upon first taking the job in 1992, he says, was he "didn't quite understand that the sport had been stuck in neutral for two or three generations", and squaring the realization that major economic reform would be required along with his desire not to "disturb" the game.
Compared to his first year as owner of the Brewers in 1970, he will tell you, other than the bat and the ball, everything is different today.
"And that's great," he said. "I don't think we've disturbed anything. I'm always extraordinarily sensitive about our heritage and our tradition."
Some of his finest moments have come as a result of his fervent belief in baseball as a social institution. The grace with which he led in the immediate aftermath of 9/11, the implementation of Jackie Robinson Day, the game's strong relationship with the Stand Up 2 Cancer charity.
"He truly believes in baseball as a social institution," Reinsdorf said. "He's had cancer in his family, and he's had cancer himself. He really wants baseball to help fight this insidious disease."
Had he wound up a history professor, Selig figures he would have taught the New Deal through modern times. His favorite era is 1932 through the present.
"History is a great teacher," he said. "It's a wonderful teacher.
"The problem we have, whether it's in baseball or in life, is that people don't pay the necessary details to it that they should."
And so he plows forward with this in mind, fighting the daily battles, attacking those stacks of papers and issues piled high on his desk. A second wild-card team in each league now? An iPhone? Really? Who can ever tell what thrills are around the next corner?
Like a second-term president, some of his time now undoubtedly is spent attempting to burnish his legacy. An appearance on David Letterman's Late Show this week, even. His contract runs through the end of 2014 and, as usual, he is promising that will be it.
As for the game's current crash course with Biogenesis, Selig says he is unconcerned that the timing of whatever happens -- so close to the impending retirement of the longest-running commissioner since Kenesaw Mountain Landis -- will stain his record in the history books he loves.
"I can't worry about that," he said. "I can only say to you, I have to do what I think is in the best interests of this sport. What it does to me is not important. Because I've tried to teach other people that.
"I've got to do what is in the best long-term interest of the sport. Whether that affects me positively or negatively is irrelevant."
Diet Coke. Sip.
"My background, my training, my long history, I think, has served the sport well," he continued. "And it has certainly served me well.
"The game will be here long after we're gone. We're lucky. We're the custodians of this generation. We should never forget that. I tell owners that all the time. So you have to do what's in the best interest of the sport. And I think for a long time baseball didn't do a lot of things because we'd never done it before."
Nobody is going to win the day every day as the commissioner of any sport.
Or, as Uecker said: "I'll tell you what. He takes a lot of crap better than a lot of people. He just says, 'So what, tomorrow's another day. We'll be back tomorrow.'"