3 to Watch: The 'Best in the East?' edition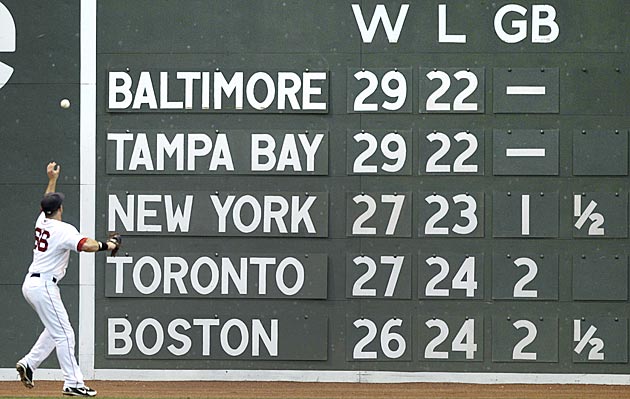 Look who shares the lead in the tightly contested AL East (does not include Boston's loss Thursday). (AP)
The top two teams in the American League West standings will meet this weekend.
So will the two teams atop the American League East.
The way the
Angels
and
Albert Pujols
have recovered from their awful start, they may have all summer to try to run down the
Rangers
in the AL West.
The way the AL East is tightening up, we may not have another chance to see an
Orioles
-
Rays
battle for first.
More on AL East
Related links
More MLB coverage
So Scott Miller can deal with
Yu Darvish
and
C.J. Wilson
(who meet again on Saturday night), and with Nolan Ryan (who returns to the Angel Stadium mound Friday night -- for a ceremonial first pitch).
3 to Watch will stay East, and begin by asking if the Orioles can do without
Nick Markakis
the way the Rays have done without Evan Longoria.
When Longoria went on the DL on May 1, the Rays were seven games over .500 and one game up in the East. A month later, the Rays are seven games over .500 and tied atop the East.
I know I wasn't the only one who wondered how the Rays could score enough runs to keep winning without Longoria. Without him, their lineup looked very ordinary.
Sure enough, the Rays went from scoring 4.6 runs a game with Longoria in the lineup to scoring 3.9 a game without him.
And they stayed in first place.
"With the magic man down there, those players just respond," one rival scout marveled, referring to Rays manager Joe Maddon.
Can Buck Showalter work the same magic without his No. 3 hitter that Maddon did without his?
Markakis is expected to miss much of the next month after surgery to remove the hamate bone from his right hand. Longoria, out with a partially torn left hamstring, is also weeks away from coming back.
Meanwhile, the teams behind the Rays and Orioles have started to win. As of Thursday morning, only 2½ games separated first place (Tampa Bay and Baltimore) and last place (
Boston
).
We expect the Rays to stay up there, because their rotation is so strong and they've proven to us over the last four years that they're tough enough to win in baseball's most challenging division.
We don't know that yet about the Orioles. They still need to prove it, to us and perhaps to themselves.
This weekend, with no Markakis, would be a good time to start.
On to 3 to Watch:
1. Hard to believe, but the Rays lost three of
David Price
's four starts against the Orioles last year, and it took a ninth-inning rally and extra innings in the one game they won. Price gets his first chance of 2012 in
Orioles at Rays, Friday night (7:10 ET) at Tropicana Field.
2. The first Darvish-Wilson matchup was ruined by rain (and by 15 Rangers hits) on May 11 in Texas. The forecast says 0 percent chance of rain for the rematch in
Rangers at Angels, Saturday night (10:05 ET) at Angel Stadium.
There's always a chance, though, of 15 Rangers hits.
3.
Justin Verlander
has already lost back-to-back starts for the first time since April 2011. The last time he lost three straight starts? July/August of 2008. If it happens now, with Verlander starting in
Yankees at Tigers, Sunday afternoon (1:05 ET) at Comerica Park,
perhaps we'll start to believe that the Tigers really are in trouble. Sunday is also the day that the Tigers will honor Magglio Ordonez, who will make his retirement official.