Whatever happened this spring, Halladay could be key for Phillies in August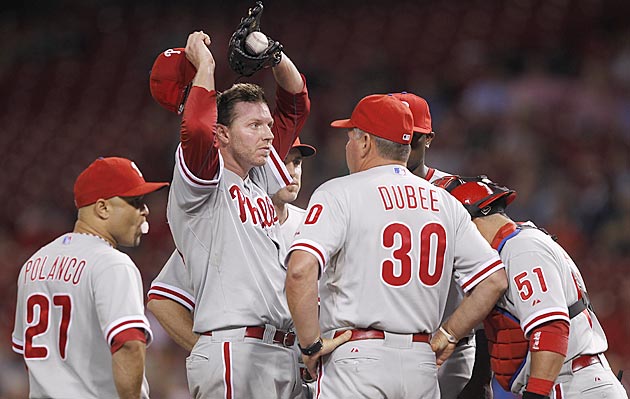 When Halladay returns, he could have an impact on the postseason chase if Philadelphia can hang in there. (Getty Images)
PHILADELPHIA -- Roy Halladay still insists that he was healthy in spring training.
Maybe he was, maybe he wasn't. Maybe it's just semantics.
What matters now is whether he'll be healthy in August and September, and whether the
Phillies
will be in good enough shape in the National League East standings for it to matter.
Basically, Halladay has joined Chase Utley and Ryan Howard on the list of reasons that the Phillies could be the most dangerous team in the league down the stretch -- if they can just keep from completely falling apart before then, and if the stars can find a way to star again.
More on Dodgers-Phillies
Related links
What we learned Wednesday about Halladay wasn't much more than we knew when he went on the disabled list last week with what was called a Grade 1-2 lat strain. The Phillies set out a schedule for him that fits well within their original estimate of 6-8 weeks for his return.
He took one week completely off. He has three weeks without throwing. If all goes well, he'll pick up a baseball sometime around June 15. Maybe he makes it back by the middle of July, or by the beginning of August.
The word Wednesday is that he's already "symptom-free." The Phillies said that both doctors they checked with found only "normal changes" between the MRI Halladay had when he first joined the Phillies in 2009 and the one he last week.
Phillies people comfort themselves with the thought that Halladay will be every bit as dedicated to his rehab work as Utley and Howard are -- and that his injury seems to be a little bit more predictable than theirs are.
"We're not going to have to put a thumb on him to motivate him," pitching coach Rich Dubee said Wednesday. "We've got to put the reins on him to hold him back."
Halladay spoke Wednesday about what could happen when he does come back, and when the Phillies get the All-Star right side of their infield back, too.
"I don't feel like anybody's really run away with [the NL East]," he said. "I feel like even if we do have a little ground to make up [in August], we have a lot of guys who are going to be coming back, and I feel like we have guys who can overcome that.
"I'd love to come back with a four-game lead. Given how tough the division is, that's probably not going to be the case."
Halladay, as we've all seen, is one tough guy. Dubee brought up the 2010 NLCS game in
San Francisco
, when Hallday suffered a pulled groin in the first inning and still pitched six innings and gave up two runs.
"This guy pitched six dazzling innings on one leg," Dubee said. "Really, on one leg."
Dubee still maintains that Halladay couldn't have been fully healthy in spring training. Halladay still maintains that he didn't have any physical issues until late in his May 22 start against the
Nationals
, his next-to-last start before going on the disabled list. Any earlier problems, he said, were just a result of struggles finding his release point.
But what could sound like a major disagreement really isn't.
"That's Doc," Dubee said. "He probably was fine in his mind. You don't think this guy has had aches and pains over the years? In his mind, he probably was fine."
If all the tests were right and Halladay's rotator cuff and labrum are still fine now, then it's reasonable to expect that he can come back strong from what even he now admits is an injury.
And if the Phillies stay close enough to give him a chance, you can expect Halladay to make an impact when he does return.
"This guy is probably the most responsible player I've ever been around for feeling he has to carry a team," Dubee said.
He can't do anything to carry the Phillies now. Neither can Utley and Howard, both of whom took a step forward by batting in an extended spring training game Wednesday.
Utley may start playing games in the field next week, and the betting now is that he'll be back before Howard. Howard will likely be back before Halladay.
By August, they could all be back, and the Phillies could be a more dangerous team.
Will it matter?
I don't know the answer to that, any more than I know for sure if Roy Halladay really was hurt this spring.