3 to Watch: The 'All-Star preview?' edition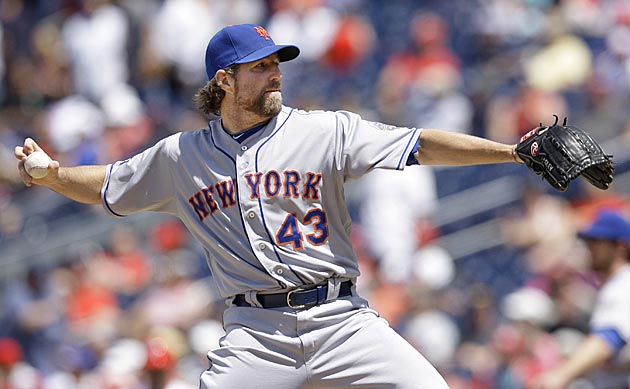 R.A. Dickey (9-1, 2.44 ERA) is the NL's co-leader in victories, and has a 1.04 WHIP and one shutout. (AP)
Dave Haller, the outstanding PR man for the
Rays
,
suggested Saturday on Twitter
that
David Price
vs.
R.A. Dickey
is a "must-see matchup" and that it "could be an All-Star Game preview."
It's hard to argue with his first point. Dickey hasn't allowed a run since May 22, pitching 23 2/3 scoreless innings in his last three starts. Price has been outstanding all year.
What about the All-Star Game?
It's a little early to know that. Price and Dickey figure to get five starts each before the July 10 game in Kansas City, beginning with their "must-see" meeting Wednesday night at Tropicana Field.
The good news: As of now, if Price and Dickey start every fifth game, neither one would be scheduled to start on Sunday, July 8, which would make them unavailable to start the All-Star Game two nights later.
So what makes a pitcher an All-Star starter, other than being available?
Sorry, stat guys, but wins help a whole bunch. No American League pitcher since 1995 has been picked to start the All-Star Game with fewer than 10 wins before the break. Only two National League starters with fewer than 10 wins -- Jason Schmidt in 2003 and
Jake Peavy
in 2007 -- have started an All-Star Game in that 16-year span.
Dickey has nine wins (tied with the Cardinals' Lance Lynn for the major-league lead), and hasn't lost since April. Price has eight, tied with the Rangers' Matt Harrison and the
White Sox
's
Chris Sale
for the AL lead.
But history suggests that the Braves' Brandon Beachy doesn't stand much chance, despite leading the majors with a 1.98 ERA. Beachy's record is just 5-4.
Managers pick All-Star starters. Managers love wins. And managers don't care that many consider pitcher wins to be at best an overrated stat or at worst totally worthless.
Given that, a few other possible All-Star starters, with a month to go:
National League
--
Gio Gonzalez
of the
Nationals
, who has eight wins and a 2.35 ERA that ranks high among the NL leaders.
--
Stephen Strasburg
of the Nationals, who has seven wins with a 2.41 ERA and a league-leading 92 strikeouts, but also has a star factor that has to help.
--
Cole Hamels
of the
Phillies
, who has eight wins with a 2.93 ERA, and also has a big name.
American League
-- Sale, whose 2.05 ERA is the best in the American League.
--
C.J. Wilson
of the
Angels
, who has seven wins with a 2.39 ERA. Will it help that AL manager Ron Washington knows Wilson well?
-- Harrison has eight wins, but his ERA is a little high, at 3.87. If he wins a few more and lowers the ERA, would Washington pick him, just as he picked him to start Game 7 of the World Series?
On to 3 to Watch:
1. Fourteen pitchers have started 75 or more games for the
Marlins
. Of those 14,
Josh Johnson
(3.12) and
Josh Beckett
(3.46) did it with the lowest ERA. Now Beckett will pitch against the Marlins for the first time since they traded him in November 2005, getting the start in
Red Sox at Marlins, Monday night (7:10 ET) at Marlins Park.
In a normal year, Beckett and Johnson could be possible All-Star starters. Not this year, though, as both have been inconsistent during the first half.
2. Beckett has never pitched against the Marlins.
Zack Greinke
has never pitched against the
Royals
. That changes now, as well, because Greinke is the scheduled starter in
Brewers at Royals, Tuesday night (8:10 ET) at Kauffman Stadium.
Greinke could well be back for next month's All-Star Game, and it's not out of the question that he would be the NL starter. He'd be a no-doubt starter if you just counted his home stats; Greinke is 4-0 with a 1.08 ERA at Miller Park. His career numbers at Kauffman: 36-28, 3.54.
3. Dickey is the sixth Met to go three straight starts without allowing a run, joining Jerry Koosman, Dwight Gooden, John Maine, Mike Pelfrey and Al Leiter, who did it twice. No Met has ever gone four straight starts without allowing a run, so Dickey could make history in
Mets at Rays, Wednesday night (7:10 ET) at Tropicana Field.
The last big-league pitcher to go more than three? Greinke, in his last two starts of 2008 and first three of 2009. The last to do it in one season? Brandon Webb with the 2007 Diamondbacks.