Best pitcher in baseball? At very least, Dickey's knuckler is the best pitch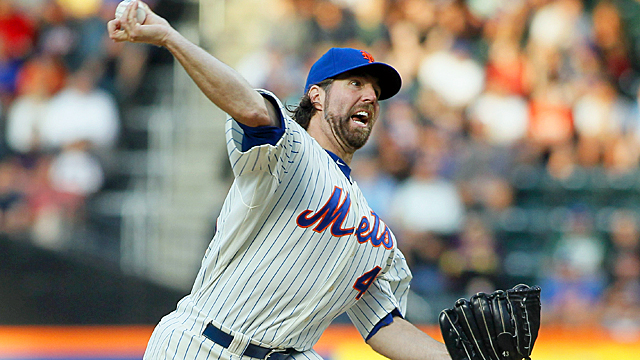 Who would've guessed getting R.A. Dickey for $5 million next year would be a steal?
(Getty Images)
NEW YORK -- At this point, the question is no longer whether R.A. Dickey should start the All-Star Game.

That's obvious, isn't it?

No, at this point, the question is much simpler.


More on Orioles-Mets
Related links
More MLB coverage
Is it possible that a guy who never throws a pitch over 85 mph can be the best pitcher in baseball?

Wait a moment before you answer that, because I know it sounds ridiculous.

Wait a moment, and read some R.A. Dickey facts, now that he just became the first pitcher in 24 years to throw back-to-back one-hitters:

• He's gone 42 2/3 innings without allowing an earned run. He's had five straight starts of no earned runs and at least eight strikeouts, which according to the Elias Sports Bureau is the longest such streak in major-league history.

• He had 12 straight hitless innings before Wilson Betemit's fifth-inning single Monday night, and another four hitless innings after it.

• He has as many strikeouts this year as Justin Verlander, tied for the most in the majors. He has seven straight starts with at least eight strikeouts, one shy of Randy Johnson's major-league record.

• Over those seven starts, he has six walks and 71 strikeouts. And just 25 hits, for a .144 opponents batting average.

Now read a text message I got from a scout who watched Dickey's brilliant one-hit, 13-strikeout game Monday night against the Orioles:

"That's as dominating a pitcher as [Mariano] Rivera's cutter. Pedro [Martinez's] change. That's an 80 pitch on our scale."

On the scouting scale, 80 is perfect.

Best pitcher in baseball? You're thinking about it now, aren't you?

In any case, don't you have to say right now that Dickey's knuckleball is the best single pitch in baseball?

"This guy's just amazing with that pitch," Mets manager Terry Collins said, after starting off his postgame press conference by referencing Sandy Koufax, Tom Seaver, Dwight Gooden and Verlander. "I've never seen anything like it."

We're taught to think of the knuckleball as just a trick pitch, one that can make hitters look silly but can't really be counted on. We're taught to think that it can't really be controlled, that the knuckleball pitcher has no more idea where it's heading than the hitter or catcher do.

Now we see Dickey, whose knuckleball dances like Niekro's and Hough's and Wakefield's, but always seems to find the strike zone. We see a guy who through 99 innings this year has yet to be charged with a wild pitch.

"I know I have something to offer that's unique," Dickey said. "And I try to build off that."

He considered Monday's start special, because Orioles manager Buck Showalter was one of the guys who first encouraged Dickey to try the knuckler, back in 2005 when they were both with the Rangers. It didn't go well at first.

"The last time he saw me pitch live, I gave up six home runs," Dickey said.

He kept working, and kept adapting. He moved from the Rangers to the Mariners to the Twins and on to the Mets.

Omar Minaya, then the Mets general manager, insisted on signing Dickey in December 2009, even though his top advisers were against it. The following spring, Dickey was part of the Mets' first cut.

He ended up having a decent season, enough that the Mets gave him a two-year contract. I remember wondering why they'd give him two years, and what a risk it was.

Now I look at his $5 million option for 2013 and say, "What a bargain!"

Now, I tend to side with the rival executive who said the other day that the Mets had better get Dickey signed to a contract extension soon.

He's 37 years old now, but you wonder if that even matters. Charlie Hough pitched until he was 46. Tim Wakefield just retired this spring, at 45. Phil Niekro went until he was 48.

Who's to say Dickey can't do the same?

And who's to say he's not the best pitcher in baseball right now?