3 to Watch: The 'Who's your eighth starter?' edition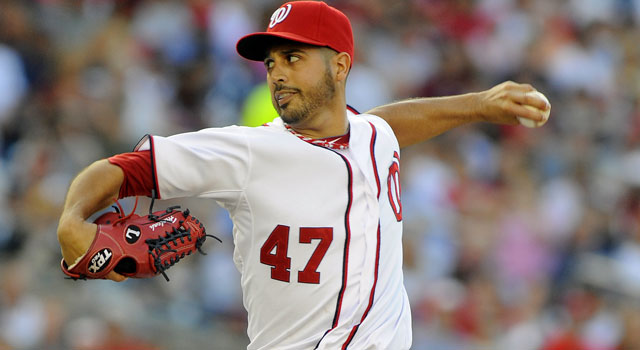 Gio Gonzalez against Tim Hudson is the matchup to watch in the NL East.
(Getty Images)
One of the least meaningful questions we ask every winter and every spring is who will be a team's fifth starter.

Really, we should be asking who the eighth starter will be. That's what the Yankees are using Friday night, their eighth starter.

Or the ninth starter, because the Rangers are already at nine (and counting?).

Or the 13th starter, because that's what the Padres used this week.

The Padres aren't a contending team. The Yankees and Rangers are.

So are the White Sox. They've already used nine starters, too, and they've already gotten two wins out of No. 8 starter Jose Quintana.

As important as it is to keep your pitchers healthy ("It's not the best rotation that wins, it's the healthiest rotation," a lot of managers like to say), it's every bit as important to have viable options when a starter gets hurt or fails.

The Rangers filled one hole in the rotation by signing Roy Oswalt. The Diamondbacks were able to turn to top prospect Trevor Bauer when Joe Saunders was hurt. The Nationals have John Lannan stashed away at Triple-A Syracuse, either for their use or possibly to trade (now that he's pitching better than he did early in the year).

Eventually, some contender will be able to trade for Ryan Dempster or Matt Garza, and perhaps for Zack Greinke or Shaun Marcum, as well. Perhaps even Cole Hamels will be available, although it's still hard to imagine the Phillies as true sellers.

But the point is the same. You almost never win a pennant with just five starters, no matter how much we focus on the starting five every spring.

Next spring, I promise, I'm not asking about a team's fifth starter. I'm asking about the eighth, or the ninth.

On to 3 to Watch:

1. The Yankees lost two starters in one day, with CC Sabathia going on the disabled list with a groin strain, and Andy Pettitte suffering a broken leg on a line drive. They brought Freddy Garcia back from the bullpen to fill one spot, and called up Adam Warren to start in White Sox at Yankees, Friday night (7:05 ET) at Yankee Stadium. What's interesting is that Quintana, who will start for the White Sox, spent last year with the Yankees' Class A Tampa team. He's with the White Sox only because the Yankees considered him "a fringy prospect," as general manager Brian Cashman told the New York Post, and they allowed him to become a free agent rather than put him on the 40-man roster. "It was a numbers game, but right now it does not look like a good decision," Cashman said. If Quintana pitches well Friday and Warren doesn't, it will look even worse.

2. Depth is important, but so is having a dependable ace. And Justin Verlander, whose next start comes in Tigers at Rays Friday night (7:10 ET) at Tropicana Field, is one of the most dependable (as well as being the best). Verlander leads the majors with 117 2/3 innings, and he's well on his way to a seventh straight season of 30-plus starts (and a sixth straight of 200-plus innings). Also notable on Verlander: Unlike last year, he'll line up perfectly for a start in the All-Star Game, if American League manager Ron Washington chooses him. Of course, Washington could also choose his Friday night mound opponent, because Rays left-hander David Price is 10-4 with a 2.95 ERA.

3. The showdown series in the National League East this weekend was supposed to be Phillies-Marlins, and the great pitching matchup was supposed to be Cliff Lee vs. Josh Johnson on Friday night. Instead, the game to watch is Nationals at Braves, Sunday afternoon (1:35 ET) at Turner Field, when Gio Gonzalez faces Tim Hudson.