Brewers hope to trade K-Rod, but he isn't helping (Axford could be back closing soon)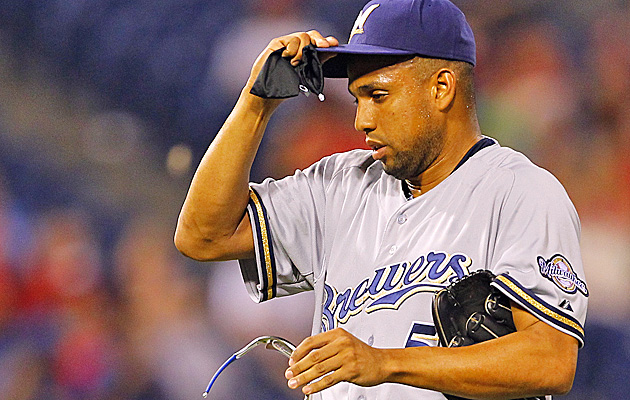 K-Rod has thrown 70 pitches in his last two games and recorded just five outs. (Getty Images)
PHILADELPHIA -- The Brewers bullpen has already helped destroy a season.

Now it's messing with the team's trade-deadline strategy, as well.

Besides sending the Brewers to yet another dispiriting loss, Francisco Rodriguez's disastrous ninth inning Monday night against the Phillies sent his own trade value plummeting.

The Brewers have hoped to market K-Rod to teams seeking late-inning relief help.

"Good luck to them," one scout said Tuesday, after watching Rodriguez against the Phillies the night before.

Rodriguez has made three appearances since replacing John Axford as the Brewers' closer. He has allowed the tying run to reach third base in all three games, and Monday he allowed six of the eight batters he faced to reach base.

Over his last two games, he has thrown 70 pitches and recorded just five outs.

Already, Brewers manager Ron Roenicke is facing the question of whether Axford should return to the ninth inning. Roenicke said he always regarded the decision to have Rodriguez close as a temporary one, designed to give Axford some time to get himself right.

"We said that when he's right, we would move him back," Roenicke said.

At this point, it's Rodriguez that really doesn't look right.

"I'm not used to seeing Frankie like this," Roenicke said.

The Brewers fully expected their bullpen to be a strength. Instead, it has been the single biggest reason why they're looking to sell rather than buy this month.

Rodriguez's blown save Monday was the Brewers' 17th this year (only the Rockies, with 18, have more). Monday's game was also the sixth the Brewers have lost when they led entering the ninth inning, compared to just one at this point a year ago.

That's five more losses, and that's the difference between a 49-46 record that would have the Brewers as likely buyers (they'd be just half a game worse than the Cardinals) and the current 44-51 record that has them looking up at the whole division.

"We're behind a lot on all three teams ahead of us," Roenicke said. "That makes it tough."