On his way out, Valentine fires one final mild shot (and then backpedals)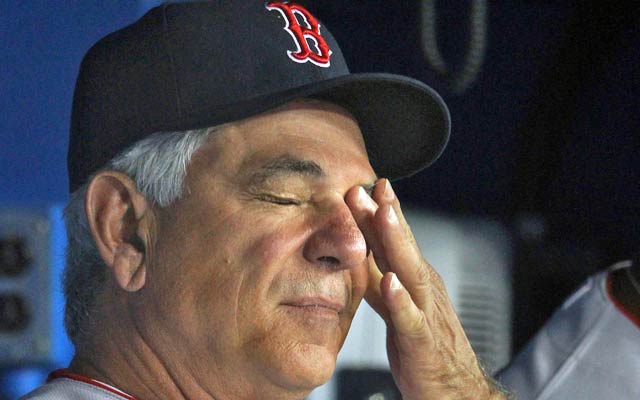 It has been a long and often ugly season for Bobby Valentine in Boston.
(US Presswire)
NEW YORK -- So this was his final shot?

A semi-blast at coaches he wouldn't name?

That's it? That's all?

Yep, and that pretty much sums up Bobby Valentine's tenure with the Red Sox.

You expected more. You got less.

Valentine is definitely on his way out, as CBSSports.com's Jon Heyman reported Wednesday afternoon. There will be those who say he went out firing, because of a radio interview Wednesday in which he questioned the loyalty of his coaches.


More on Bobby Valentine
Columns

But like almost everything else Valentine did in his time as Red Sox manager, the supposed shot was followed by a quick backpedal.

"The question was jumped out at me," he said in his final pregame press conference. "I could have said yes or no. I said yes."

He didn't deny the general premise, which everyone has known all season, anyway. Valentine and several of his coaches don't get along well.

But Valentine refused to name the coaches involved, refused to cite specifics, and insisted that the disloyalty had absolutely nothing to do with the Red Sox's last-place finish.

He even tried to say that he wasn't sure about the disloyalty.

"I just had a feeling," he said. "I didn't have facts. I just had a feeling we weren't all on the same page. ... I didn't think it was all-for-one, or one-for-all."

Valentine also insisted that ownership had been supportive all year, and that general manager Ben Cherington had supported him.

"Totally," Valentine said.

And, in the end, he did take responsibility himself.

"Oh, I had every opportunity to succeed -- and didn't," he said.

Asked if he had any regrets, Valentine said he wouldn't have made the disparaging comment about Kevin Youkilis back in April, and said he wished he'd been better prepared for the bullpen troubles at the start of the season.

Of course, the Youkilis comment was another one that Valentine quickly backpedaled from, as soon as players complained and Cherington didn't back him up.

It's been that way all year. It's been that kind of year.

"A great life experience," Valentine said. "It wasn't always an enjoyable experience, but it's been great."