MLB scouts expect Team Japan stars Tanaka, Itoi to head to MLB in 2014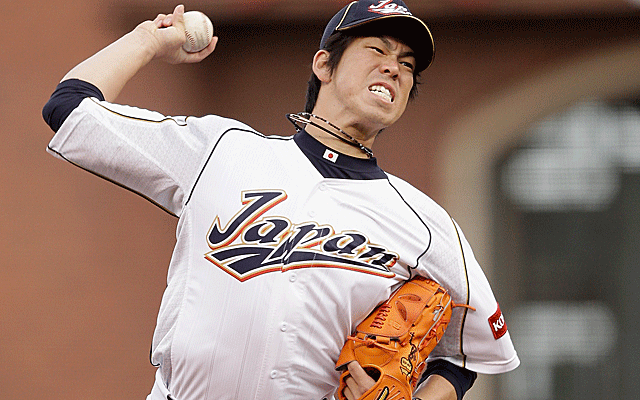 Kenta Maeda has a wide variety of pitches and is expected to make the jump from Japan to America in 2014.
(Getty Images)
SAN FRANCISCO -- Major-league scouts who have been following Team Japan through the World Baseball Classic have been told that pitcher Kenta Maeda, who started and lost Sunday night's semifinal game against Puerto Rico, will not be posted to MLB after the 2013 season.
They expect that Masahiro Tanaka, who would have started Tuesday night's championship game had Japan advanced, will be posted and make the move to the major leagues next winter.
The next question: Is Tanaka a starter or a closer?
He's a starter for Team Japan and for the Tohoku Rakuten Golden Eagles in the Japanese Pacific League. But American scouts say that when he comes to the major leagues, he and his team will face the "Aroldis Chapman question" -- although without the 100 mph fastball.
"That's what they're already asking," said one scout who has seen Tanaka many times. "He has a wipeout split-finger fastball. He has velocity. He has a good slider. But is he a starter or a closer?"
MLB scouts have also been told to expect Team Japan center fielder Yoshio Itoi to be posted next winter. Itoi is a 31-year-old who has led the Pacific League in on-base percentage two straight years (.411 and .404). He had a 1.079 OPS through two rounds of the WBC.
"He's a good all-around outfielder," the scout said. "He can run. He can throw. He can play all three outfield spots."
The scout said Itoi is a better player than Norichika Aoki, the Japanese outfielder who joined the Brewers last year.
Maeda has a wide variety of pitches. Sunday night, he threw 90 mph fastballs and some 69 mph curves.
"He's a small guy with a fast arm," the scout said.
But Maeda, who pitches for the Hiroshima Carp, is expected to remain in Japan for at least the next couple of years. His Team Japan teammates, Tanaka and Itoi, could be back in the U.S. playing for a major-league team as soon as next season.