3 to Watch: 'National concerns' edition, featuring Stephen Strasburg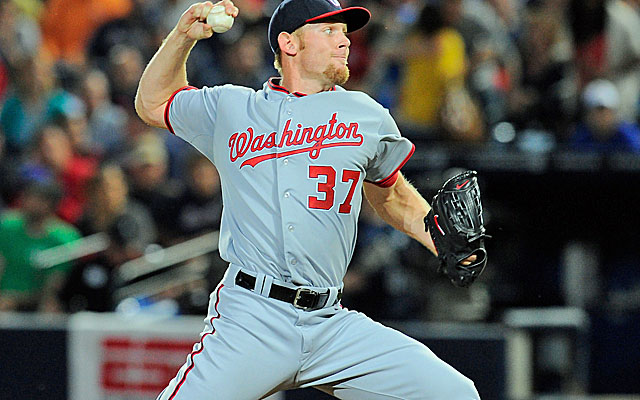 The Nationals keep saying they're not concerned.
Not concerned that Ryan Zimmerman seems to have issues throwing the ball across the infield. Not concerned that Stephen Strasburg kept shaking his right arm during his last start.
After this weekend, maybe we'll agree with them. Or maybe they'll start getting concerned.
Zimmerman, the third baseman with the throwing issues, is expected to come off the disabled list after missing the last two weeks with a well-timed hamstring strain.
Strasburg, the pitcher with the forearm issues, isn't supposed to miss a start and is supposed to pitch Saturday against the Pirates.
Concerned or not, you can bet everyone involved with the Nationals will be watching closely. They'll be watching every time a ball is hit to third base. They'll be watching every time Strasburg throws a pitch, and they'll be watching to see if he's shaking his right arm in between pitches.
It's possible the Nationals will be proven right. Not every third baseman who commits four errors in six games has a mental block about throwing to first, and not every pitcher who is diagnosed with a "forearm strain" actually has a sore elbow.
But the signs here aren't great, especially for Zimmerman. Even his one minor-league rehab game, Wednesday night at Class A Potomac, wasn't exactly smooth.
"Zimmerman appeared uncomfortable throwing the ball across the infield as he warmed up before innings, skipping a few balls and forcing the first baseman to leap to catch a few others," Adam Kilgore wrote in the Washington Post.
If Zimmerman can prove that his throwing isn't too big a problem, the Nationals should be thrilled to have him back. The Nationals were 6-8 while he was on the DL, and averaged just 2.6 runs a game.
Strasburg, meanwhile, hasn't won a game since opening day, although his ERA in five starts since then is 3.86. The questions about his arm surfaced in a Monday night start in Atlanta, but if they really are nothing to worry about, then he should be fine.
What if he's not? While the Nationals' five-man rotation may be the best in the game, they don't have many decent options behind them. Obviously, losing Strasburg for any length of time would be a concern.
Obviously, if Zimmerman comes back and the errors come back, too, then that's a concern.
For now, the Nationals say they're not concerned. Check back on Sunday.
On to 3 to Watch:
1. Have the Blue Jays already fixed what was wrong with Ricky Romero? That's awfully hard to believe, but we're about to find out. With Josh Johnson going on the disabled list because of a sore right triceps (nothing to be concerned about, the Jays said last week), Romero is coming up to start in Mariners at Blue Jays, Friday night (7:07 ET) at the Rogers Centre. Romero was a mess this spring, losing his job and forcing the Blue Jays to send him to Class A Dunedin to get him figured out. He made only one start in the Florida State League, but at least it went well.
2. When the Nationals said Strasburg had a "forearm strain," an athletic trainer I know reminded me that can be "a politically correct way of saying a guy has a sore elbow." That same trainer also reminded me that it's possible it could be minor. We should all get a better idea after Strasburg starts again in Nationals at Pirates, Saturday afternoon (4:05 ET) at PNC Park. We may also find out more about Pirates starter Jeff Locke, who hasn't allowed a run in his last 13 innings.
3. Two years ago, no one would have been surprised to see the Red Sox and Rangers have the two best records in the American League in April. But the Red Sox had a terrible year in 2012, and the Rangers had a terrible winter. So why were they so good in April? Jon Lester and Yu Darvish would be two of the reasons. Lester and Darvish meet in Red Sox at Rangers, Sunday afternoon (3:05 ET) at Rangers Ballpark.