Baseball is ready to embrace replay, but don't count on it in 2014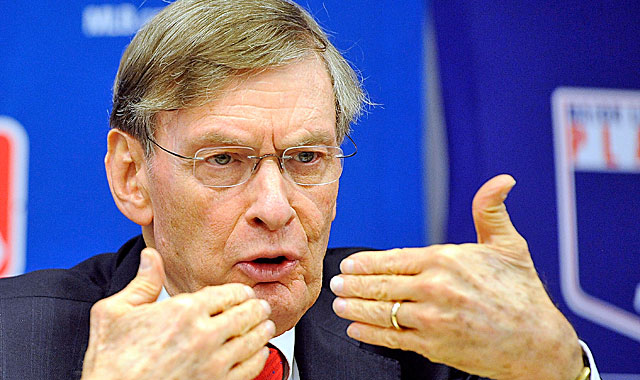 NEW YORK -- Don't say baseball is resistant to instant replay.
That's not true. Not anymore.
But if you want to complain about how long it's taking to put expanded use of replay in place, go right ahead.
Once again Thursday, MLB upped the expectations that replay is coming while at the same time slightly lowering expectations that it will get here by next season. MLB executive vice president Joe Torre said his committee gave the owners an update at their meeting on Thursday morning but wasn't yet ready to make any recommendations.
While Torre expressed hope that a recommendation could be made the next time the owners meet, in August, commissioner Bud Selig stayed far away from any guarantees.
"Time will tell," Selig said. "The more issues they raise, the more complex it gets. I'm not going to make any predictions [about next year]."
You can already hear the complaints that baseball is once again dragging its feet on this. Baseball resisted replay for a long time, and it's easy from outside to think that if they really wanted it now, they'd get it done.
Trust me. That's not the case now.
Replay is coming. At some point within the next few years, any umpire call other than balls and strikes is very likely to be subject to some form of review.
MLB easily could have gone for a gradual expansion of the current system, which only covers home runs. The initial plan was to do just that, with only fair/foul calls and trapped catches subject to review.
With Torre on board, though, the parameters changed greatly. A missed call at second base during the Yankees-Tigers ALCS last October changed the discussion and convinced Torre that plays at bases should be included in the replay system.
For the sake of the game, that was a positive. For the sake of getting a replay system in place, it wasn't.
"It's not as easy as I thought it would be," Torre said Thursday.
Torre's committee, which also includes John Schuerholz and Tony La Russa, has considered almost any option that you can think of. They've talked about a manager challenge system, they've talked about a fifth umpire in a replay booth and they've talked about a centralized replay desk, similar to what the NHL uses. They've talked about and tested technology for fair/foul calls similar to what tennis uses.
Torre said Thursday that they're now beyond the testing stage. The problem is that with so many possible ways of implementing replay, the discussion stage is much tougher.
It's true that there are also questions about how much replay will cost to implement, but Torre insisted that's not a barrier at this point.
Torre still uses the word "hopeful" when he talks about having replay in place for next season. But there's a long way between "hopeful" and "definite."
"We're not going to send something out there just to meet a deadline," he said. "We don't want to do a knee-jerk thing."
In the meantime, MLB can only hope there aren't too many badly missed calls that replay could have corrected. And we can only wait for the next update and hope that the timetable for expanding replay doesn't get pushed back for another year.
More replay is coming. There was a time when MLB didn't want it, but we're far beyond that point.
It's no longer a question of if. It's only a question of when.
***
A few other notes from the owners meetings:
-- Torre insisted that he does hold umpires accountable, but he agreed there needs to be more transparency in how they discuss controversial or missed calls. "There is accountability," he said. "Just because you don't see things happen doesn't mean they're not being dealt with."
-- Selig said that while he has heard all the complaints about this year's schedule, he won't promise or suggest any significant changes. "I've heard all these complaints every year for the last 40 years," he said. "There's not much we can do."
-- While nothing is set yet, it seems likely that MLB will open next season overseas, probably in Asia or Australia. MLB has played season-opening series in Japan four times, but there's also interest in playing in Korea, Taiwan or Australia. Games in Europe are also possible at some point, most likely in the Netherlands or Italy.
-- While the owners discussed the pension plan for non-uniform personnel, MLB executive vice president Rob Manfred insisted there's no chance the program will be eliminated or drastically changed (as some owners have reportedly wanted). No action at all was taken Thursday. "The maximum that has even been discussed would be to give the individual clubs some flexibility," Manfred said.