Scouts Corner: Reds have stars, and also 'just baseball players'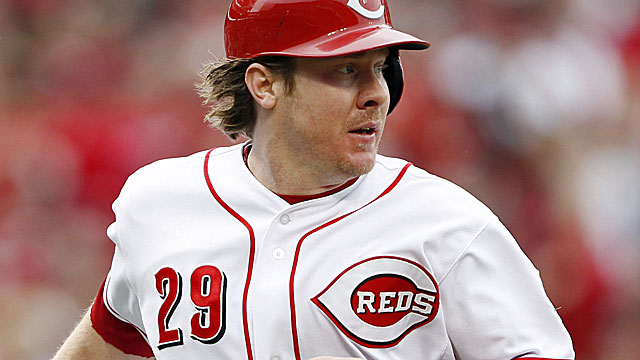 The Reds have Joey Votto, and the Reds have Shin-Soo Choo. And if that was all the Reds had, the Reds wouldn't have the third-best record in the National League.
"I see a lot of them," one rival scout said recently. "And what's really impressive is the players they put around the stars, the guys like [Chris] Heisey and [Todd] Frazier, guys like [Ryan] Hanigan. They've done a great job of getting a bunch of guys who are just baseball players."
When a scout or a manager calls someone "just a baseball player," it's the ultimate compliment. And scouts use that term regularly when they discuss how Reds general manager Walt Jocketty has put together his roster.
"They don't have any real weak spots," another scout said. "It's like their rotation. There's nobody you fear, but nobody you want to face."
The lineup does have Choo, who has a .438 on-base percentage and 42 runs scored and has become the leadoff hitter the Reds haven't had in recent years. It has Votto, who has 10 home runs and a .451 on-base percentage that leads MLB.
"Look at their on-base percentage as a team [.337, which leads the NL]," one of the scouts said, "and they play in a home-run park. So they're tough to pitch to. But what's great is that not all of their hitters are the same. They have guys who work the count, and others who are real aggressive.
"As a team, they have no real weaknesses."
A look at four Reds players, through the eyes of a rival scout:
Votto. "He probably puts up the best at-bats of anyone in baseball, along with [Miguel] Cabrera. He hit an opposite-field home run on a 3-0 count [off Matt Harvey of the Mets]. That tells you all you need to know about his approach."
Jay Bruce. "He's always been streaky, and he's always had a lot of swings and misses. But he's getting beat up in the zone more than I can ever remember seeing. If the ball's down, he'll do damage. But if you pitch him up, he's having a lot of trouble with it."
Aroldis Chapman. "They did the right thing keeping him at closer. That's where he wants to be. He just overpowers guys. He's left-handed, and it's 100 mph. I was really impressed by the way he responded after he gave up two home runs in his second straight blown save. The next time out, he had fire in his eyes. It was like he was saying, 'It's not going to happen again.' And it didn't."
Hanigan. "It looks like their pitchers really love to pitch to him. That's probably hurts [Devin] Mesoraco, their other catcher, who has better tools. They really seem to respond to Hanigan."