Gerrit Cole profiles as a top big-league starter, but is he ready?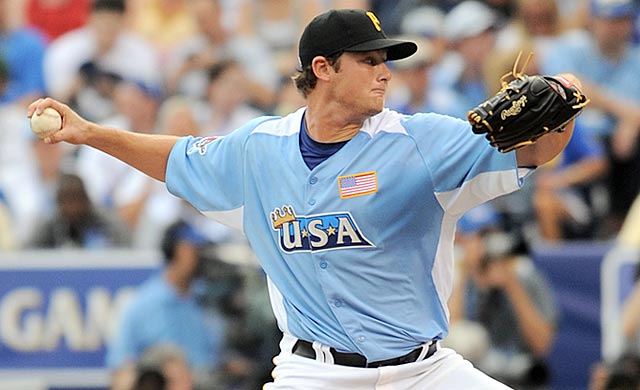 Is he ready?
We're asking that a lot these days, asking it about any number of top prospects who could get a callup soon. Our Dayn Perry asks it about 10 of them here.
Perry didn't include Gerrit Cole because the Pirates have already made the decision on him. Cole, the first player picked in the 2011 draft, will start Tuesday night against the Giants in a debut so highly anticipated that the Pirates issued a full press release Saturday to announce it.
Is he ready?
There's no real way to be sure, despite the high-90s fastball, despite the 19 consecutive scoreless innings at Triple-A Indianapolis. But in the view of at least one rival scout who saw Cole pitch recently at Indy, this is as good a time as any to find out.
"Pretty darned impressive," the scout said Monday. "He was 94-98 [mph] in the first inning, and 97 in the eighth. He was 88 with his slider, and it had a big, power feel to it. And he worked faster than most minor-league pitchers.
"He really profiles as a power right-handed arm. He looks very much like a top-of-the-rotation starter at the major-league level."
The Pirates certainly hope he is. As I wrote this spring, Cole is the type of guy who can not only help end the Pirates' long run of losing seasons but perhaps lead them to a World Series, too.
One rival executive predicted recently that the Pirates could be one of baseball's most active teams on the July trade market simply because they can't afford to risk a third straight second-half collapse. That may be, but it's just as possible that the midseason boost they need could come from someone like Cole.
The Pirates do seem to have some things going right for them now, beyond their 37-26 record. Even people in their own organization have been impressed with the progress Charlie Morton has made this year in Triple-A, where he has been clocked as high as 97 mph on the radar gun ("with sink," one scout said).
But the Cole decision was always going to be one of the biggest ones they'd make this year because his pure stuff can be so dominating.
"Jaw-dropping," fellow Pirates prospect Jameson Taillon said this spring. "I think once Gerrit gets his shot, he'll blow people away."
Cole isn't a finished product. The scout who saw him recently noticed that he doesn't yet get many swings and misses on his fastball, despite the velocity.
"But I think he'll figure that out," the scout said.
The Pirates believe he's ready to do it at the big-league level. Pirates special assistant Jim Benedict, one of the most respected pitching gurus in the game, said Monday that Cole has improved this season with his ability to make adjustments within a game.
"He's become very process-oriented," Benedict said. "He's going to control the process, and the results will happen."
He'll be judged on results now. His 38 minor-league starts were about developing and about proving he deserved to move up to the next level. Now there is no next level.
Is he ready?
We'll find out soon.