Dodgers' last game in the Bronx? 32 years later, they'll never forget it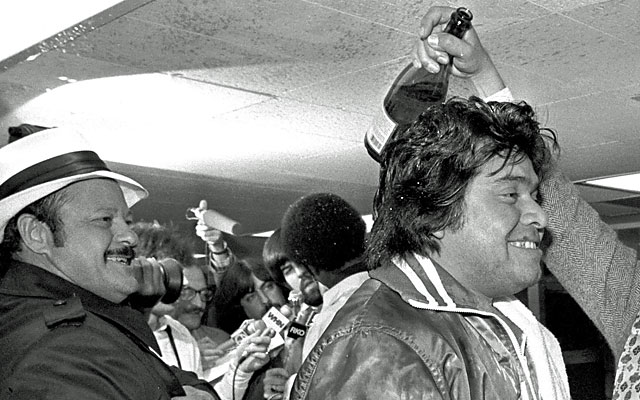 It was snowing in Montreal, and the Dodgers couldn't stop thinking about Yankee Stadium.
They were waiting for the snow to clear, waiting for Game 5 against the Expos, waiting for a chance at redemption.
"We knew the Yankees had won [the American League]," Rick Monday said last week. "For those of us who had been there in 1977 and '78, not that you need extra incentive to get to a World Series, but there was.
"We wanted to play the Yankees again."
The Dodgers had lost to the Yankees in both 1977 and 1978. No team since -- and only one team before (the 1952-53 Dodgers) -- has ever lost back-to-back World Series to the same opponent.
So many of the Dodgers players were the same. Quite a few of the Yankees players were the same.
The Dodgers sat in the Montreal snow and thought about playing the Yankees again. And when Monday hit his ninth-inning home run off Steve Rogers, they finally had their chance.
Because of the snowout in Montreal, the Dodgers didn't have a day off between Game 5 against the Expos and Game 1 at Yankee Stadium. They lost Game 1 and Game 2 in New York but won the next three games at home to set up a Yankee Stadium game they'll never forget.
With Pedro Guerrero driving in five of the runs, they beat the Yankees 9-2 to win the World Series in what would turn out to be their last game in the Bronx until this week.
"My last memory of that stadium," Monday said. "In our mind, we had finally righted the wrongs. For us, it meant a lot."
It was the only World Series many of them would ever win. It was in some ways the end of a Dodger era, with Game 6 the last one that would ever feature the legendary Dodgers infield of Garvey, Lopes, Russell and Cey.
Lopes would be traded to the A's the following February. By the time the Dodgers made it back to the World Series in 1988, it was almost a totally new team.
Cey shared 1981 World Series MVP honors with Guerrero and Steve Yeager. He hit .350 with six RBI, but the moment most will never forget was when he was hit in the head by a Goose Gossage pitch in Game 5.
"Gossage was here for the Old-Timers Game," Monday said. "He told me he had the same impression at first that we had when Cey went down. We thought he was dead."
Cey actually recovered to play in Game 6 two days later, and he had two hits and drove in the run that gave the Dodgers the lead.
They won the game and the World Series. And for the 32 years that followed, they'd never play another game in the Bronx.