Creative Red Sox find a way, and the World Series is tied again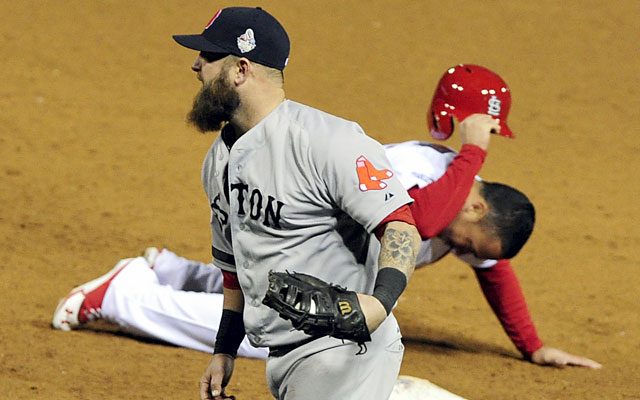 ST. LOUIS -- Their starting pitcher went just four innings, and that was fine.
Their starting right fielder didn't make it to the first inning. And that was fine.
Their new eighth-inning setup man is the same guy who started Game 2. And that was ... interesting.
The Red Sox lost Game 3 of the World Series in the most creative way possible. But you'd have to say their strategy for winning Game 4 was more than a little creative, too, right down to closer Koji Uehara's game-ending pickoff of pinch runner Kolten Wong.
You'd also have to say that four games in, this World Series is definitely too close to call. The Red Sox and Cardinals are tied at two wins apiece, after Boston's 4-2 win in Game 4, and it's tough enough to figure out what craziness the next inning will bring, let alone the next three games.
What we know right now is that the Red Sox successfully navigated their way through Game 4, the Buchholz game, the one that was started by the guy who wanted everyone to know that he was not 100 percent.
Clay Buchholz wasn't 100 percent, and anyone who watched him so much as play catch this week could see it. He wasn't 100 percent, which is why eight days after hitting 93 mph on the radar gun in the first inning against the Tigers, Buchholz pitched at 86-88 mph in the first inning against the Cardinals.
The doubts about Buchholz were so strong that every out he got Sunday night felt like a small victory, and when he made it through four innings and allowed just one run, some were celebrating it as if he had thrown a complete-game shutout.
Teams don't normally win World Series games (or any game) when their starting pitcher doesn't see the fifth inning (13 of the last 15 had lost). But teams don't normally pull their starting pitcher after four innings when he has allowed just one run, either.
Red Sox manager John Farrell did, and this was one move no one was questioning.
The only issue was how the Red Sox were going to get from their (a 1-1 tie heading to the bottom of the fifth) to the win that would even the World Series and guarantee them a Game 6 back at Fenway Park on Wednesday night.
And that's how Game 4 became the story of Jonny Gomes, Felix Doubront and John Lackey.
Gomes is the guy who hit the three-run home run that put the Red Sox ahead in the sixth inning. He's also the guy who was left out of the original lineup, and was playing only because Shane Victorino was scratched with what was officially called "lower back tightness."
Doubront is the guy who some thought would start Game 4 instead of the ailing Buchholz. Instead, he was the guy who pitched two scoreless innings in relief of Jake Peavy on Saturday, then followed it with 2 2/3 strong innings in relief of Buchholz on Sunday.
And Lackey? He's the Game 2 starter drafted in as the emergency eighth-inning reliever. Lackey hadn't thrown a single pitch out of the bullpen in the last nine seasons (or postseasons), but instead of throwing a between-starts side session Sunday afternoon, he gave the Red Sox a 17-pitch scoreless eighth inning Sunday night.
He even pitched around the now-requisite Red Sox error, a bad throw from Xander Bogaerts that put Yadier Molina on second base with one out.
At that point, this World Series seemed strange enough that it felt fully appropriate that Game 7 would come on Halloween night.
We're headed there now, aren't we?