Whether to shut down Strasburg may be the most interesting call all summer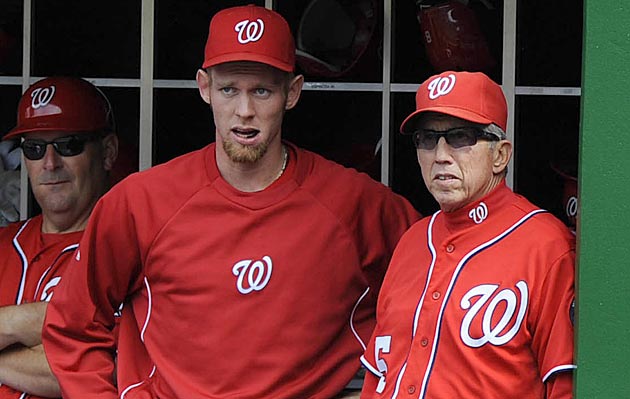 Davey Johnson says the decision on Stephen Strasburg won't be his -- it will be 'organizational.' (US Presswire)
PHILADELPHIA -- The first-place
Nationals
say they will shut down their superb young starting pitcher Stephen Strasburg when he hits his limit, whatever that may be. They aren't saying yet what that limit is -- or even whether it'll be measured in innings, pitches or sweat -- but they are letting folks know they expect him to stop pitching sometime before the end of this season.
Except there's now one big complication: the Nationals are actually good this year.
The Nationals are not only good, but they may actually make the playoffs for only the second time in the 44-year history of the Montreal-Washington franchise. Yes, it's way early. But so far they are showing the ability and grit of a playoff team. They've endured injuries to their top three closer options, their three veteran stars in the middle of their lineup and two of their top three catchers, including their starting catcher, to lead the tough National League East.
Yet, everyone around the Nats maintains they are sticking with the shutdown plan, whether they be in first place or last. Strasburg will be sidelined when he hits his limit, which they are currently viewing and portraying as impenetrable. Word going around is that it's 160 innings, give or take one or two innings, but whatever it is, it doesn't seem like it'll be a enough to carry him into October as an active player, or perhaps very far into September, either.
The thing is, while it's very courteous of the Nationals to protect Strasburg like this, this isn't a push-button game. He is a real player with real emotions, and while he vowed he's not going to complain about the plan now, it's clear he's thought about the prospect of sitting and watching his team make its rare playoff run (and perhaps even play in the playoffs) without him. And that's not a very happy prospect.
"Hopefully, we'll be playing well enough where I'll make it a real tough decision for them,'' Strasburg told CBSSports.com.
For the record, Nationals people are suggesting the decision has already been made. Perhaps it has, but this is only May, and the prospect of handing away a pennant to the
Marlins
,
Mets
,
Braves
or -- egads -- the
Phillies
isn't on the plate right now.
As they say, there's a long way to go. But at the very least, the Nationals have played well enough where it's reasonable to see this becoming the biggest debate in the game come late summer.
The Nationals did stick to their word and also their plan of protectionism last summer when they shut down
Jordan Zimmermann
under similar circumstances. Just like that, after 161 2/3 innings, his season was halted following an Aug. 28 start. He has returned this year, and looked very good so far.
Like Strasburg, Zimmermann was returning after Tommy John elbow replacement surgery. But unlike Strasburg, he didn't carry the hopes of their fans on his right arm. Last year the Nats were only playing to finish .500 or better for the first time in eons (they came up one-half game short). It's no stretch to think that this year, they may be playing for the pennant or even the World Series.
"It doesn't matter where we are. That's not part of the equation,'' Nationals manager Davey Johnson said about the prospect of a plan reversal. "That's what we did with Jordan Zimmermann. I'm assuming that's what we'll do with Strasburg. You do what's best for the individual."
Johnson can be a fairly convincing guy. But he said it's out of his hands. "That's our medical doctor's opinion in consultation with our GM," Johnson said. "It's not my decision. It's an organizational decision. If the organization feels that's best for the long-term as well as today, that's what we'll do."
It's admirable that the Nationals don't want to risk injury to Strasburg, who is 4-1 with a 2.21 ERA and 64 strikeouts, numbers that ordinarily would make him a Cy Young candidate, except Cy Young winners who are starters throw more than 160 innings. It's a nice thought that they want to take the call and the ball out of his hands.
But if they are still playing like this or close to it, it's hard to imagine them not being tempted. It's hard to think they wouldn't at least consult with their doctors to see if the as-yet-unpublicized limit can be increased a bit, and also whether Strasburg who may have a thought or two about how things are going at the time.
Frankly, it's difficult to see Operation Shutdown being employed in the heat and heart of a pennant race. If the Nats do that, they'd deserve a medal for sacrifice. And if they do, they might be alone in big-league baseball.
It's nervous time even now watching Strasburg considering how bright his future is and how tenuous a pitcher's arm can be, especially one throwing in the high 90s every fifth day. He scares some folks by regularly shaking his arm while awaiting a return throw from the catcher, as he did in last start. But the Nationals all say he is fine, and Johnson says the shakes are just a habit, and not a symptom.
Strasburg said he actually hasn't heard directly from the Nationals bosses exactly what their plan is. "I'm still in the dark," he said. "As of right now, I'm just another guy." (Though, technically speaking, he'll never be only "just another guy.")
He is a guy who's been overshadowed for the first time in years by new 19-year-old teammate
Bryce Harper
. The Nats are that rare team with two wunderkinds.
But if gets to late August and the Nationals are still in it, Strasburg will move back to the center of things, his usual spot.
Strasburg answers "absolutely not'' to the question of whether he relishes the prospect of watching the Nationals determine their ultimate fate without him. But at the same time, he is just an employee and a very young one at that (he's 23, four years older than Harper), so perhaps he'll be accepting of a shutdown call, even while in contention. "I am not going to sit here and complain about potentially getting shut down," Strasburg said. "I know they have my best interests at heart.''
It's great that the Nats do. But this could be one of those compelling cases where the interests of the an uber-talented individual and an upstart team are at odds. Which could make for a very interesting September, and October.