Interest already said to be 'huge' in Justin Upton should D-Backs deal him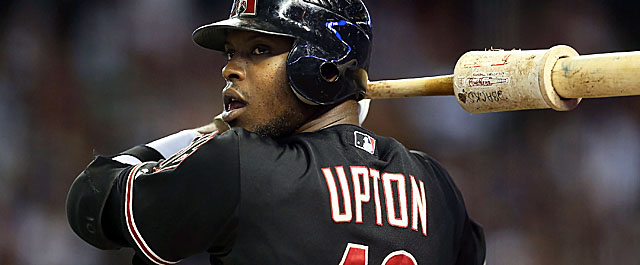 Upton is hitting .267 with seven home runs and 36 RBI as Arizona sits five games back in the NL West. (Getty Images)
Interest is already said to be "huge'' in ultra-talented Diamondbacks outfielder Justin Upton, according to sources.
The Diamondbacks, who are on the cusp of the race in the NL West, don't have to trade Upton and are said only interested in making a "perfect'' deal. But it was recently reported by FOXSports.com the team might entertain offers.
Sources say Upton's limited no-trade list isn't the same as the last time the Diamondbacks entertained trade requests a year and a half ago. It was reported at the time that his four-team list of teams he could veto a trade to consisted of the Tigers, Indians, A's and Royals. Detroit is one team that would have the interest and wherewithal to do a deal.
Two winters ago, one of the trades the Diamondbacks considered was with the Red Sox for Jacoby Ellsbury and Daniel Bard.
Upton is hitting .267 with seven home runs and 36 RBI. Arizona, the defending NL West champion, is five games out in the division lead with a 41-43 record.
Upton's in the middle of a six-year, $51.25-million deal that runs through 2015.
It seems somewhat unlikely the Diamondbacks would make a deal involving Upton as they remained in the race.