Padres going to try to re-sign Quentin, Street to multi-year deals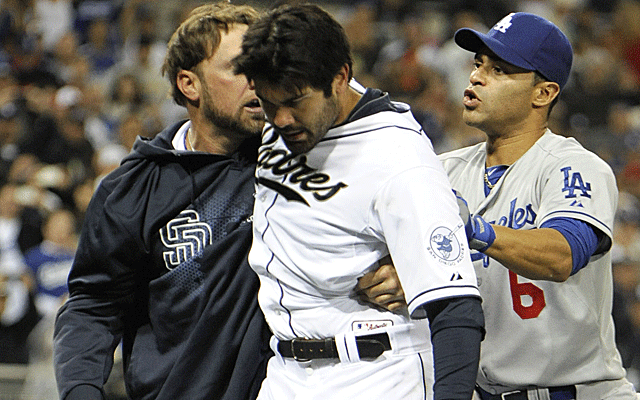 The Reds, Indians and Pirates are among the many teams to have inquired about the Padres' Carlos Quentin.
(Getty Images)
The Padres are now planning to try to extend veteran stars Carlos Quentin and Huston Street with new long-term deals and are likely to make a push to do sometime this month, before the July 31 trade deadline. Both players have been mentioned prominently as trade candidates, but both are said to have indicated a desire to stay in San Diego, if possible.
Finances are always a question with the low-revenue Padres, but both current owner John Moores and presumptive new owner Ron Fowler are said to have given the go-ahead to try to sign Quentin and Street to new multiyear deals, people familiar with the situation said. This is a major step for San Diego, which has had trouble keeping its stars in the past.
Scott Miller suggested in his story Wednesday that attempting to sign Quentin, a San Diego product, was a strong likelihood. Both players are free agents after the season.
Of course, the Padres can't blow away star players with dollars, and if deals can't be struck they'll be forced to more seriously entertain trade offers for the two veterans. But it's improbable either will be traded before contract talks are complete, one way or the other.
The Padres are about to be sold to Fowler and his group -- "it's close,'' said a baseball source -- for a price that is believed to be close to $800 million in a deal that could possibly be approved at the baseball owners meetings in Denver. Though, the team's revenues are among the lowest in baseball, so it's no certainty deals can be struck.
San Diego, beset by injuries this year (19 deal stays), doesn't believe it's in a rebuilding situation and has been making a concerted effort to keep players it likes with multiyear deals. Street has been brilliant in his role as closer, going 2-0 with a 1.07 ERA and 15 saves in 15 chances. Quentin has been productive, with eight home runs, 21 RBI and a .268 batting average.
The Mets, Giants and White Sox are among teams believed to have shown interest in Street. As was reported here first, the Reds, Indians, Pirates and many others have called about Quentin.